Members who have donated towards server costs
Join Date: Jun 2006
Location: Corpus Christi, Texas
Posts: 1,647
What I have learned about our electrical systems
---
Since I put in the new stator and R/R, I've noticed an increase in electrical problems. In trouble shooting these problems it has driven home just how delicate our electrical systems are.
One problem that I encountered was turning on the key, hitting the starter and all the lights go out. Let her sit for a minute and they come back but hit the starter and out they go again. I was beginning the think we had some kind of thermal protection device that cut power when over heated. As it turned out, the wiring from the battery to the starter solenoid is very finicky. You must have absolutely clean and tight contacts here. Both on the battery side and starter motor side. I tumbled onto this because I took the side cover off and noticed a puff of smoke from one of the terminals when I hit the starter button. I cleaned the offending side of the solenoid and everything was great for about 3 weeks. Last week, I was ready to go home from work and I turned the key and NOTHING!! No lights, nothing. I thought maybe something had shorted since I lock the steering at work. I took the right side cover off again and wiggled the solenoid and got lights but no start. Ended up jumping her to get to an appointment and then home and it seemed OK. Next day though, lights but no start. Today I started troubleshooting again and discovered that the positive lead had loosened up from the battery causing the problem. Just to be safe I also cleaned the other solenoid contact and did a continuity check of the wiring.
With any electrical problem, ensure all of your contacts, junctions, and terminals are clean and tight. One loose connection can drive you crazy.

I had also noticed that my headlight and instrument lights pulsed when the bike was at idle. I thought maybe a leg on the stator had gone again but it turned out the be a loose connection to the R/R. I have individual blade connectors going to my R/R since battery acid and contact overheating destroyed the factory MOLEX connector. Again. clean and tight contacts are the key. I don't think I can emphasize this enough.

Hope this helps someone who is having issues or prevents someone from having the same problems I've had.
---
Jim W
93 VN 750 "Ursula"
Moved R/R 08Sep06
R/R rewire 17Feb07
New R/R, Installed 14Jun08
New Stator installed 10 Jun08
Maintenance Free Battery 12Jan08
21480 Miles
VROC #8542
Heey this sounds like my problem..I am going to check it out in the morning
Quote:
...........With any electrical problem, ensure all of your contacts, junctions, and terminals are clean and tight. One loose connection can drive you crazy. ....
There, that whole big paragraph boils down to that one simple looking line.
It has always amazed me how many times a entire host of problems ends up being something as realitively simple as a loose contact somewhere on the bike.
Way back when I worked in a bike shop , I lost count of how many times a customer would bring in a bike with some electrical issue...claiming a bad alternator, bad coil, or such...only to find the cause of their problem was not a failed component, but a bad connection.
Through the years here and on the Yahoo group forum, I have also lost count of the times the final solution of someones electrical problem turned out the same way also.
It has always been my opinion that the majority of times a component has in fact failed, like a R/R or stator, it was caused by poor or loose electrical connections somewhere on the bike, and the best thing you can do to ward off any potential problems with these units is to make sure every connection on your bike is clean, strong, and tight.
So , before something "goes wrong" take an afternoon with a can of contact cleaner, a sheet of emery cloth and a tube of dielectric grease, and go over evey connetion like the bikes life depended on it. It kinda does.
KM
Drive less, ride more...
Join Date: Nov 2005
Location: SW Ga
Posts: 1,114
I'm gonna have to give a strong second on SR's and KM's recommendations here....
A few weeks ago, I pulled the 6-pin connector off of the R/R, to make sure the dielectric grease there was holding up ok.
In the process, I worked the connector back on and off several times, and also regreased it.
I also pulled the connectors out of the rear of the junction box, inspected them for cleanliness, and reattached them.
Since then, I've noticed stronger voltmeter readings--especially at lower rpm's.
If this sort of preventive maintenance will work for a "younger" bike like mine (a 2005 model), think what it could do for an even older VN750....
So KM and SR are indeed right...apparently we need to modify the bike's "official" maintenance schedule to read something like, "once a year, inspect/clean/grease (dielectric)/tighten all electrical connections and battery terminals/frame grounding."
For many folks here, it might be a good idea to work the above during the non-riding (winter) season, when the bike is otherwise in storage and precious riding time isn't otherwise wasted turning screws/wrenches and dabbing grease.
In any case, be sure to use a cleaner for the above that is formulated for cleaning electronics--it
MUST
specify on the cleaner's container that it
is safe for plastics
!!!
Heck, this bit of TLC might even cut into the stator and R/R failure rate.....
---
'05 VN750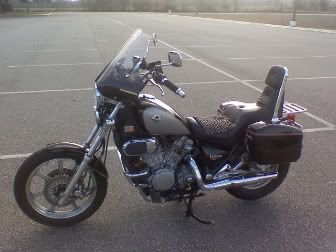 For other bike pix & mods, go to:
http://s1203.photobucket.com/albums/...k/VN750%20pix/
---
Last edited by theauhawk; 09-26-2008 at

11:54 PM

.
Calif Rider
Join Date: Jan 2006
Location: Petaluma Calif
Posts: 725
I agree with everything that was said by everyone. Anyone who was or is a machanic will, or should tell you that preventive maintanance is the best maintanance. Catch the problem before it is a problem, saves a lot of money in the long run.
---
2004 25,500 miles
Led tail light enhancement
Homemade floor boards
Headlight modulator
Extra heat sink on R+R
R+R relocation
Homemade driver's backrest
Fused Stator
Mcct conversion-cost 4.50
Ride-on in tires
crash bar with home made hyway pegs
iridium plugs
home made fork wind deflectors
coil pickups adjusted.
Kenda kruz tires 110/90 170/80
IBEW 915 Electrician
Join Date: Jul 2008
Location: Z-Hills, FL
Posts: 115
If you are chasing electrical problems and you disconnect the battery while the bike is running and the engine dies immediately are we still in the realm of a bad connection or has the problerm shifted onto the stator/RR?
---
'01 Vulcan 750
Irridium Plugs
MF Battery
I think if you remove the battery while the bike is running..even if the battery is almost dead..the bike will stop because you in effect "cut the circuit" that makes you bike run. ..it will not run without a battery...and will not run without one with some charge left.

KM
Linkmeister Supreme
Join Date: Aug 2008
Location: Lethbridge, Alberta, Canada
Posts: 7,960
Do Not Disconnect Battery With Engine Running
---
Quote:
If you are chasing electrical problems and you disconnect the battery while the bike is running and the engine dies immediately are we still in the realm of a bad connection or has the problerm shifted onto the stator/RR?
From CLYMER MANUAL, PAGE 300, Transistorized Ignition System Precautions
paragraph 2. Do not disconnect the battery when the engine is running. A voltage surge will occur which
will damage the voltage regulator/rectifier
and possibly burn out light bulbs.
para. 3. Never disconnect any of the electrical connections while the engine is running.
Take note anyone who has contemplated doing this. It will cost you $$.
---
Gordon
1991 VN 750 -"
Cosmic Lady
" or "
Bad Girl
"?
Purchased May 16, 2008
Approx.19,300km (12,000 miles)
H-D windshield
Relocated R/R
MF-AGM battery
Fiamm Freeway Blaster horns
F&S luggage rack and engine guard
Kury Offset Hiway pegs
July 13, 2016, Riding on the DARKSIDE now, Classic Radial 165/80-15
TOP TEN THINGS A NEW RIDER/OWNER SHOULD DO.
Click on link.
https://www.vn750.com/forum/11-vn750-general-discussion/9127-top-ten-items-you-would-suggest-new-owner-do-his-new-ride.html
Love My Baby
Join Date: Jun 2008
Location: Hollywood, Florida
Posts: 1,165
All the above wisdom pertains to more than just our bikes. I troubleshoot malfunctioning electronics, appliances, and medical equipment all the time, and I have found that a sizable majority of problems occur because certain electrical contacts are tarnished, not tight or worn and don't make good contact. Simply cleaning, tightening or doing whatever to improve the point of contact is often all that's needed.
---
Rubyrick

MY BABY...
'05 VN750
16,000 miles +
Kawi tank bib
Kawi rear rack
Small windshield
DEKA M/F battery
VN750.com Grill Cover
LED license plate frame
Clear Alternatives LED brake light
Cortech mini tank bag on rear rack
Pirelli MT66 Tires: 110 front / 150 rear
Splines lubed when tires installed at 10,650 miles
Splines lubed again at 14,400 with stubby valve stem install

Place your mouse on the X below and drag to the O

X Even though you can't see Him, GOD is there! O
Members who have donated towards server costs
Join Date: Jun 2006
Location: Corpus Christi, Texas
Posts: 1,647
Tear it apart and put it back together technology!!!
---
Jim W
93 VN 750 "Ursula"
Moved R/R 08Sep06
R/R rewire 17Feb07
New R/R, Installed 14Jun08
New Stator installed 10 Jun08
Maintenance Free Battery 12Jan08
21480 Miles
VROC #8542