LED light kits
---
Has anyone put those LED show light kits on? If so, any problems with charging system? been thinking about getting some. any input would be helpful. Also any good place to purchase them? Thanks
HAWK
Join Date: Feb 2006
Location: Chicago land
Posts: 2,576
LED lights use almost no power so you shouldent have a problem adding some.
I have been looking at doing some on my Nomad.
---
Chad Falstad "Hawk"
Vroc #17649
2011 HD Ultra Classic "angel"
2001 Nomad 1500 Sold March 2012
2001 VN 750 "Sold June with 2008 with 21,000""Serinity"
Love My Baby
Join Date: Jun 2008
Location: Hollywood, Florida
Posts: 1,165
Hey Vulcan-Rider. I recently put in an LED tail light board from Clear Alternatives, and I charted the electrical draw pre and post install. Check out my post
HERE
. Go to the post dated 8/1/08 for the electrical chart.
They're MUCH brighter with and without the brake applied, and they use less electric power.
---
Rubyrick

MY BABY...
'05 VN750
16,000 miles +
Kawi tank bib
Kawi rear rack
Small windshield
DEKA M/F battery
VN750.com Grill Cover
LED license plate frame
Clear Alternatives LED brake light
Cortech mini tank bag on rear rack
Pirelli MT66 Tires: 110 front / 150 rear
Splines lubed when tires installed at 10,650 miles
Splines lubed again at 14,400 with stubby valve stem install

Place your mouse on the X below and drag to the O

X Even though you can't see Him, GOD is there! O
Join Date: Aug 2007
Posts: 115
i just got done putting on a cheap set from e-bay. 16$ for 4 LEDS, no switches included, plenty of wire. Looks sweet and is about 150$ cheaper than kuryaken. No electrical issues and I even have a questionable battery
Drive less, ride more...
Join Date: Nov 2005
Location: SW Ga
Posts: 1,114
I agree with CcSpinner...
LEDs have much less current draw than regular incandescent bulbs, so you can be much more generous with LEDs (than otherwise), and not have any serious electrical capacity issues.
I've installed a fairly elaborate LED system that I use for marker lights (see signature). My voltmeter reading doesn't really change much when I switch them on--even when stopped at a traffic light.
Let us know what you system/parts you decide on...
---
'05 VN750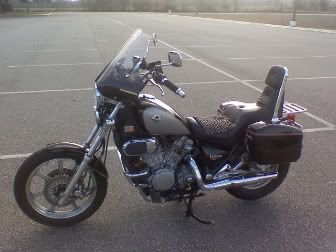 For other bike pix & mods, go to:
http://s1203.photobucket.com/albums/...k/VN750%20pix/
---
Last edited by theauhawk; 08-14-2008 at

10:04 AM

.
thanks guys for the info. will let you know what I decide on.