i was wondering on how they were fastened myself. after your explanation & looking at the picture again i can see that the screw is used as a pin behind the bracket like a "T".it looks like you pushed the blinker in all the way through the bracket hole, made a flush mark on the material sticking through the back side, offset the radius of the hole size from you mark & drilled. do the blinkers slide out at all leaving a gap? they look real good by the way, nice job. i have a few day off comming up and this is one of my projects i would like to do.
---
Last edited by dutter; 08-27-2008 at

03:52 PM

.
---
Quote:
do the blinkers slide out at all leaving a gap?
Not if you do it right. Every step is easy but does need to be done with care. The tight fit is ensured by two things. 1. Trimming the black shaft to a nice 90 degree all the way around instread of the factory curve. (Shown)
2. Depending on the head size of the screw/bolt/cotter pin/what ever you use. That's what you'll determine your distance for your hole. To far out, yes sloppy. To close, won't fit. It doesn't take much to hold them in as they don't weigh much of anything.
Hopefully this helps... I'v said it before & I'll say it again. "I'm a much better doe'r than explainer!" But I'll always try to help. Kanuck69
---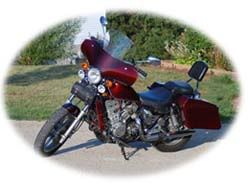 Orig. 8600 Miles 5/12/7 Currently 50,500Miles

Owners Manual
Repair Manual Download
Mosfet RR Test
Goof Proof Stator Test
VoIP Doc's Ear Shave & Re-jet Procedure
Hyperbuzzin's "How To Post Photo's.
Mosfet R&R Headlight Fix.
A10 Pilot
Join Date: Jun 2008
Location: CT
Posts: 62
Thanks for the update. Going to give it a try this weekend.
---
VN750 A10
Linkmeister Supreme
Join Date: Aug 2008
Location: Lethbridge, Alberta, Canada
Posts: 7,960
Hey Kanuck that shave does look pretty good. There is one thing I wonder about it. I drive for a living, and every day I mutter at others on the road who don`t signal before a turn. Then as they turn and the angle changes I can see the signal flashing. I think the reason so many signal lights are so hard to see is because they are located too close to the headlights and brake lights. With the brighter bulbs used today in both headlights and brake lights, I some times just can not see those signals tucked in so close. I don`t know if others perceive this as a problem or if I am alone in this.

With all the emphasis we put on safety and being noticed by those driving around us, I wonder if this shave is really an improvement. JMO.

What do others think?
---
Gordon
1991 VN 750 -"
Cosmic Lady
" or "
Bad Girl
"?
Purchased May 16, 2008
Approx.19,300km (12,000 miles)
H-D windshield
Relocated R/R
MF-AGM battery
Fiamm Freeway Blaster horns
F&S luggage rack and engine guard
Kury Offset Hiway pegs
July 13, 2016, Riding on the DARKSIDE now, Classic Radial 165/80-15
TOP TEN THINGS A NEW RIDER/OWNER SHOULD DO.
Click on link.
https://www.vn750.com/forum/11-vn750-general-discussion/9127-top-ten-items-you-would-suggest-new-owner-do-his-new-ride.html
Members who have donated towards server costs
Join Date: Aug 2007
Location: Manassas, VA
Posts: 580
I wouldn't think the small amount that this mod moves them in would be a safety problem. Maybe convert to brighter LED bulbs? The rubber stalk helps with "give" however and the shaved signals may be more prone to breaking off or bending if hit. They do look nicer shaved, IMHO.
---
97 VN 750
R&R Relocated
Degoated
Marbled
Ears Shaved/Rejetted
MF/AGM Battery
Irridium Plugs
Spring Solo Seat
32 Ford Model A Tail Light
Custom 2 into 1 Exhaust with 12 inch Glass Pack
Rear bobbed and hard-tailed!
https://www.vn750.com/forum/showthread.php?t=5385
i did my fronts they look great (very chopper like look). in my opinion bringing them in closer may make them a little less visible from some angles.
Members who have donated towards server costs
Join Date: Nov 2007
Location: Chandler, Arizona
Posts: 2,962
Looks great, but not a good idea in AZ. The law says the signals have to be a certain distance apart. Sport bike riders are constantly getting busted for aftermarket signals that are not street legal. I put clear lenses on mine, with amber bulbs.
---
I am a motorcyclist, NOT a biker.


1997 Vulcan 750, purchased about a week ago
2006 Sportster 1200 Low
2013 Royal Enfield Bullet 500, converted to carb
2001 Yamaha XT225, heavily modified
2004 Honda Rebel 250
1979 Vespa P200E
2002 Vulcan 750 parts bike
1994 Yamaha XT225 parts bike
Junior Member
Join Date: Oct 2016
Location: Boise, ID
Posts: 15
Was thinking about replacing my signals and came across this thread. Think im gonna give this a shot today before ordering anything. Really like the look of this, nice work Kanuck!