Join Date: Jan 2006
Posts: 30
lighting ideas
---
So with the leds in the new saddlebags I figured I migth as well change the front turn signals also. Maybe even the headlight. Has anyone done them to LEDs or HID headlight? I would like to see some pictures to help decide. Anyone? I saw a bike onetime with drag bars and the headlight was on it, I think it had the dakota digital gauges too but it was not a 750. I thought that might be a cool look to update. Anyone have thoughts?
Now what
Join Date: Jun 2004
Location: Renton, Wa. USA
Posts: 400
Most people seem disappointed with the LED replacements that take the place of the regular bulb. They're not as bright as they hoped they'd be.
---
'04 750A- and loving it!
VROC 13864
Using a Purlator One PL14610
"Sixth gear? I don't need no stinkin sixth gear!"
If someone throws you under the bus-remember to tuck and roll
Drive less, ride more...
Join Date: Nov 2005
Location: SW Ga
Posts: 1,114
The main problem (at the moment) with the HID light option is price--most decent HID light kits that I've seen run into $400-500 (or more) for just one light (but that's probably all the HID light you'd need)....

Any LED lights we've seen thus far are not really bright enough for head lamp use.

LEDs (for now, anyway) are best for being seen....rather than to see. Properly designed and configured, they're great for marker lights, brake lights, or turn signals.
---
'05 VN750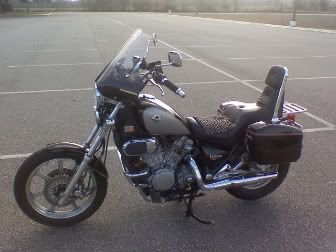 For other bike pix & mods, go to:
http://s1203.photobucket.com/albums/...k/VN750%20pix/