Join Date: Jan 2006
Posts: 30
LEDs in Saddlebags
---
So I just added a set of Mutazu LN Hardbags, love the look but when wiring the led into the turn signals I get double speed on the indicators and flashing. I think I need some sort of relay or I read somewhere a load balancer since my fronts are stock.

Does anyone know what I need to add?
Do I still need to add it if I replace the fronts? If so does anyone have a though on new front signals that have LEDs? Maybe with pics?
Could the wiring be such to drain my battery? I have had problems and I got a new battery to jump and kick(it was not fully charged that will be tonights task) but almost as soon as I used the signals twice the bike died and I had to jump it again.
Senior Lurker
Join Date: Nov 2006
Location: Westchester, New York
Posts: 509
Members who have donated towards server costs
Join Date: Jun 2006
Location: Corpus Christi, Texas
Posts: 1,647
You need to measure the voltage at the battery while the bike is running. It should be between 13-15 volts at 4k RPM. If it is lower than this, you may have R/R and/or stator problems. Check the 3 yellow wires coming from the stator to see if they are connected. There are 3 bullet connectors behind the engine that is usually the first place problems start. Then check again at the R/R.
---
Jim W
93 VN 750 "Ursula"
Moved R/R 08Sep06
R/R rewire 17Feb07
New R/R, Installed 14Jun08
New Stator installed 10 Jun08
Maintenance Free Battery 12Jan08
21480 Miles
VROC #8542
Drive less, ride more...
Join Date: Nov 2005
Location: SW Ga
Posts: 1,114
If Sky Rider's suggestion checks out to be ok, then you can solve your problem in one of 2 ways:
a) you can install a dual-load equalizer, readily available at someplace like J&P Cycles (this will solve your problem, but this option defeats the true purpose of LEDs, since the bike's charging system has to work just as hard with an equalizer) or...
b) you can install a digital flasher, which flashes the signals at a rate that is not load-dependent.
A good example of a digital flasher that is a true "drop-in" replacement fit for the VN750 is at:
http://www.jpcycles.com/productgroup...ore=All&page=1
The problem with the digital flasher is...if you turn your bike's hazard flashers on, and all your turn signals are stock, you will immediately fry the flasher's circuitry. Even just using the OEM signals on one side of the bike will push this flasher's circuitry to near (or at) its limits.
For a digital flasher to be a worthwhile option, most of your signal lights really should be LEDs.
Most digital flashers can't handle much more than a few amps (if that), otherwise their internals will be cooked.
Over the next few weeks, I plan to remove
ALL
of my factory turn signals, and replace them with LEDs.
The factory signal housings leak, rust, and (if left on the bike long enough) eventually sag.
So...in the true spirit of cruiser customization, I've decided to do away with them--completely.
Stay tuned....this should be a fun ride....
---
'05 VN750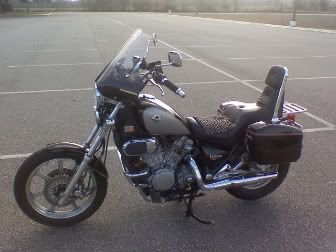 For other bike pix & mods, go to:
http://s1203.photobucket.com/albums/...k/VN750%20pix/