Members who have donated towards server costs
Turn signals
---
My bike is an '88. Shouldn't the turn signal switch stay in place when you push it over to the right or left? Mine doesn't, I have to hold it with my thumb, which kind of sucks because I'm one of those guys who likes to give some notice I'm about to turn.

So does this mean my switch is broke inside, or is this how it's supposed to be?
Senior Member
Join Date: Mar 2008
Location: Iron County Missouri
Posts: 135
I don't know, but I kinda wish mine was like that. Mine stays where you push it and I sometimes forget to push it back after a turn.
---
'85 VN700
2005 VN750 for parts
Join Date: Feb 2008
Posts: 120
My 89 stays where I put it, I have to turn it off, hope that helps
Drive less, ride more...
Join Date: Nov 2005
Location: SW Ga
Posts: 1,114
Some of the early VN750's (and I think yours is one of them) had self-canceling turn signals.
A nifty feature! Why more bikes don't have them I guess is purely a cost-saving measure on the part of the makers.
This technology dates back to the 70's, so it's not like they'd be offering "bleeding edge" stuff......
Anyway (I'm thru ranting, now)....that may be why your switch moves back.
Does it reset after several seconds, or so?....
---
'05 VN750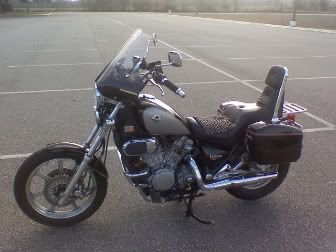 For other bike pix & mods, go to:
http://s1203.photobucket.com/albums/...k/VN750%20pix/
Members who have donated towards server costs
That's how I thought it should be. Probably another mystery fix the previous owner(s) did to it.

Gonna have to try to fix it, short of replacing the whole control assembly, if possible....
Members who have donated towards server costs
No, my switch doesn't stay where I slide it at all. As soon as I take my thumb off it, it returns to center/off. I have to hold it where I want it until I finish the turn.
Old Truck Junkie
Join Date: Jul 2007
Location: Roby Texas
Posts: 4,133
It is an 88, chances are that it is worn to the point to where it no longer holds it's position. No real problem.
---
02 honda sabre 1100
Members who have donated towards server costs
Thanks NR. I haven't looked close to see if that assembly can be opened, but I'll check it out.

I do like the "hazard button", thats the first one I've seen on a bike, though it's probably standard now...
Addicted to Projects
Join Date: Apr 2008
Location: Anchorage, AK
Posts: 545
Could be the self canceling feature has worn out and won't hold when switched on?
---
Charlie


VN700 project bike 98% completed!!
68 Bushwhacker this winters project (in the works)
86 Honda GL1200i (winter project #2)
82 kz440 daily rider for now!
A few clowns short of a circus now aren't we?
Members who have donated towards server costs
Join Date: Jan 2006
Location: Cheyenne Wyoming
Posts: 508
Mine had a ball bearing & spring set up that locked it on. When I converted it to selfcanx I took out the ball bearing. Split your control and you should see a #1 phillips screw. If so remove the screw and metal plate. A small ball bearing should be in a slide and pocket area. Check bearing and possibly steal a BB from a neighbor kid and see if its larger size will work. Anothe thing that might work would be a small sinker (non-lead) if your a fisherman.
---
Rckmtn
Dennis Huff
Cheyenne, Wy.
05 VN 750
KURYAKYN grips, helmet locks, and highway pegs
Spitfire windshield
Saddleman saddlebags/sissybar bag
Highwayman gelseat with Protac backrest
self canx turnsignals
Diamondstar headlight modulator
Jardine 2 into 2
MCC turn signal relocator and floorboards
Luggage rack
Extended passenger backrest
KURYAKYN LED voltmeter
Custom tank bra with analog clock
Snider paint protector on tank side
130 DB horns
---
Last edited by rckmtn; 04-27-2008 at

11:45 PM

. Reason: spelling