Members who have donated towards server costs
Join Date: Jul 2007
Location: Liberty MO
Posts: 40
Asking for trouble?
---
I have heard lots of folks here lament about the stator issues that they have experienced and have even gotten to enjoy replacing the stator on my Vulcan last summer. An earlier post concerning a light bar has me curious though. I ride year round and sometimes in the winter it gets down right cold. This year, the coldest rideable day has been about 1 degree. On those mornings, I will choose my Shadow over my Vulcan since I have an electric vest and gloves that I can plug in. Together they draw about 77 watts. When I got them, I never even considered getting the hook up for my Vulcan since I believed we never had much "power to spare" on the bike. Many of the suggestions on this site and the yahoo site lean toward reducing rather than increasing the load on the system. How much power is consumed by a "typical" lightbar and do many of you out there consider adding electrical loads to the VN750 a prudent choice? OBTW, on the stator replacement, I went with the Electrosport rather than OEM. Not sure whether they are much different.
---
1994 VN750

Bought 1/06/2007 with 12152 miles.
Currently 30000+ and commuting.
Vance and Hines Exhaust
Stator (twice), r/r reloc, MF battery
Senior Member
Join Date: Mar 2005
Location: Channelview, TX
Posts: 748
General consensus is that we have about 70 watts available on the 750; a "typical" lightbar has two 55 watt lamps, or 110W. If you swap the 55W bulbs in the lamps for 35W, you've dropped the load to 70W. You can get 20W bulbs for the smaller lights KM had available for his lightbar, reducing the load still further, and leaving 30W available for additional accessories.

Changing to LEDs in all the turn signals, and using the Clear Alternatives LED taillight board, will reduce the constant load further, but I haven't crunched the numbers to find out how much power this frees up. I would guess not a lot under normal conditions, considering incandescent 1157 bulbs only draw 8W apiece until you hit the turn signal or the brake. Sitting at a stoplight with the brake and a turn signal on, you're using an additional 27W per bulb (the 1156 in the rear T/S draws the same as the "hot" side of the 1157), or 54W constant and 108W intermittantly; not a problem, really, since it's unlikely they'd be on long enuff to heat up the electrical system. (Note the stock bulbs on the 750 draw about 5W less than the 1156 and 1157)

IOW, you could prolly get away with either the gloves or the vest, provided you turned off the lightbar, but both might be a strain.

YMMV, of course...

Jim
---
J.D.
Kerrville, TX
'95 Vulcan 750 "Therapy II",
aka "Raggedy Ann"
'95 VN750 project
'03 VN800B "The Little Black"
'04 VN800E Drifter project
'93 VN1500A custom project
VROC #16185
GCVROC #33
Photo album:
http://www.flickr.com/photos/leekayd/sets
Drive less, ride more...
Join Date: Nov 2005
Location: SW Ga
Posts: 1,114
On the flip side, I'm running a pair of 35-watt driving lights, plus an LED kit...as extras. Total added power consumption: a little under 93 watts.

During most of this, I'm getting strong readings back from my bike's voltmeter.

Yeah, when I'm at a stop light, it shows that I'm running off of the battery with all the above on. But above about 1,600 rpm, the system is charging again.

Basically, it all boils down to how good your stator is, and the overall condition of your charging/electrical system.

I would suggest that you add a good quality voltmeter (if you don't already have one) to you VN750, and let it be your guide, so to speak. It will tell you when you are overtaxing your bike's charging system.

Electrosport should be able to tell you what the charging capacity (amps) is from your new stator. Max output from a VN750 stock stator (per the manual, anyway) is 24 amps at 8,000 rpm.
---
'05 VN750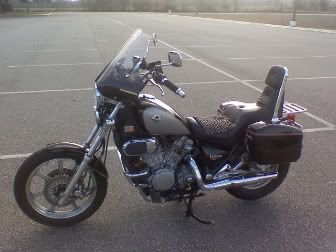 For other bike pix & mods, go to:
http://s1203.photobucket.com/albums/...k/VN750%20pix/
---
Last edited by theauhawk; 02-05-2008 at

12:37 AM

.