Would you still buy this bike...
---
I thought I had bought a pretty decent '97 VN750, 27,000 miles. The shop I'm buying it from has been good to work with and I think they are doing the right thing, but here are the issues.

First, they called and said it needed a new battery and they would replace it with a MF one. Score 1 for them.

Second, they called and said after installing the battery, the stator is fried. They are offering to replace it at their expense. Score 2 for them.

So as of right now, it seems like what would have been some major headaches and expenses is turning into a good thing for me. I guess it all makes me a little leary of the bike, so I'm wondering what you all think and would appreciate your feedback.

Also, if the battery is replaced, a new stator is put on, wouldn't it make sense to replace the R/R at the same time, just to be safe? And reroute it at that time also?

I didn't know enough about the VN750 when I made the deal to even look at the goats belly so I have no idea if it's been degoated or not. I'm on my way to the shop this morning to talk with them and try to decide what I want to do as far as the purchase is concerned. If the goats belly is still there, I'll degoat it when I get the bike delivered next week.

Thanks for any input.
Drive less, ride more...
Join Date: Nov 2005
Location: SW Ga
Posts: 1,114
Greetings!....
---
As with any used purchase, it's been said that...."people respect what you inspect, not what you expect"....
soooooo.....let the buyer beware!!!
With that out in the open, the following is a previous forum thread that covers a lot of ground you need to read b4 buying a VN750:
https://www.vn750.com/forum/showthrea...ng+system+test
There's info in the above thread on how to test the charging system, which will of course tell you if the r/r is working ok, as well.
Also: you might stick a small mirror inside the tank (with some help from above with a flashlight) and rotate it around, to see how badly the tank is rusted on the inside. Rusted fuel tanks can obviously cause real fuel system problems later, and corroded fuel tanks are usually never an easy fix.
If you are new to that bike dealer, depending on your own expertise, you might take the bike to another shop of known credibility, and have them inspect it, before you buy.
If the seller hesitates at the above idea, I think you have your answer.
Personally, I wouldn't degoat the bike, unless you plan on going to a completely different exhaust system (good examples in this forum are Vance & Hines, Cobra, and Jardine). Otherwise, the goat's belly gives needed back pressure that provides some of the low-rpm power. You'll miss this power without it.
One last note: these bikes are generally good bikes, but don't buy this or any other VN750 if you plan on loading it up later with lots of electrical accessories. The bike's factory charging system simply won't handle a lot of new goodies. Max stock charging capacity is approx 288 watts.
If you want other opinions on the deal, post the asking price here later, and others will chime in...
good luck!!!.......
---
'05 VN750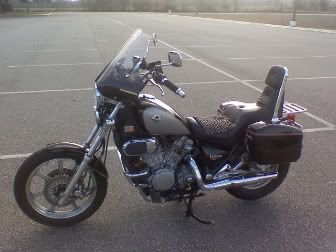 For other bike pix & mods, go to:
http://s1203.photobucket.com/albums/...k/VN750%20pix/
---
Last edited by theauhawk; 01-05-2008 at

08:55 AM

.
theauhawk,

Thanks for the input. I'm learning a lot here and hope this all works out. I'll post a follow up with results.
Search Goddess
Join Date: Jun 2004
Location: Conway, AR
Posts: 2,002
It sounds like the dealer is on the right track at least.
First going with a maintenance free battery and then catching the bad stator and replacing that. Chances are if they traced the problem to the stator they already checked the R/R. When my stator went my R/R was still good. I replaced it but I kept it for a spare.
At 27,000 miles chances are the stator would have gone soon but I would also voice some concerns to the dealer about why the stator went.
Like I said, at 27,000 it could be considered routine replacement. One of the factors that does seem to come into play for stator failure is overheating from extended low speed runs (seems our bikes don't like parades, they want to go!) I've heard of a lot of stators being fried after toy runs or very large slow group rides.
With them doing the stator replacement they saved you a possible $500-$1000 cost for repair (price based on a dealer doing the job vs DIY). With proper care you are good to go for another 20,00-100,000 miles. Get a voltmeter installed and ride with confidence!
You didn't say how much you were paying for the bike.
NADA places the range from $1,385 low, $1,820 average retail (NADA Always runs lower in their price range)
Kelly Bluebook places it at $2795
---
Dianna
Conway, AR
Patriot Guard Rider
2000 VN750 Sere (Serendipity)
1990 GL1500 (Ole Blue)
1986 VN750 EVie (project bike, heavy custom)
VROC # 11628 / 25000-H
ARVROC # 12 Coordinator and Crowd Control
OKVROC # 18 (H)
TNVROC # 45 (H)
Members who have donated towards server costs
Join Date: Jul 2006
Location: Kennett Square, PA
Posts: 3,505
I second all that's been said above - particularly Dianna's point that it seems like they're on the right track. One additional thought for a bike with 27K...the final drive is another thing that's likely to be compromised - easier fix for you (if you can find a final drive on eBay), but just one more <caveat emptor>. At this point, since they seem to want to sell the bike, you may some additional wiggle room - see if you can get them to check the rear splines while they have the bike (if they really want to move the bike, that costs them next to nothing - 30 minutes of shop time, max).

Those are the big-ticket items on these bikes, and it would be normal to see them on a bike with this many miles. If those things are fixed, and the price is right, the bike has 10s of thousands of miles left in her.
---
C
Members who have donated towards server costs
Join Date: Aug 2007
Location: Manassas, VA
Posts: 580
Agree with what's been said. Especially if you can get them to check and lube the splines. Then you've got most of the "problem" areas covered! Should last you for a long time as long as you keep up with the routine maintenance. I would recommend relocating the R&R to get it away from the goat's belly and into some good air flow. Otherwise the VN750 is a great bike, you'll enjoy it!
---
97 VN 750
R&R Relocated
Degoated
Marbled
Ears Shaved/Rejetted
MF/AGM Battery
Irridium Plugs
Spring Solo Seat
32 Ford Model A Tail Light
Custom 2 into 1 Exhaust with 12 inch Glass Pack
Rear bobbed and hard-tailed!
https://www.vn750.com/forum/showthread.php?t=5385
Senior Member
Join Date: Jul 2007
Location: Castle Rock, Wa
Posts: 1,750
If the avatar pict is the bike, yes I'd buy it for the right price. Sounds like they really want to unload it, you might get a great deal. I've seen vn750's in my local kaw dealer sit for months in the showroom.

DT
---
95 VN750 (eBay)31k+
GL1100 front fender
OEM engine guard
OEM high back rest
'V-Twin' HWY pegs
Black 750 Spectre handlebars
SunPro Volt Meter (Amazon)
Maier bug shield (JCW)
Bar Ends anti-vibe (JCW)
Emgo air filters
Tank bag-Eclipse
Tail bag-FroZone Cooler
Back Rest-Igloo 6 pak cooler
WalMart Saddle Bags
R/R Relocate
Dry Splines Lubed
AGM DieHard-Sears
Gutted Goat
Sporster XL Mufflers
LED's-stop,tail,turn,marker
Pickup coil mod to .45mm
Silverstar headlight
Rotella T6
Members who have donated towards server costs
Join Date: Jun 2006
Location: Corpus Christi, Texas
Posts: 1,647
All bikes have their achilles heel. Ours just happens to be the electrical system and the final drive splines. The spline issue is due to factory problems and not material.
Our charging system is shared with several other bikes of different makes so it is not exclusively a Kawasaki problem.
The dealer seems to want to do the right thing which in today's day and age is rare. Most would just unload the bike "as is" and let you sweat the problems. Since the stator repair involves an engine pull, the dealer is taking it on the chin as it would cost you about $1K if you were to pay for it out of pocket. My opinion is that since the dealer is going to the trouble to fix it before you take it, as long as the price falls within NADA Blue Book, I'd take it.
---
Jim W
93 VN 750 "Ursula"
Moved R/R 08Sep06
R/R rewire 17Feb07
New R/R, Installed 14Jun08
New Stator installed 10 Jun08
Maintenance Free Battery 12Jan08
21480 Miles
VROC #8542
Follow up:
Ok, I went back to the dealer yesterday and ended up deciding to pass on this bike. The price had been $2,300 and like I said, they were willing although not excited about doing the work and making it right. Not sure what I'm going to do now...maybe another VN750, maybe a VStar Custom...just not sure now. But what the heck, it'll be cold here for another couple of months and I've learned a lot in the last month, so we'll come up with something. Thanks again for everyone's input. If it's another VN750 I land on, I'll be back.
Members who have donated towards server costs
Join Date: Aug 2007
Location: Manassas, VA
Posts: 580
Good luck to you. Please let us know the outcome even if you don't get a VN750 - we need an end to the story!!
---
97 VN 750
R&R Relocated
Degoated
Marbled
Ears Shaved/Rejetted
MF/AGM Battery
Irridium Plugs
Spring Solo Seat
32 Ford Model A Tail Light
Custom 2 into 1 Exhaust with 12 inch Glass Pack
Rear bobbed and hard-tailed!
https://www.vn750.com/forum/showthread.php?t=5385