Members who have donated towards server costs
Join Date: Jul 2006
Location: Kennett Square, PA
Posts: 3,505
Electrical Puzzle/Question
---
I decided to move this to a non-Orleans thread 'cause I now seem to be having a continued electrical issue trying to get her to start and perhaps someone else has had the same. Here's the order of events:
1. Installed new/used starter motor
2. Turned the key - a little backfiring, but often a "pffft" sound followed by the gauge lights going off.
3. If I turned the key to "off," waited about 60 seconds, turned the key back to the "on" position, gauge lights were working again.
4. Pushed the starter button - "pffft." Did this a few times until:
5. Pulled the seat - noise and a small puff of smoke was coming from the NEG battery lead.
6. Tightened the lead, tried again.
7. "Bzzzzt" from the starter relay, lights would go off, same scenario. Once I even got some smoke from the relay.
Put battery on McKnight and he started right up, so the battery's ok.
TONIGHT
1. Tried a voltage drop test and didn't get far.
a. Battery read 12.5 volts
b. Power side test (POS to POS battery lead, NEG to POS terminal on the relay - turned to "on" and pressed starter button) yielded miilivolts.
2. Pulled power wire and the connector from the wire to the relay looked torn - partner said, "That looks burned!" Perhaps somehow related to last night's smoke incident? Anyway, clear from the connector that relay wasn't getting sufficient voltage ("bzzzt" clue, per an earlier post).
3. Replaced relay with a new/used one I had in my toolbox and tried the voltage drop test again.
4. "Pffft" - gauge out and smoke from the NEG battery terminal.
5. Went back to starter motor and reattached cable, thinking maybe I was shorting to ground accidentally.
6. Engine on, starter on, "pffft", gauge lights out, same ol'.
What the heck am I missing??? The no-start issue is not at the top of my list at the moment, 'cause clearly I'm shorting out somewhere in the starter circuit. Or I think I am - what's puzzing me is the "pffft" from the NEG terminal combined with the gauge lights going off - and then back on again if I turn the key to "off," wait about 60 seconds, and turn the key back to "on." My only other thought is that I've got a short in the ignition switch or circuit - but I could be chasing thing forever with my understanding of electricity.
---
C
Drive less, ride more...
Join Date: Nov 2005
Location: SW Ga
Posts: 1,114
Assuming the "new" starter relay tests out ok (per the test procedure on page 315 or so, of the Clymer manual)....and all the relevant connections are clean and tight.....
then you need to test for continuity between the starter button and the "new" starter relay.
Use the appropriate wiring diagram in the back of the Clymer manual (along with the info in chapter eight), and....if you need to, don't be afraid to bring in some local outside help.
For example: you might try talking to someone at a nearby tech school who's been teaching electronics for a while, and ask them for suggestions. Bonus points if the person(s) you talk to there also ride and work on their own bike. Wouldn't it be a hoot if they turned your bike's diagnosis into a class project???......
---
'05 VN750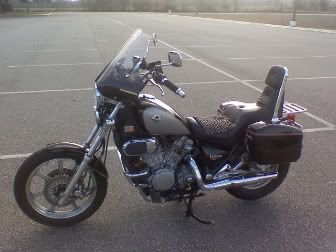 For other bike pix & mods, go to:
http://s1203.photobucket.com/albums/...k/VN750%20pix/
and the Adventure Cycle
Join Date: Jun 2004
Location: Western PA
Posts: 6,138
Hmm, just a thought, but could the wires going to the starter or the relay somehow be reversed?
But then again, you did mention that you did get some backfire, so most likely not???
---
AKA: Tim & 'The Adventure Cycle' VROC #24567, NEVROC, SteelCity VROC
"When life throws you curves,
Aim for the apex."


Author Unknown
Drive less, ride more...
Join Date: Nov 2005
Location: SW Ga
Posts: 1,114
I've seen reversed wiring yield similiar symptoms, elsewhere.
So Hyper could very well be on to something there.
You might go back, and make sure that you don't have any connections reversed.
On the surface, this sounds silly and perhaps a bit insulting, but it's a mistake that's amazingly easy to do, sometimes......
---
'05 VN750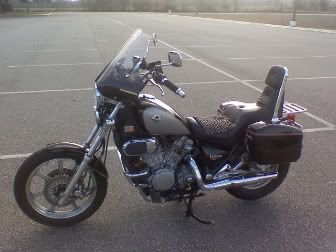 For other bike pix & mods, go to:
http://s1203.photobucket.com/albums/...k/VN750%20pix/
Stranger Than Fiction
Join Date: Mar 2006
Location: Alabama
Posts: 151
Cindy, I'm thinking I would be looking for some wires that got crossed. Slim chance that it "could" be the relay. Smoke is being caused by heat when she's trying to start. I would do as you did back in the early stages and trace out "EVERY" wire, double check the connections and polarity..It "May" be something as simple as a ground being loose or not making a proper connection. Check all the wires attached to the frame and make sure they have a good clean connection. If you don't find anything that way, I would unplug everything not necessary to acutally start the bike. (ie..any and all lights, tach, turn signals and what not..INCLUDING RELAYS) If this helps getting her to run, then, take it one step at a time. Plug up the headlight, then the left font turn signal, then the left rear one..and so forth till you find what direction to look for the problem.
Keep in mind that things stop working when all the smoke runs out.
---
'92 Vn750
Members who have donated towards server costs
Join Date: May 2006
Location: Tampa, Florida
Posts: 1,766
Cindy -

Using a suitably large wire (like a jumper cable), try going from the battery positive directly to the starter positive. Disconnect harness lead to starter before you do this.

Starter shoud be grounded through engine, so when battery positive is applied to positive starter terminal, should spin right over.

If not, take second large wire and tie battery negative to starter frame to ensure good ground.

This should help you find the gremlin. If the battery pos to starter term spins it over, that's one circuit to check. If the battery neg to starter frame does it, that's another circuit to check.

You did connect the main negative ground strap to the top rear portion of the engine?

Jon
---
93VN750, under re-construction
vn750.com Member # 828

Rick's Stator and R/R
MF AGM Battery
Coastered
Degoated
Shaved & Jetted
Iridium's
MAC Tapered Staggered Pipes
Battery/Temp/Clock Gauge
Stainless Steel Brake Lines
Dunlop D-404's
23,XXX miles and holding pending gasket change (underway!!!)
Members who have donated towards server costs
Join Date: Jul 2006
Location: Kennett Square, PA
Posts: 3,505
Thanks, folks, and no worries about me being insulted for possibly crossing up wires. I was wondering the same thing, so will review all the wires tonight and see if something's way off - usually with the harness and all the connections (and colors), it's kinda hard to reverse stuff; but not always. Definitely worth another look!

THANKS, and I'll keep you posted!

C
---
Last edited by Crobins365; 11-30-2007 at

03:34 AM

.
Join Date: Sep 2007
Posts: 16
For a simple test, remove the starter motor from the engine block. Leave the HOT wire connected and attach a NEW GROUND wire from the starter motor frame to the engine frame. If the starter motor spins when you try to crank the engine, the starter motor and its circuit is OK. In this case, you must then check for a mechanical problem that prevents the starter from cranking your engine (ie broken/worn teeth, frozen engine, etc...)

The 'smoke' you mentioned usually comes from excessive heat on the wiring/connections due to the overload current demand on the starter circuit. If you have been smelling electrical smoke during the start-up procedure, the wires and connection in the starter circuit could also be compromised by the burning heat creating a 'loose' wire/connection symptoms. In this case, you can verify the wire/connection problem by removing the starter motor from the bike and attaching it directly to the battery with new wires. If the starter motor spins freely, check the heavy wires from the battery to the starter motor on your bike. BTW, the electrical load to activate the starter relay is very small. The 2 common relay failures are oxidized contacts and coil failure.