Join Date: Oct 2007
Posts: 98
Where to go from here?
---
'94 with 40k on it...here's the deal. Picked it up for $1700 about 10k miles ago. I love riding it and she handles well. I've put about $500 in it already with new front tire, AGM, radiator flushed, oil cahange, valve adjust, yada, yada....and now the fan relay on the junction box went (replaced it) the R/R went (replaced that) which now seems to have taken out the stator (not charging the battery at all - only getting 12.8volts @4000 rpms).

Here's the question or questions;
1) Whatelse elctrical can I look forward to going out?
2) Is it worth hanging on to this bike?

As I said, I love this bike but give it to me straight.

Thanks,
-Tim
Drive less, ride more...
Join Date: Nov 2005
Location: SW Ga
Posts: 1,114
Well, the answer to #2 is really up to you....

If you swap that bike for another, how do you know it won't need $$$$ to debug it, as well? Will you go to another make/model of bike--or not? If so, then what?

Your situation is the possible outcome with an older bike, especially if the previous owner(s) didn't take good care of it.

For question #1: it looks like you've taken care of most of the electrical big guns. I'd be more concerned about the driveshaft splines (unless you've already been there, and/or had them lubed), and the ACCTs.

If you really do "love" the bike, and the engine and body are basically in good shape--then consider the repairs a labor of "love" and keep it!!!
---
'05 VN750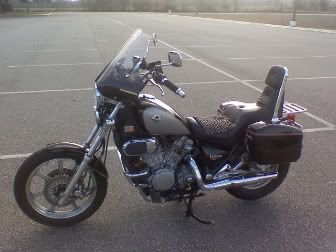 For other bike pix & mods, go to:
http://s1203.photobucket.com/albums/...k/VN750%20pix/