fuse panel
---
Hello all,
I just bought a 1994 VN750A for a song.

The original owner thought it was locked up. It was not.
Problem seems to be electrical. I attached a 12v source (the battery is beyond hope, I will be replacing with no maint battery type.) and the Lights on the Bike will not even illuminate.

Question is: Is there a fuse/junction panel for this bike and what is that location?

Scott Jacobs
Calif Rider
Join Date: Jan 2006
Location: Petaluma Calif
Posts: 725
The fuses are located behind the left side panel. Wish you luck in finding the problem.
---
2004 25,500 miles
Led tail light enhancement
Homemade floor boards
Headlight modulator
Extra heat sink on R+R
R+R relocation
Homemade driver's backrest
Fused Stator
Mcct conversion-cost 4.50
Ride-on in tires
crash bar with home made hyway pegs
iridium plugs
home made fork wind deflectors
coil pickups adjusted.
Kenda kruz tires 110/90 170/80
Drive less, ride more...
Join Date: Nov 2005
Location: SW Ga
Posts: 1,114
Yo, Dude!!!
Congrats, and welcome to the VN750 Family!!!.....
The fuse box is located on the bike's left side. Remove the plastic cover right behind the engine that has "Vulcan" on it. Your bike's key will fit the screw on this panel just perfect.
You'll then see a fuse box and its removable front panel.
Inside, you'll find an area labelled, "spare fuses" too.
Otherwise, be sure to check your "new" bike's splines for proper lubrication (search other threads here for more info).
Good luck.......
---
'05 VN750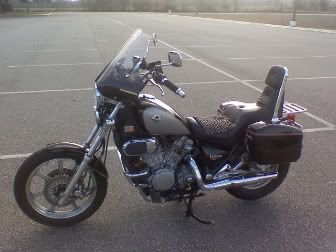 For other bike pix & mods, go to:
http://s1203.photobucket.com/albums/...k/VN750%20pix/
Thanks for the help. This bike will be my winter project.
As I progress I will try to post pics. I am also an amateur radio operator (ki4gsf)
and will be out fitting the bike to support that.

Thanks again.
Scott Jacobs
Join Date: Jul 2007
Posts: 140
tip of the hat
---
tip of the hat to a radio operator, but it seems that electrical is the achilles heel of the vulcans. prepare yourself with the posts, and verses before you get overloaded from your gear if you are going to draw current from your bike for your radio. welcome and good luck
Lebanon, NJ
Join Date: Mar 2007
Location: Lebanon, NJ
Posts: 437
Welcome aboard...

KC2NXY here...
---
Members who have donated towards server costs
Join Date: Jun 2004
Location: Naperville, IL
Posts: 382
If you haven't already, you can also download a parts and maintenance manual from:
http://tocmanufacturing.com/toc.htm
If you use internet explorer, right click on a link and select "Save Target As.." because the files are large.
---
Deuce (Loran Naperville IL)
1995 VN750 (Black w/ 2004 tins - no teal)
2003 VN750
Both have: - F&S Bags & brackets
- Corbin seat w backrest
- Progressive suspension.
- Kury iso goldwing grips
2 1983 V65 Magnas
2 1985 V65 Mangas (1 which is in many parts)
Thanks for all of the help and info

Scott Jacobs KI4GSF / AFA2MS (USAFMARS)
and the Adventure Cycle
Join Date: Jun 2004
Location: Western PA
Posts: 6,138
Welcome Scott,
I still remember the call sign we had back when CB radio's need to be licensed, KLS1292.
Geez, that was ages ago, musta been in the early/mid 70's!! Breaker Breaker 1-9!! LOL
---
AKA: Tim & 'The Adventure Cycle' VROC #24567, NEVROC, SteelCity VROC
"When life throws you curves,
Aim for the apex."


Author Unknown