Join Date: May 2006
Posts: 108
I have my volt meter hooked directly to the battery. I had to wire it through a relay in the headlight bucket so the meter shuts off with the bike. If you don't want to hook it up to a relay then you will need to install a switch to shut the volt meter off. Some people hook their volt meter directly to that wire (I think it's yellow with a black stripe) in the headlight bucket. I just think you get a better reading at the battery.
Senior Member
Join Date: Mar 2007
Location: Houston, TX
Posts: 236
kanuck, one way to check that everything's working right is to check the battery with the multi-meter on DC (positive on positive and neg. on neg.). Before you start the bike the battery should be reading ~12.8-ish. Once you start the bike check it while idling, probably in the 11.9-ish range. Rev the motor to 2500 rpm, and then say maybe around 3500 rpm. If everything's working your meter should be reading in the high 13's to mid 14's (I'm pulling these #'s from memory, but you should be able to find more in the verses).
Make sure that you check the voltage after the bike has warmed up too, the voltages should match what you got before you warmed her up. If you aren't seeing these type of numbers, you'll need someone with more multimeter experience to help you. I figured out how to test mine, but it's been several months and I don't remember the details.
I did some digging and found my old thread
here
, hope this helps.
---
I smile 'cause I don't know what the h*ll is going on.
---
Last edited by BigT; 08-06-2007 at

04:44 PM

. Reason: Found link to my old thread.
Senior Member
Join Date: May 2007
Location: Massachusetts
Posts: 387
What type of battery did you get?
---
2001 VN750
Vista Cruise Control
V-Force shield
Kawasaki Saddlebag supports
Fixed trunk hinge
TOC MCCT
Clear Alternatives LED tail light
Knifemaker style floorboards
Knifemaker style dash
Avon Venom X 110/90 Front
Avon Venom X 170/80 Rear
Big Crank AGM battery
25,100 miles as of 04/20/2010
Benjammin'
Join Date: Feb 2006
Location: Ohio, Dayton-Cincy area
Posts: 421
I was amazed at the difference just a new battery made to my bike. If you don't have them yet, iridium plugs were about as much an improvement for cold (and I think hot, as well) starts.
On a separate and unrelated note, is Tom's Ice Cream still open there in Zanesville? I have traveled there several times with the family to enjoy that amazing place. ...You know, I could see Tom's being an Ohio VN750 gathering point for a ride one of these days. Whaddyathink?
---
Ben-
SW Ohio

'02 VN750
Pipes drilled
Spline lubed
R/R relocated
AGM batteried
Iridium equipped
LED tail lighted
8000-ish miled
Soon to be MCCTed

Lovin Life.
Yes, Tom's is still there. I don't go to often. I kinda forget about it being there. So much new growth you tend to forget the old! As far as a Gathering in zanesville. I like the idea. I'm not much of an organizer though. I actually was going to go to the Erie gathering but as fate would have it I was supposed to take my parents back home that weekend. My dad was diognosed with terminal cancer a few months ago and I think that really had a toll on my mom. She had a heart attack that weekend. Yes she survived. Had a 5 valve bypass though. I told here if she was going to do it she might as well go all the way! She laughed & is recouping well! So obviously I couldn't go.
---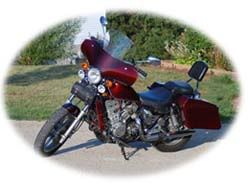 Orig. 8600 Miles 5/12/7 Currently 50,500Miles

Owners Manual
Repair Manual Download
Mosfet RR Test
Goof Proof Stator Test
VoIP Doc's Ear Shave & Re-jet Procedure
Hyperbuzzin's "How To Post Photo's.
Mosfet R&R Headlight Fix.