Drive less, ride more...
Join Date: Nov 2005
Location: SW Ga
Posts: 1,114
I think pretty much everyone here will like and appreciate this quite much.

However, the local "Barney Fife" mentality where you live will probably think it's a little bit too clever.

Obviously, be sure to first check the codes in your area for lights that behave like that.

A little advance homework will give you peace of mind--and may save you from an expensive ticket.

This is probably one of those bulbs that's for bike shows only......
---
'05 VN750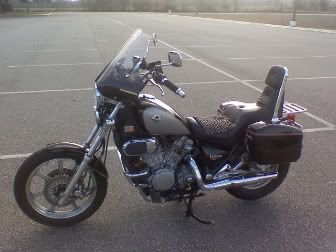 For other bike pix & mods, go to:
http://s1203.photobucket.com/albums/...k/VN750%20pix/
HAWK
Join Date: Feb 2006
Location: Chicago land
Posts: 2,576
---
Chad Falstad "Hawk"
Vroc #17649
2011 HD Ultra Classic "angel"
2001 Nomad 1500 Sold March 2012
2001 VN 750 "Sold June with 2008 with 21,000""Serinity"
I figured it wasn't anything stellar, I had just never seen one before and figured someone here could give me the skinny on it. I'm gonna pick up one of those replacement LED boards and the BackOFF module.
Join Date: May 2006
Posts: 108
I had similar LED's that didn't spin and they were not bright at all. I just put the LED boards on and they are so much better.