LED License Plate!
---
What do ya think?
Here's what I did. I bought a Metal License plate frame and cut it so the new light would fit hanging over the plate. They fit snug (The plate and light) and sit well behind the metal frame, like normal. With everything bolted together, Frame, (Plate, Light Combined), Existing Mounting Bracket. Here's what you get. $23.00 and some time.
Thats it!
---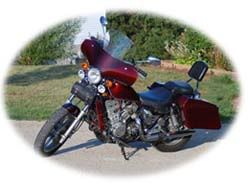 Orig. 8600 Miles 5/12/7 Currently 50,500Miles

Owners Manual
Repair Manual Download
Mosfet RR Test
Goof Proof Stator Test
VoIP Doc's Ear Shave & Re-jet Procedure
Hyperbuzzin's "How To Post Photo's.
Mosfet R&R Headlight Fix.
Members who have donated towards server costs
Join Date: Jun 2004
Location: Naperville, IL
Posts: 382
Great mod.

It looks like there may be enough room to mount it upside down resulting in the plate being near the tail light. If it would fit/work that would cover up the old light mount. Would have to see how it looks.
---
Deuce (Loran Naperville IL)
1995 VN750 (Black w/ 2004 tins - no teal)
2003 VN750
Both have: - F&S Bags & brackets
- Corbin seat w backrest
- Progressive suspension.
- Kury iso goldwing grips
2 1983 V65 Magnas
2 1985 V65 Mangas (1 which is in many parts)
and the Adventure Cycle
Join Date: Jun 2004
Location: Western PA
Posts: 6,138
Certainly cleans up the look of the rear fender.
Looks good
---
AKA: Tim & 'The Adventure Cycle' VROC #24567, NEVROC, SteelCity VROC
"When life throws you curves,
Aim for the apex."


Author Unknown
Join Date: May 2006
Posts: 108
It came out real nice. Good job.
Benjammin'
Join Date: Feb 2006
Location: Ohio, Dayton-Cincy area
Posts: 421
Very Nice!

I was wondering- is there not a pop in replacement LED bulb for our existing license plate bulbs? Is that why you had to do the modification? I know an LED bulb will not give the illumination of the panel that you have.

But, I like having more illumination on my backside in the dark!

Thanks!
---
Ben-
SW Ohio

'02 VN750
Pipes drilled
Spline lubed
R/R relocated
AGM batteried
Iridium equipped
LED tail lighted
8000-ish miled
Soon to be MCCTed

Lovin Life.
85 VN 700
Join Date: Feb 2007
Location: Albany, OR
Posts: 1,033
What light did ya use?

I need to get a light back there - I removed the old license plate light and mounted the bottom of the plate to where the top used to be (so the plate isnt sitting below the fender) - cleans up the look but alas, I'm not legal at night since I couldn't find a suitable light - what you did just might be the ticket.
---
Curtis - Albany Oregon.
Currently receiving therapy from "Doc" - My 1985 VN700.
Daily rider in NorthWET Oregon.
Ammo Can Saddlebags
Shaved and Rejetted. Coastered. Degoated w/ Hardley pipes.
Bought Feb 2007 with 12K miles.
Hit the 24k mile July 2008
http://photobucket.com/curtis97322
Join Date: Jul 2007
Posts: 33
does someone have a pic with the plate turned upwards. Contipating doing the mod but would like to know what direction I am headed b4 I start.