My R&R Relocation
---
I got the Idea from others I saw. But this is simply a flat bar, 3 holes drilled, and using existing hardware. Step 1 Mod.
Join Date: Oct 2006
Posts: 74
Yeah, me too
---
I've seen that on here before as well. That's how I'm going to do it too as soon as I get my R/R.

Haven't figured out a way yet to protect the connector from rain other than placing a huge smear of dielectric grease.
Grease & Gravity! The air flows past it. Water drips off it, And alittle grease now and then... It's all good!
Benjammin'
Join Date: Feb 2006
Location: Ohio, Dayton-Cincy area
Posts: 421
I mounted my R/R in the same way, but with the plug facing up and had the same fear. Though I am probably the MOST fair weather rider, there will be times when I can and will get caught in rain. So, I decided to coat the inside terminals with dielectric grease and seal the top of the connector, around the wires, with a film of silicone caulk. I also put a bead around the joint of the connector where it plugs in to the R/R. I think, should I get into some rain, I am protected.

You may want to give that a shot.
---
Ben-
SW Ohio

'02 VN750
Pipes drilled
Spline lubed
R/R relocated
AGM batteried
Iridium equipped
LED tail lighted
8000-ish miled
Soon to be MCCTed

Lovin Life.
Thanks Fergy!
---
Cudo's to fergy. Thanks for the location Idea. I mounted it differently but thanks all the same!
R&R Question - is this my problem?
---
OK, I apologise up front for the length of this post... after reading how all you guys have reloced your r/r, I'm wonderering why the need to relocate that r/r, and what were the symptoms that led you to figure out you needed to relocate the r/r? Here's my story... again sorry for the long history posted here.....


I purchased the bike in September of 2005. It ran ok, hard a hard time starting sometimes, and would backfire. In the spring of 2006, I took it in to a shop who pulled the carbs, cleaned them out, cleaned out the gas tank of all the rust, and did a tune up. The bike ran great back from the shop. Not a problem.

In June of 2006, we went for a ride. The bike ran great for a while, then it had a hiccup. It seemed like it dropped one cylinder for a moment, sputtered, and then started running fine. At first, I thought it might have been a small rust particle then got through the filter, and into the carbs that caused the bike to stutter. Then two days later, after running fairly well for two days, on my way home, driving down the interstate at 70mph, the bike completely died, just quit. All electrical power gone. I pulled over, checked the fuses, and found that the 30 amp, main fuse was blown. I also pulled the seat off on the side of the highway, and found a piece of bundle of wires under the seat, where the wires had chaffed though. I separated the wire, wrapped some electrical tape around it, and drove home.
A few other times, when the bike got real hot, after some long rides, the main fuse would blow, and the bike dies. I replace the fuse, and drive home.
Over the winter, I lined the tank with the Kreem products, and checked all the wires, as much as I could with out taking off all of the wire off the bike, or out of the protective covererings. At the time, I found that one of the stator wires than run out of the motor, under the bike on the left side, and up to the fuse panel had a bare wire. I thought that what was happening was the bike ran fine, cold, then as the bike and wires heated up, the rubber case would milt, exposing the wire, and it would short out against the frame. As the bike cooled off, the rubber coating would harden back up, protecting the exposed wire. So I found the bare wire, cut out the bare part, soldered the wire back together, covered it with shrink tubing, and a layer or two of electrical tape. Put the bike back together, and it has been running great since.

This past weekend, we rode from Northern Mass to Colebrook, NH for the 31 annual Blessing of the Motorcycles. The weather on Friday was rain, and pretty cool. Saturday it was pretty cold up north with lots of clouds. Temps probably in the 40's at night, to low 50's during the day. We drove up Friday, went on some short rides, 50-60 miles through the mountains, and the bike ran great. Not a single problem. I put 500 mniles on the bike with no problem at all. I thought I had the electrical problem solved, thinking it was that shorted stator wire. Sunday, the weather turned nicer, mid 70's and sunny. We started home. We went south, through some back hilly roads, sometimes getting up to 60-70 mph on long long stretches. The bike was definitely hot, temp gage in the middle of the gage. We stopped for lunch, then hit Interstate 93 South, and headed for home. We ran at 65-70± mph for a hour plus, then pulled over for a quick break. I got back on my bike after a 10 minute stop, and headed back on the interstate. I then ran it at 80 mph for approx 30 minutes, then stopped for a toll. Went through the toll, and when I started to accelerate, the bike died again. I pulled over, check the fuse, and the main 30 amp fuse was again blown. I changed it out, started to pull out, and it popped another fuse. I changed that one out. I let the bike sit for about 5 minutes, took off slowly, and got it back up to speed, this time keeping it at 65 mph. It ran fine for the last 30 miles home. When I got off the highway, turned onto the street that heads home, it popped another fuse. Since then, I've been running with both side covers off to help the heat escape, but have not been able to rellay run ot for a long while to see if I can get the fuse to blow again.

HELP! Does this bike have problems when it gets hot? Should I check the rectifier? Is this a normal problem, or do guys think I need to look elsewhere for the problem? Should I reloce the r/r as you guys have?

Thanks for the help. I'm wicked frustrated with this problem.....

Steve in Massachusetts
Here's what I've got. I've read so much about how the rectifiers position is a major design flaw. It it's self makes heat. It is positioned above the goats belly. A huge source of heat. This causes the rectifier to shut down or such. Other words, malfunction. When it malfunctions it screws with the electrical system, stator ect. Repositioning it is hopefully a preventive measure and not a fix. If it's a fix there is always the possibillity that some damage has already occured. I don't pretend to know the electrical system for this bike, I'm just trying to be preventive whith what I can. I had a glitch in mw wiring the other day. See "What the F*@$" When I relocated I noticed one lead to the rectifier looked burnt where it connected, but not ruined. I haven't had any oddity's since. There's lots of info in here about it if you dig a bit.
---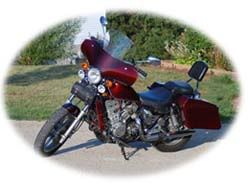 Orig. 8600 Miles 5/12/7 Currently 50,500Miles

Owners Manual
Repair Manual Download
Mosfet RR Test
Goof Proof Stator Test
VoIP Doc's Ear Shave & Re-jet Procedure
Hyperbuzzin's "How To Post Photo's.
Mosfet R&R Headlight Fix.
Drive less, ride more...
Join Date: Nov 2005
Location: SW Ga
Posts: 1,114
Steve,

I would say.....judging by the info you've given that you still have a short somewhere in your electrical system. The resulting current runaway is blowing your fuse.

The first thing to do is visually inspect the machine looking for broken wires, or wires with insulation pulled back so they can short against nearby metal parts.

Another idea would be to do a resistance test on your r/r terminals just after another fuse blows, since your short is apparently heat related. There are other threads here on the forum that explain how to do this test.

In any case, I can tell you that your problem is NOT normal for this bike at higher temps.

Without knowing more about your bike and how its electrical system may have been modified by a previous owner, it's tough to point out the culprit here.

Hopefully, another more experienced forum member can make some added suggestions....
Thanks
---
to theauhawk:

thanks for the response. I'll have to keep looking and pulling the wires apart looking for bad wires someplace. At least now I know that this is not a normal thing. Thanks

Steve
Join Date: Apr 2007
Posts: 43
Quote:
I got the Idea from others I saw. But this is simply a flat bar, 3 holes drilled, and using existing hardware. Step 1 Mod.
Any details on the flat bar? Is it made of aluminum and would Home Depot carry such an item? Would the bolts just screw into the bar or should I get some nuts to secure the thing?
thanks