Senior Member
Join Date: Feb 2010
Location: Pocono, PA
Posts: 326
I think I had my stator unplugged and the bike was still idling fine. I don't think the stator has to be there for the pickups to work.
---
1992 Vulcan 750.
Ear shaved and re-jetted.
Yeah the stator is definitely not required for the engine to run. The pickups work off the rotor's magnetism.
---
1986 Kawasaki Vulcan 750
NGK Iridium Plugs #7803/DPR7EIX-9
Duralast Gold ETX15 AGM Battery
Coastered & Shaved
TOC MCCTs
Metzeler ME880 [110/90-19, 170/80-15]
Balance Dampers Replaced
Tuxedo Mod
Rebuilt Forks w/ Progressive Springs
V&H Cruzers
VN750.com Grill Cover
Meanstreak Seat
Emgo 23-92411 Handlebars
MOSFET FH012AA R/R

1990 Kawasaki Vulcan 750

1998 Honda VFR800 FI

2014 Honda VFR800F

1989 Pontiac Firebird Formula 350
Senior Member
Join Date: May 2006
Location: Tucson, AZ
Posts: 207
Yeah, this idea has been kicked around for quite a while; see
here
for a taste. I'd be real excited to see someone do this on the vn750. Let me know if you're going to try it - I'd like to talk to you about it.
There's a guy who did the same mod on a couple of VN1500 police bikes. Search for
D-Ray
on YouTube.
One note: I would think a light-weight chain would be appropriate to drive the alternator because it requires less lateral force than a v-belt sheave. This may be easier on the new transition shaft's oil seal.
---
Darrel
'03 Vulcan 750
(90k miles)
-Corbin Seat
-V-Force Windshield
-LeatherLyke Touring Bags
-Chrome Luggage Rack
-Headlight Modulator
-Brakelight Flasher
-MF Battery
-Heads-Up Voltage Monitor
-Replaced Stator (9,000 and 16,000 mi.)
-Oil-cooled Stator Mod (
photos
)
-Replaced and Relocated R/R
-Greased rear splines
-Fused Stator (
photos
)
-Metzeler ME880 Marathon 170/80-15 (Rear), 110/90-19 (Front)
-TOC MCCTs installed
-Headlight Relays
SOLD - 2013
Seeing how that guy did it, I figure its just a matter of matching pieces. The mount for the rotor already has the place fora shaft/ bolt like the fella had made. Then it's finding the oil seal & making the appropriate hole.
I think a v-belt pulpy is still going to be the simplest as most the 1 wire mini alternators I've looked at are a v groove.

What it all really hinges on is the size of the alternator as I'm figuring it will mount above the bevel gear in front of exhaust.

I'm not ready to jump on it. But I'm figuring out what needs to be done.

Oh, on the chain. The shaft that would hold the drive pully is probably going to be 1" to 3/4".
I can't imagine much flex from that.
He'll, it's all a work in progress.
---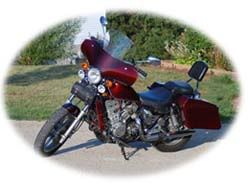 Orig. 8600 Miles 5/12/7 Currently 50,500Miles

Owners Manual
Repair Manual Download
Mosfet RR Test
Goof Proof Stator Test
VoIP Doc's Ear Shave & Re-jet Procedure
Hyperbuzzin's "How To Post Photo's.
Mosfet R&R Headlight Fix.
---
Last edited by kanuck69; 06-13-2013 at

06:55 PM

.