Senior Member
Join Date: Oct 2011
Location: Waldorf, MD
Posts: 483
Voltage drops when Rpm's raise
---
Hey All-

First let me say that I have had no issues with the charging system on my bike so far(That I know of). I do have a Maint free battery that I purchased 5 months or so ago.

I recently decided to undertake the job of doing maintance on my electrical system.

I took everything apart under the seat. I removed my battery box, r/r, fuse box, everything. I spent some time cleaning all my connections.. I sanded and spray painted my battery box and then put everything back together. I used dielectric grease on all the electrical fittings as well.

Sooo when I put everything back together I decided to test my charging system for the first time... and here is where my question comes in..

I start my bike w/ choke... after a couple of minutes I take it off choke and test my battery with a multimeter. I got around 14.4 volts at idle.. Which from what I read I was happy about. However every time I gave it some gas and drove the RPM's up the voltage would drop.. I never saw it drop past 13.2 volts but it did drop.

I have read alot of advice on the forum about checking your electrical connections.. mainly grounds.. I went through and did that.

In my clymer manual I tried to follow the instructions to test my R/R but I don't have an ohmmeter that I can set to r x 100 and using my digital multimeter didn't give me proper results.

Sooo before I drive myself crazy looking for answers I should make sure there is a problem. Everywhere I read says my voltage should increase when my rpms dooo.. This is correct?

Thanks Guys For Your Time.
---
Charging output is not linuler. (my spell check had no idea on that sorry) what I mean is you can get 14.2 volts at idle , 15.2 at 6000 rpm and just about anything on between. I got 13.6 at 4500 and 14.6 at 5000 rpm.

As long as no reading across your rpm range drops below that 13.2 you got you are fine.

I had a digital readout on my bike and saw there seemed to be no rhyme or reason to what it displayed.


Keep in mind the R/R dumps excess voltage to ground. So it's very possible to get more volts at the battery at low rpm readings and lower volts at higher engine speeds.

I would of course make sure you have the ground wire solid and clean. But don't panic, you sound all right to me.
---
Last edited by Knifemaker; 04-04-2012 at

10:27 PM

.
May not be the case with your bike but mine did that once. The connectors from the stator to the wiring harness were heating up red hot and melted the silicon boot off. The were clean but discolored. Cut them out and soldier the wires and added heat shrink and haven't had a problem since.
Drive less, ride more...
Join Date: Nov 2005
Location: SW Ga
Posts: 1,114
I'll second the above....
As long as you get voltmeter readings of 13+ volts when the bike is in motion, you should be ok.
Your voltmeter readings will not always be "linear"--i.e., the readings will not always climb with higher rpm's.
As a quick aside--you should be congratulated on taking the time and effort to clean and then treat your bike's connections with dielectric grease. Good job!
An annual connection/ground/connector cleaning, along with a healthy maintenance-free battery....should give you a lot fewer electrical problems with your bike.....
---
'05 VN750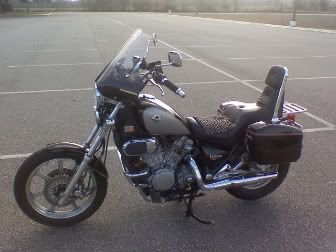 For other bike pix & mods, go to:
http://s1203.photobucket.com/albums/...k/VN750%20pix/
Senior Member
Join Date: Oct 2011
Location: Waldorf, MD
Posts: 483
Knifemaker- Thanks.. Much appreciated.. I will keep an eye on the voltage while I ride with my new trusty dusty Voltmeter!

ChuckA- I will check those in a few minutes here.. If I see any signs of ugly I will do as you suggest and solder them on. Thanks for the advice.

Kc2dgq- I did replace the rear tail light with an LED light.. Otherwise everything else is normal.. You should PM me your "theory".. I would be interested.

theauhawk- Funny that your the one to give me props because it was one of your older posts I ran across that convinced me to undertake it :-) Thanks Man.. I am glad I did and know my ride that much better now.. Thanks Again!