Member
Join Date: Jun 2011
Location: Plainfield, IL
Posts: 35
Anyone running custom turn signals?
---
I was looking at some 16 LED turn signals on ebay that i liked, but i noticed they mounted way different then the stock ones, has anyone used aftermarket turn signals like this?
Member
Join Date: Jun 2011
Location: Plainfield, IL
Posts: 35
those will work.. you just need to make an adapter plate to mount them
Senior Member
Join Date: Feb 2010
Location: Owensville, MO
Posts: 278
I didn't use after market t/s, but when I needed to relocate the rears to accommodate saddlebags I grabbed an old set of stock t/s, removed the brittle and broken stems, then fabricated a threaded stem and bracket in order to relocate to the license plate.
It's not perfect and may not be permanent, but the price was right and I kinda like how they turned out.
This may not be what you want to do, but thought I'd throw out what can be done with little money and a little ingenuity.
https://www.vn750.com/photopost/showphoto.php?photo=3409
John
---
1989 VN750
VROC#31798
I'm bad with names. May I just call you dumb?
Junior Member
Join Date: May 2011
Posts: 7
I bought the same ones only in black. they are sweet. the front and rears i drilled and tapped the existing holes I had and threaded them in but i was goin to mount the rears directly on the brake light housing. just drill a hole.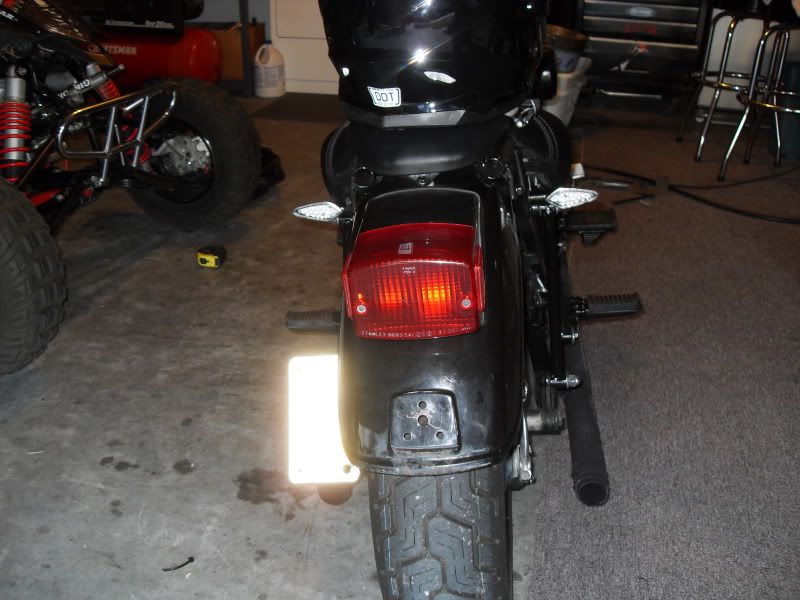 the fronts i was going to mount a little flat plate across the big hole using the existing bolt to hold it in place. drill and mount to that. but i decided to direct mount them. they work great. I didnt replace the flasher they only blink a lttle faster than the stocks.