Member
Join Date: May 2011
Posts: 88
Getting depressed
---
I bought a 1985 Vulcan. Fell in love with the bike but the longer I own it the more I find is wrong. First off i bought a new battery because the old one wouldnt hold a charge. Now the new one is dead. Bike also leaks oil and has a missing problem. Also needs a new seat. All this wouldnt be so bad but went to dmv to register and found out the previous owner hadnt registered since 2009. I got slapped with $700 in back fees
I could problably get my money back if i make a bid deal of it but like is said i love the bike. I could never find a better deal or afford anything more. I only paid $800...well plus the $700 at the dmv. FML... Anyone have any suggestions on what i should do??....been up and down this forum but this is my first bike besides dirtbikes and I dont really understand the ins and outs. Links to videos for repair would be very helpful. Would really like to just pay someone to fix the problems.
Senior Member
Join Date: Mar 2011
Location: New York
Posts: 217
Start with the simple solutions and build up to the more complex jobs. Change out the spark plugs (iridium), put in an MF battery (if yours is new the place you bought it from might charge/replace it for free), change the oil, make sure your antifreeze is full/clear. Buy a bottle of Seafoam from your local auto parts store and run a few ounces with each tank fill to help blow out your carburetors. These bikes are a lot simpler than you might imagine and this is a good start.
Big Dumb Viking
Join Date: Apr 2009
Location: Marietta, GA
Posts: 597
I don't understand how if the previous owner didn't register it that it is *your* problem?

How bizarre...
---
.
.
.
-Az
http://www.asbrand.com
1989 Kawasaki Vulcan 750
Upgrades so Far:
Coastered
R/R relocated
Analog Voltmeter
PFIII Windshield
RAM GPS Mount w/Garmin GPS
Cigarette Lighter Power Adapter
Saddlemen's Classic Explorer Seat
Pro-Tac Driver's Backrest
LED Tail Light
LED Rear Turn Signals
Luggage Rack
Storage Trunk
Engine Guard w/Highway Pegs
Radiator Grill Cover
Turn Signal Relocation Bracket
Saddlebags
Floorboards
Old Truck Junkie
Join Date: Jul 2007
Location: Roby Texas
Posts: 4,133
Back fees? Here we pay the use time only.
---
02 honda sabre 1100
Patriot Guard Rider
Join Date: Jan 2011
Location: Torrance, CA
Posts: 825
When I purchased my '86 the PO hadn't registered the bike since '97 and I had to pay back registration of $500. Not bad when I paid $500 for the bike.
---
1986 Black Kawasaki Vulcan VN750 "Black KAWK"
VN750 #9300 & VROC #33453
EMGO Handlebar, V&H Exhaust, Drop Shocks, Raised/Painted Fork, MeanStreak Seat, Tank Bib, ME880 Oversize Tires, Engine Guard, Custom Mirrors, Chris Products Turn Signals, Ear Shave, 150/42 Jets, PINGEL Fuel Valve, MCCT, Volt Meter, Shendegen R/R, AGM Battery, Coastered, .020 Coils, Relo Gauges & Headlamp, SilverStar Ultra, LED Flashing Brake Light, Center Stand Delete, WOLO Airhorn.
Concert connoisseur
register it in another state that doesnt charge back fees!
Senior Member
Join Date: Sep 2010
Location: Savannah, Tennessee
Posts: 174
Stereopath...I have an 1985 VN700 too...and when i got mine it was a mess. I didn't even want to risk trying to start it. I love this bike too. Heck..I don't even have my license yet nor have I taken the MC course yet. This one kinda just fell in my lap. I bought the manuals for it and started a plan to go all the way through the bike, including the engine and restore it so I'd know for sure what I have.

Now that I've torn it all down, including the engine...I find that the only thing really wrong was that the balance dampers shattered and tore up my oil filter screen. I will also replace a known factory defective shift rod, stator, clutch plates. None of these items are out of line, for this bike at the age and mileage(24k). And except for cussing alot over a few badly stuck parts along the way, it has been WAY easier to do than I thought. Plus you can't trade what I'm learning for any amount of money!

I think you should do what Vulcanpower suggested above and just take it slow, and work through each issue as it comes. There are too many folks on this forum with the knowledge and experience to help ya out, if you run into problems. These bikes are special and regardless of money, there's nothing left on the market like them.

Good luck and don't give up yet!!
Drive less, ride more...
Join Date: Nov 2005
Location: SW Ga
Posts: 1,114
You don't say what city and state you are in.
Depending on where you are located, one (or more?) of the more experienced forum members here may in fact be close enough to help you with your bike.
Unless your "new" bike is a rust bucket, these bikes are great machines. This bike is the last of its kind, and was built for about 20 years with very few real changes. So your potential spare parts inventory is huge!
Great forum, & great people on the forum. Be patient, and stick with it (even when it doesn't seem worth it). In the end, you'll be glad you did (the bike's a fun ride)!....
Also: you mentioned dirt bikes. How long have you been riding them, and what off-road bikes have you owned?
---
'05 VN750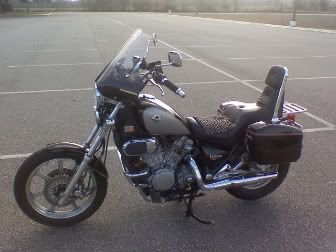 For other bike pix & mods, go to:
http://s1203.photobucket.com/albums/...k/VN750%20pix/
Quote:
... previous owner hadnt registered since 2009. I got slapped with $700 in back fees
This sounds like state run EXTORTION !!!
Why would the registration matter if the bike was not on the road ?
---
~~C8> Ratt
________________________
'91 VN750 - Cosmic Splendor/Candy Wine
Done: Coastered, .020 ign., Iridiums, VM
Plexistar II, MCCT's, Relocated MOSFET
Next: LED's
Will Do: Horns, Shave(maybe)
Senior Member
Join Date: Sep 2010
Location: Savannah, Tennessee
Posts: 174
Some states are just like that...they want someone to pay regardless!! I did check on my tags, since I had to tag it when I swapped titles and at least in Tennessee they don't care. I can have my bike down for a year or two and not owe any back taxes..they just re-tag it when I'm ready to ride. Doesn't even require an mileage affidavit to verify it hasn't been ridden.