Member
Join Date: Apr 2011
Location: Western Kentucky
Posts: 45
Who has or hasn't replaced their stator?
---
I just bought an 01 w/ 4600 miles and I'm reading alot about stator failures. Has me a little concerned.
So I'm wondering, does this happen to everyone at some point?

As kind of a poll among owners:

1.How many miles to first failure?
2.How many times replaced?
3.What conditions might have contributed to failure?
4.If no failure so far, how many miles and how have you avoided it?
Patriot Guard Rider
Join Date: Jan 2011
Location: Torrance, CA
Posts: 825
I am the 3rd owner and do not have any paperwork to go by. I have a mere 600 miles on this bike with a total of 17777 miles. I pray that it has already been changed.
---
1986 Black Kawasaki Vulcan VN750 "Black KAWK"
VN750 #9300 & VROC #33453
EMGO Handlebar, V&H Exhaust, Drop Shocks, Raised/Painted Fork, MeanStreak Seat, Tank Bib, ME880 Oversize Tires, Engine Guard, Custom Mirrors, Chris Products Turn Signals, Ear Shave, 150/42 Jets, PINGEL Fuel Valve, MCCT, Volt Meter, Shendegen R/R, AGM Battery, Coastered, .020 Coils, Relo Gauges & Headlamp, SilverStar Ultra, LED Flashing Brake Light, Center Stand Delete, WOLO Airhorn.
Junior Member
Join Date: Oct 2009
Location: Omaha, NE
Posts: 21
I also replaced
---
I was fortunate to buy mine with this problem. Unfortunately didn't know about it and kept replacing parts till I found this website and it has been bliss since. Since I had to take apart that much of the bike I also did the rear spline and lube job while at it. If I had to do it all over I would of been smoking closer to the gas tank.
Just kidding. It's just a process that needs to be done in the exact steps as written up here on the forum. I've been ridding for two seasons since with no problems.
Concert connoisseur
changed mine at 32,000 and as far as I could tell it looked original. I'm at 42,000 now.
Senior Member
Join Date: Aug 2010
Posts: 2,687
I haven't had to replace it and I definitely hope I don't have to. I have no idea if it's the original one or not though. Mine's an 85 VN700... I dunno how many miles, speedo doesn't work... but I think it's at around 25K (plus however many miles have been put on since the speedo broke).
Stators on other bikes fail too.... The only reason you see it talked about here is because on the 750, it is a real pain in the ass to replace. Most bikes it's a 20 minute fix....on the vulcan you have to pull or tilt the motor.

The only two things I believe that can help prevent stator problems are:

1. Keep your oil clean an filled to the very top of the sight glass.

2. Keep ALL your electrical connections clean and tight.

I bought my bike new and only put around 10,000 miles before I sold it, but there are alot of 750's with high miles still running the original stator. I think if the stator was a piece of cake to replace , you would not be reading so many paranoid questions about it here.

Keep in mind that any older bike is going to start having problems. If you have a 01 with only 4000 miles on it, I'd be more concerned about how long it sat around.

KM
Member
Join Date: Apr 2011
Location: Western Kentucky
Posts: 45
Keep in mind that any older bike is going to start having problems. If you have a 01 with only 4000 miles on it, I'd be more concerned about how long it sat around.

KM[/QUOTE]

Yeah, I'm dealing with carb problems. Looks like float valve may be sticking. I've ordered parts to repair the petcock to see if that helps before taking it to the shop for carb repairs.
Wants forward controls...
Join Date: Sep 2010
Location: Charleston, West Virginia
Posts: 23
Almost 14000 now. Original stator. No issues. I know that saying that will probably doom me, but just being honest.
Drive less, ride more...
Join Date: Nov 2005
Location: SW Ga
Posts: 1,114
Just over 22,100 miles (as of this posting). Still running the original stator. Still getting strong readings from the voltmeter monitoring the bike's charging system.
To make the stator last as long as possible, do whatever you reasonably can to keep the stator clean, and minimize the heat it has to put up with. Thus, you can do this with the following:
1) When possible and practical, avoid riding the bike in stop and go traffic, especially in hot weather.
2) Keep clean oil in the engine, and keep the oil level topped off (but don't put too much in there, either).
3) Keep the bike's electrical connections clean (i.e., using dielectric grease as appropriate) and tight--don't allow them to corrode. This is especially true with the battery connections and all major ground wires--and also the 6-pin connector for the regulator/rectifier. Periodically inspect these to make sure they have adequate dielectric grease on/in them, and they are tight. An excellent "primer" on this topic can be found at the beginning of the electrical system chapter in the Clymer repair manual for this bike.
4) Relocate the bike's regulator/rectifier, as recommended by other relevant threads in this forum. While there is no definitive proof that this keeps stators from failing, it usually keeps the regulator/rectifier cooler than the factory's chosen location (underneath the battery box). If the regulator/rectifier runs cooler, it stands to reason that the stator will be happier, too.
5) Keep moisture off the bike when it's not being ridden. Either park it in a climate-controlled garage, or put it in some other shelter where it's totally enclosed from the elements. At a minimum, if it's parked outside in the open, buy a high-quality cover and use it when the bike's pipes cool off after a ride.
Practicing the above will allow the stator and the regulator/rectifier to last longer.
In short, be good to your "baby" and your "baby" will be good back to you....
---
'05 VN750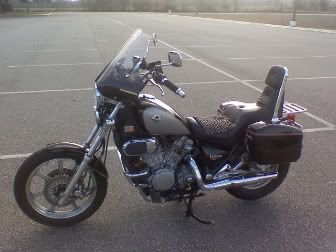 For other bike pix & mods, go to:
http://s1203.photobucket.com/albums/...k/VN750%20pix/
Benjammin'
Join Date: Feb 2006
Location: Ohio, Dayton-Cincy area
Posts: 421
Good suggestions. Oil is critical to keeping things cooler down below. Synthetic oil, I have heard, lubricates a little better and dissipated heat better. Also, lightening the electrical load will help preserve the stator. LED light bulbs for the tail light and iridium plugs help with that.
---
Ben-
SW Ohio

'02 VN750
Pipes drilled
Spline lubed
R/R relocated
AGM batteried
Iridium equipped
LED tail lighted
8000-ish miled
Soon to be MCCTed

Lovin Life.