Going all LED's in the rear and....
---
20w driving lights in the front on the light bar with regular blinkers.. still have the stock head light and I am planing to put in a cig lighter/axelery plug.. will I have the power? or do I need to switch the front turn signals to LED's as well?... also I have an electronic blinker relay switched from stock.
I would go LED all the way around, HID headlight as well... not only is the HID brighter, but it draws less power. What are you going to be running off of the Aux Plug? because unless you are running heated gear, you should be fine... even if you are powering a phone, mp3 player, and a gps you should have enough power with out going LED at all... the benefit of LEDs is the brightness, not the power savings... if you are trying to go with the power savings, then I would also replace the bulbs in the instrument panel and gauges.
Drive less, ride more...
Join Date: Nov 2005
Location: SW Ga
Posts: 1,114
Not to sound like a wiseguy, but when you ask, "will I have the power?"...well, that depends--on what exactly you have in mind.
The max our electrical system kicks out is about 280 watts.
My lights are all LEDs, except for the headlamp and two 35-watt driving lights. I still get strong voltmeter readings with all this powered up (above 3k rpm).
Your mileage of course...may vary...as they say.
If you intend to install an accessory plug, one option may be to wire it into one of the factory accessory leads (one pair is in the headlamp bucket, the other pair is behind the bike's right side cover).
If you intend to install and use something like heated gloves or grips (or heated clothing), I don't think you'll really have enough spare power. If you intend to power a GPS unit and/or maybe a cell phone, you should be ok.
Another idea would be to hold off on the HID headlamp option. I say this because LED lamps (that can be dimmed, with truly enough power to see at night) are probably not that far off in the future.
What make/model electronic signal relay did you get? Where did you get it?
Since we don't know exactly how much power is used to simply run the bike (before any lighting), you can use a voltmeter on your bike (see other relevant threads here for finding & installing one, if you haven't already) to check your charging system while running accessories. A voltmeter will tell you when you are pushing your luck too far.
Keep us posted on your progress with this. Creativity can be a wonderful thing....
---
'05 VN750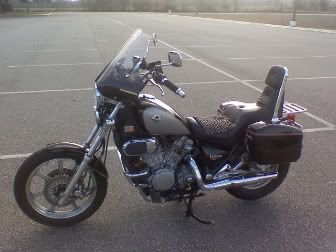 For other bike pix & mods, go to:
http://s1203.photobucket.com/albums/...k/VN750%20pix/
Thanks guys.. I knew I could count on you... I was planing to jsut run my GPS off of the accessory plug and the cig lighter is always handy. and I will be wireing up a digital volt meter when everything comes in ( spent the weekend going net crazy and orederd everything I wanted for the bike).. I will get pics up along with the progress of the mods on a differnt thread.
oh and here is the flasher relay I was talking about..youcn find them just about anywhere.
[IMG]
[/IMG]