Dead Battery Won't Charge? Try This!
---
I came across this in a hot rod magazine today. If you have a wet/gel cell battery, as many of us do & you find your self with a dead battery that won't take a charge. Here's the problem. Alot of chargers can't see the battery below certain voltages. The solution, take an exsisting good battery like from your car, hook up the charger to it (removed from the vehicle) & connect the batteries in parallel.
Ignore the text. I simply pulled it from a google post. But the connection illistrates the hook up correctly.
This allows the charger to do it's job & it will start charging the dead battery. Once you have enough charge, you can remove your "car" battery & finnish charging your bike battery till complete.
When I came across this I thought it was pretty slick. Just wanted to share.
---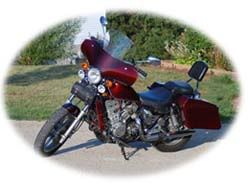 Orig. 8600 Miles 5/12/7 Currently 50,500Miles

Owners Manual
Repair Manual Download
Mosfet RR Test
Goof Proof Stator Test
VoIP Doc's Ear Shave & Re-jet Procedure
Hyperbuzzin's "How To Post Photo's.
Mosfet R&R Headlight Fix.
Looks feasible, but from what I have read, if you have a AGM type battery...and it goes completely dead, you can't recharge it.
Now I do not know if this stems from the problem you mentioned here , or something particular to the design of the Glass Mat battery.
I would also suggest to anyone trying the technique you posted, to remove the battery from the bike... seems to me the added amps of a car battery AND a charger might not be good for our tiny wired and semi fragile electrical system.
KM
actually KM, I have had to do this very method of charging the AGM battery on my vulcan once or twice. An AGM battery is so efficient that a standard cheapo wal mart trickle charger won't read the state of a half charged AGM battery.