got mine today, didnt come with instuctions. where did you guys mount the ballast? Wiley or vndawg any chances of taking a couple pics. even if its cell phone pics you can shoot em to me at 740-466-8206.
Concert connoisseur
looks pretty plug and play but the wires aren't real long to have to many options. not sure where there would be room under the tank, actually not too much room on these bikes anywhere, they really crammed all that engine in there huh! I'm lookin behind the headlight bucket may be a little room, hate to take the tank off again, especially its been parked all winter and its full.
Concert connoisseur
okay, I managed to get it in. I located the ballast behind the left ear under the plastic shroud with the reflector on it, it is not totally hidden but doesnt look bad, routed the wires up through the neck and hid the little transformer pack under the headlight housing and behind the horns! heres a couple pics, not the greatest but I will get more when I get it out of the shed and have more sunlight. Tried to start it today for the first time this year and forgot to choke it and I think I flooded it, then ran the battery down. charging it now and will try again this wekend, with the choke.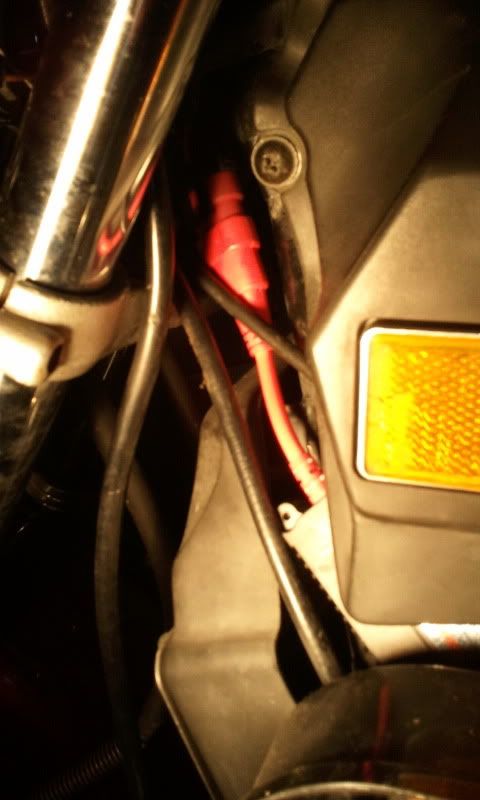 like I said, when I get it out I'll get more pics, I'd like to see where ron hid it if wiley and vn750dawgsfan can get a couple pics we can start a new thread with write up, all in all it was a pretty easy install with minimal mods!
Members who have donated towards server costs
Join Date: May 2009
Location: Duluth, GA
Posts: 641
I believe Ron may have done a write up on this a while back. You may have to search his archives. But If I remember correctly, Ron mounted mine under the tank.

This is where a Ronpedia/Lancepedia would come in handy on the forum since he is no longer with us.
---
My daily ride
Metzler ME880s
NGK caps, wires and Iridiums
Coasters (made by Lance328), earshave and rejet with screws turned out 3 turns
Volt gauge w/ custom mounting cup by Lance328 wired into headlight bucket 13.5v-14v
National Cycles Plexistar 2 windshield
DEKA battery
Mutazu GA Black hard bags w/ custom support brackets and relocation brackets made by Lance328
Custom lowers made by Lance328
Vance&Hines Cruzer exhaust pipes
TOC MCCTs
H.I.D. Conversion kit
---
Last edited by VN750_DawgsFan; 03-07-2011 at

08:45 PM

.
Banned
Join Date: Jun 2010
Location: Simpsonville, SC
Posts: 1,620
Mine is under the left side cover...
Senior Member
Join Date: Jul 2009
Location: Glenpool, Oklahoma
Posts: 900
quick fix.. ear shave .. kepp the ears.. empty.. place hardware in the ears!.. Slimvulcanriders idea!
Concert connoisseur
Quote:
Mine is under the left side cover...
that would be ideal but I didnt want to cut the wires on a brand new headlight assembly to add loger wires but it would have been easier if I had the time than moving the ear, tank and plastic shroud around the neck!