Member
Join Date: Oct 2007
Location: Daytona Beach, Fl.
Posts: 63
LEDs For Brake/Tail light?
---
I have been trying to brightenup my brake/tail light, "for safety" and have not found any that work real good most are directional and do not fill the lens with full light. Anyone found a good Super bright one that will work?
Vintage bike addict
Join Date: Oct 2008
Location: I live in eastern ohio
Posts: 859
Short answer-no.
I have been looking at modifying a semi LED taillight to fit. Haven't started that one yet.
---
No one can make you feel inferior without your consent.
Eleanor Roosevelt.
I haven't gotten one yet, but I hear these work well.
Click here
Then scroll down till you see the LED board for the VN750.
---
"Show me a man who makes no mistakes, and I'll show you a man who doesn't do things." Theodore Roosevelt."
2007 Victory Kingpin
Current projects - 1986 VN750 & 1988 EL250
Expert Advice Giver
Join Date: Apr 2008
Location: King, NC
Posts: 152
I will 2nd the
bright as heck
reference. I have one and it lights it up. Looks like Rudolph turned around backwards on a foggy Christmas Eve! LOL
---
1994 VN750
32K+
Vance & Hines Cruzers
Avon Venom Front & Rear Tire
Mustang Seat
Fire and Steel Luggage Rack
Fire and Steel Engine Guard
Fire and Steel Sissy Bar
KawaVulcan Saddlebags
eBay Genuine Imitation Chrome Mirrors
Kury Chrome Levers
Battery Tendered
Taillight LED'd
Splines Lubed
Wheelies Popped


2009 Triumph Rocket III
1974 Suzuki TS250
Love My Baby
Join Date: Jun 2008
Location: Hollywood, Florida
Posts: 1,165
I've got the same clear alternatives LED board for my tail/break light. It is much brighter than the original and uses much less power. I also added an LED license plate cover which lights up when the brakes are applied. Together they're as bright as anything can possibly be.
---
Rubyrick

MY BABY...
'05 VN750
16,000 miles +
Kawi tank bib
Kawi rear rack
Small windshield
DEKA M/F battery
VN750.com Grill Cover
LED license plate frame
Clear Alternatives LED brake light
Cortech mini tank bag on rear rack
Pirelli MT66 Tires: 110 front / 150 rear
Splines lubed when tires installed at 10,650 miles
Splines lubed again at 14,400 with stubby valve stem install

Place your mouse on the X below and drag to the O

X Even though you can't see Him, GOD is there! O
Drive less, ride more...
Join Date: Nov 2005
Location: SW Ga
Posts: 1,114
At a minimum, get the "Clear Alternatives" tail light LED board.

A number of forum members here already have it, and we're all tickled to death with it.

You won't be sorry.

If you do have problems with it, knowledgeable help is here on the forum--as well as a number of threads have been written here, addressing questions about that same LED board.

To really stand out from other traffic, I supplemented my tail lamp with LED strips located closer to cager eye level--from Radiantz. They make pretty good red LED strips, for this purpose.
---
'05 VN750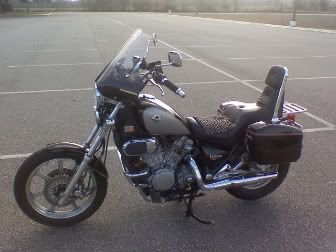 For other bike pix & mods, go to:
http://s1203.photobucket.com/albums/...k/VN750%20pix/
Senior Member
Join Date: Apr 2009
Posts: 209
if youre crafty with electronic boards and soldering, you can make your own for probably half the price. Get on ebay, order like 150 red led bulbs, go to radio shack and get a pcb board big enough and a handful of the correct resistors.'
I plan on eventually making my own, when i do i'll post pictures and what not. Currently I do not have the time to make one. I also want to make LED turn signals and have the rears be running lights.
HAWK
Join Date: Feb 2006
Location: Chicago land
Posts: 2,576
If you look at my photos in the gallery there is picts of stock and LED from Clear Alternative.
Great product.
---
Chad Falstad "Hawk"
Vroc #17649
2011 HD Ultra Classic "angel"
2001 Nomad 1500 Sold March 2012
2001 VN 750 "Sold June with 2008 with 21,000""Serinity"
Senior Member
Join Date: May 2008
Location: Portland, OR
Posts: 731
I used three 3.85" Radiantz dual-intensity red clusters in the existing brake lens, yellow in all turn signals and made a second brake light using a standar trailer lens and the same clusters used in the existing brake lens. I mounted the second brake light on the back of the sissy bar, above the tool box and it is wired to active with the brake only (no running light). Everyone who rides behind me comments that the the brake lights are super bright and that the second brake light really gets their attention.
I got the clusters off eBay for $3/piece (plus $5 shipping for the bunch) and the trailer light for about $4 at an RV parts store.
---
Chris Glennon - Portland, OR