Members who have donated towards server costs
Join Date: Dec 2008
Location: Monroe, LA
Posts: 4,696
Turn Signals Interchangeable?
---
I need to find replacements for the missing front turn signals on a project bike. For some unknown to me reason, rear turn signals seem to be more common and therefor cheaper on ebay. I'm hoping someone here can tell me whether or not rear signals can be easily mounted on the front; do the wires plug right in, etc..
---
I'm keepin' all the left over parts. I'm gonna use 'em to build another bike!
_____________________________________________
"Black Beauty"
1989 VN750 acquired December, 2008, 6,711 miles
Currently 23,298 miles
Old Blue
2001 Honda CMX250 Rebel acquired July, 2008
1987 VN750 project bike, acquired August, 2009, 33,000 miles and balancer sticking out of the case, currently awaiting attention and parts
The Professor
Join Date: Feb 2008
Location: BUFORD, GEORGIA
Posts: 3,147
Rear will not work on front, but here is a set at a good price.
http://cgi.ebay.com/ebaymotors/Kawas...Q5fAccessories
---

85 VN700 "Old Yella"
REBUILT ENGINE
CUSTOM PAINT
VANCE & HINES CRUZERS
EAR SHAVED AND RE-JETTED W/K&N'S
DUNLOP ELITE K591 FRONT & REAR
VOLTMETER
SYNTHETIC BRAKE FLUID
SYNTHETIC OIL & GEAR LUBE
PLEXISTAR 2 WINDSHIELD
SPLINES LUBED
ACCT'S GREASED W/TOC SPRINGS
COASTERD
LEATHER SADDLE BAGS
LEATHER TOOL AND ROLL BAG
PICKUP COILS GAPPED AT .018"
NGK CAP, WIRES, IRIDUMS
BARNETT FRICTION PLATES & SPRINGS
CUSTOM GRIPS, MIRRORS, LEVERS
ORIGINAL STATOR & R/R 14.5v
DEKA MF AGM ETX15L
Best Auto/Moto Insurance | Motorcycle Protection Today | FREE Trade-In Quote
Senior Member
Join Date: Apr 2009
Location: OK, USA
Posts: 175
The fronts are two-filament lights that light one filament whenever the ignition is in On or Park and flash a second when the turn signal is activated.

The rears are single-filament lights that have no function other than flashing when the turn signals are activated.
Simple Solutions
Join Date: Jun 2008
Location: SEQUIM, WA
Posts: 965
hey flight though one is 3 wire and the other 2 wire the inners can be swapped out i know this doesn't really help if there is one missing but if one breaks in the future u can go with the cheaper ones at that point ...
---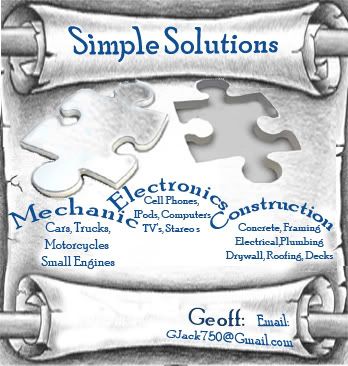 Stator #3
MF AGM
DeGoated
Ears Shaved
R/R relocated
Rebuilt
She's worth her weight in GOLD
If u dont have it already Here is the
Service Manual
How To
Test the Stator
On His Lady Vulcan
Join Date: Apr 2008
Location: Washington State
Posts: 1,647
They will work, you just wont have driving lights in the front is all. In the State of WA. a headlight is the only thing required in the front otherwise its no big deal, check your local State law to make sure. So "YES" is your answer to your question, they will interchange just no driving lights.
Peace
---
"You came out of your mom looking like SHlT. She thought you were beautiful. Don't know what scared me most, your looks or her judgment."
Pictures of the "Ladies"