Junior Member
Join Date: Sep 2009
Posts: 26
06 vulcan charging issue
---
hey guys new to the site here. i just got a 06 750 volcan with 11k miles and i am having charging issues . it was riding awsome for the first week then it stalled and acted like the battery was dead. had it tested and they said the battery was fine they put a full charge on it and i road it for 3 days then it did it again.

so i put it in the shop and they said the genarator is pumping power when the rpm's go up and the battery is testing bad so they replaced it said it was fixed. ive been riding it for about a week again and its stalled . acting like it has a dead battery again. i was able to push start it and get it home but the whole way home i had no head light . was kinda a scary ride luckly i wasnt far from home and this towns dead as far as traffic go's. but the thing is as soon as i hit the engine kill switch the head lamp kicked on . very dull but it came on.

i have been reading and i have herd volcans have charging issues but i honestly dont have a clue at were to look. 90% of my mechanical work is with trucks and know a small bit about bikes. can some one point me at what could be doing this? id like to avoid the shop again cause it makes me mad they say they fix it and charge me then give it to me in the same shape i tuned it over to them in.

also im sorry for my grammer issues im dislexic so its not top notch typing
Love My Baby
Join Date: Jun 2008
Location: Hollywood, Florida
Posts: 1,165
Your charging system consists of a generator (called a stator) (not an alternator like on a car) and a regulator/rectifier. The stator generates the charge and the R/R regulates it to the proper voltage. If your R/R is overheating it could be preventing the battery from receiving the charge from the stator. If the stator is fried you won't be charging your battery either. Check out
THIS LINK
for a good overview of motorcycle charging systems.
Many people relocate their R/R so it won't overheat. A fried stator requires an engine pull to replace it. There are instructions in the Vulcan Verses on this forum that can guide you on how to check the integrity of the R/R and the stator.
Of course, it could also be two bad batteries. I've seen this happen before. You must check out the R/R and stator though to help rule that in or out.
Good luck
---
Rubyrick

MY BABY...
'05 VN750
16,000 miles +
Kawi tank bib
Kawi rear rack
Small windshield
DEKA M/F battery
VN750.com Grill Cover
LED license plate frame
Clear Alternatives LED brake light
Cortech mini tank bag on rear rack
Pirelli MT66 Tires: 110 front / 150 rear
Splines lubed when tires installed at 10,650 miles
Splines lubed again at 14,400 with stubby valve stem install

Place your mouse on the X below and drag to the O

X Even though you can't see Him, GOD is there! O
Simple Solutions
Join Date: Jun 2008
Location: SEQUIM, WA
Posts: 965
the head light came on after u switched the kill switch ? make me want to look at the headlight relay... the headlight is designed only to kick on after a electrical pull on the charging system from the starter....

how far is your daily ride ive found with a bad stator i get about 40 miles or so .. .
where did u take it id take it back to where u got the work done someone mistested it ...
Id start with check your grounds... frame to case and frame to engine...
do u have a volt meter?
charge batt check voltage of the batt with the bike off at idle and 4k rpms

then id check the stator... see est thread in my sig below...
then the rectifier using the clymers or the service manual in my sig aswell
we'll get this ironed out
but thats one of the reasons i dont take my vehicle places cause it saves me the trip of being mad at someone else for screwing up... and if i mess up i can only blame me
---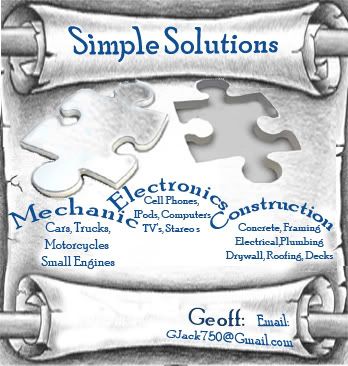 Stator #3
MF AGM
DeGoated
Ears Shaved
R/R relocated
Rebuilt
She's worth her weight in GOLD
If u dont have it already Here is the
Service Manual
How To
Test the Stator
Members who have donated towards server costs
Join Date: Jul 2006
Location: Kennett Square, PA
Posts: 3,505
To do a quick check on your charging system, pull out a voltmeter and hook it up to your battery. Turn the engine on, and with your rpms up above 2500, you should get a reading of 13.5 to 14.5 volts. Means your system is pumping out the extra voltage to both run the bike and reload the battery. If you get anything lower than that, following the links that both Rubyrick and Seabeere have in their threads to test both the stator (generator) and the regulator (converts the AC from the generator to DC so it can be stored in the battery). If those numbers are ok, then test the voltage in your battery once the bike's off - should be around 12.8 with the bike off, fully charged. It's also possible that all that's working fine, but that you have a short somewhere that's drawing load off the battery with the bike off.

Keep posting on whatever you find! We can all walk you through whatever repairs might be needed!
---
C
Search Goddess
Join Date: Jun 2004
Location: Conway, AR
Posts: 1,998
To fully test the stator you also need to do 2 tests, one with a cold bike and the second after the bike has fully warmed up for a while. This is where having a voltmeter on the bike is handy.
What happens is the stator may show all is well on the cold test but after it is running a while a short to ground may appear.
I had some of the same issues and the stator tested find when cold. But would not start back up after a run. Then I noticed that after starting up, about 3 miles or so down the road my voltmeter dropped (warmed up stator and a short to ground appeared)
---
Dianna
Conway, AR
Patriot Guard Rider
2000 VN750 Sere (Serendipity)
1990 GL1500 (Ole Blue)
1986 VN750 EVie (project bike, heavy custom)
VROC # 11628 / 25000-H
ARVROC # 12 Coordinator and Crowd Control
OKVROC # 18 (H)
TNVROC # 45 (H)