Old
09-03-2009, 06:40 PM
Thread Starter
Joe
Join Date: May 2009
Location: Tampa
Posts: 14
Electrical Problems ??
---
This morning on the way to work I filled up and made my way on my 30 mile ride in. About 15 miles into the ride I went to take off from a red light and the bike sputtered a little and then took off after a little more throttle. Then after about 500 feet I pulled in the clutch to stop at a second light and as the RPMS hit 1K the bike died.

When I attempted to hit the ignition switch there was a clicking noise from under the seat. typical of a dead battery. So I pushed the bike to the side of the road and was able to get a jump from a car and the bike started right up, but when the RPMs would get around 1K it would die and there would be no battery (not even the neutral indicator light). So I jumped her again and tried to ride for a bit to recharge the battery.

About 5 miles down the street my tachometer started acting crazy and would jump all the way to 11K and bounce down to 3K even though the engine was running steady. Then the bike started to act sluggish and would sputter. So I decided to turn back and head home.

On the way home the tac continued to jump around and spent most of the ride at 11K even though the engine was running normal for the most part. There were a few spots where it seemed to bogg down and backfire and then would smooth out.

Once I pulled in the garage about 25 Miles later and cut if off, it didnít even give me the neutral light and the battery was still 100% dead. Also this battery is brand new with about 250 miles on it.

I've been reading through the versus and am seeing a lot of stator related threads. Does this sound like the case to you guys ?
Members who have donated towards server costs
Join Date: May 2006
Location: Tampa, Florida
Posts: 1,766
Joe -

Sounds like the stator is worth examining. Disconnect the three yellow stator leads and measure the resistance between each two wires, total of three tests. Resistance should be around .5 ohms.

Then check each yellow wire to the engine case, should show as infinite, or look like an open circuit.

My did behave similarly when the stator was bad.

Let us know your results.

Jon
---
93VN750, under re-construction
vn750.com Member # 828

Rick's Stator and R/R
MF AGM Battery
Coastered
Degoated
Shaved & Jetted
Iridium's
MAC Tapered Staggered Pipes
Battery/Temp/Clock Gauge
Stainless Steel Brake Lines
Dunlop D-404's
23,XXX miles and holding pending gasket change (underway!!!)
Simple Solutions
Join Date: Jun 2008
Location: SEQUIM, WA
Posts: 965
there is a lot of things id look at in adition to the stator ... is the bat dead did u put a volt meter on the batt? if dead recharge
turn bike on wiggle key around and see if u have a loose connection in the ignition switch
check is alll the ground connections frame to batt frame to engine (clean good contact corosion free
start bike check voltage at bat with bike off = 12V at idle = 12.5 and 4k rpm = 13-14.5v these are abouts should get better at higher rpms...
also
https://www.vn750.com/forum/showthread.php?t=12333
then rectifier via clymers havent made a thread on this one yet...
hope u find it to be something simple
---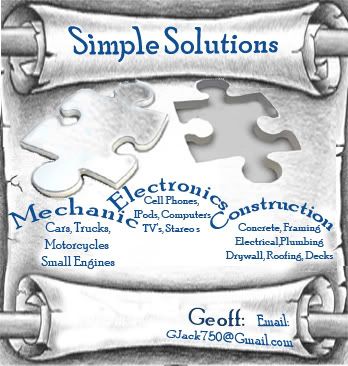 Stator #3
MF AGM
DeGoated
Ears Shaved
R/R relocated
Rebuilt
She's worth her weight in GOLD
If u dont have it already Here is the
Service Manual
How To
Test the Stator
Old
09-08-2009, 10:20 AM
Thread Starter
Joe
Join Date: May 2009
Location: Tampa
Posts: 14
Thanks for the information..

I neglected to account for the fact that I put a crap Advanced Auto's battery in the bike after I ran down the Big Crank battery when I was messing with my carb issues. So I charged the Big Crank battery and the bike fired right up and everything was back to nomal. I checked the wires just to be sure that everything was good to go and all apears to be fine.

I rode in to work this morrning and so far 30 miles and my fingers are crossed that everything will continue to run smoothly.