Jack of all trades
Join Date: Jul 2009
Location: Westland, Michigan
Posts: 2,863
Accent lighting
---
I was wondering what kinds of installs anyone has done for accent lighting on their Vulcans. I currently have some led license plate bolts installed and since my birthday is coming up i was thinking of asking for some more lights. I just wanted to get some oppinions on what you all think would look sharp on this bike. Any ideas? Light strips under the fenders, something over the exhaust, maybe something around the tank? If you have pics, i would love some ideas.

Thanx-
Mike
Old Truck Junkie
Join Date: Jul 2007
Location: Roby Texas
Posts: 4,130
All I have that is not stock are plate bolt lights that flicker when brake is applied. And red running and turning lights on thr rear.

Oh yes the highway helper lights on the light bar.
---
02 honda sabre 1100
Drive less, ride more...
Join Date: Nov 2005
Location: SW Ga
Posts: 1,114
Based on my experiences, LEDs and cruisers were made for each other....about like peanut butter and jelly...
....!
Mostly becuz of some of the accent lighting that I've done to my bike, I've acquired some nicknames (with my local riding buddies) that I won't go into here....
I posted a couple of LED nite pix in a thread here a while back, and have been meaning to post some updated pix, but the idea was not met with much interest.....so I never got around to it......
Basically, your VN750 can be thought of almost like an empty "canvas" waiting to be adorned with the right system or combination of LEDs, for a truly custom look that really makes the bike a lot more interesting and fun to look at in low light conditions--either while moving in traffic, or parked at a "bike nite" (or wherever)...
More specifically, I've used components from "Radiantz" and another company called "Swint". Swint is probably the easiest system (as of this writing, anyway) to add to your bike, since no soldering is required--everything in their kits is "plug and play"...so to speak. Swint systems are low-profile, and waterproof (so long as you don't submerge your bike, anyway....
...).
The best advice I can give for right now (other than the brand names above--both were good to deal with--be sure to visit their websites for great idea ammo) is....when you install an LED system on your bike--if you can, do so inside a garage or other enclosed secured area, that will get you out of the wind and weather...and let you leave your tools/materials in place, in between work sessions. To avoid possible harassment from law enforcement, you might steer clear of the color blue, and only use the color red on the
very back
of the bike. Also, if you install lights/LEDs on any accessories (or anything else) that you might occasionally want to remove from the bike (like underneath the saddlebags), you'll of course want to include "quick disconnects" for the wiring on those lights.
Hope this helps....
---
'05 VN750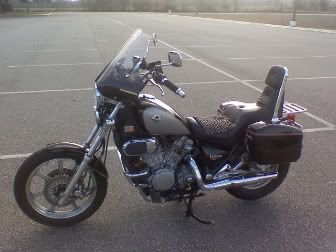 For other bike pix & mods, go to:
http://s1203.photobucket.com/albums/...k/VN750%20pix/
---
Last edited by theauhawk; 07-18-2009 at

10:29 PM

.
Senior Member
Join Date: Jul 2007
Location: Castle Rock, Wa
Posts: 1,750
My idea with LED's is to be seen more than bling. I buy my lighting from a well stocked truck stop where they have a large selection of all colors, sizes, and styles much cheaper than bike shops or other vendors.

DT
---
95 VN750 (eBay)31k+
GL1100 front fender
OEM engine guard
OEM high back rest
'V-Twin' HWY pegs
Black 750 Spectre handlebars
SunPro Volt Meter (Amazon)
Maier bug shield (JCW)
Bar Ends anti-vibe (JCW)
Emgo air filters
Tank bag-Eclipse
Tail bag-FroZone Cooler
Back Rest-Igloo 6 pak cooler
WalMart Saddle Bags
R/R Relocate
Dry Splines Lubed
AGM DieHard-Sears
Gutted Goat
Sporster XL Mufflers
LED's-stop,tail,turn,marker
Pickup coil mod to .45mm
Silverstar headlight
Rotella T6
Jack of all trades
Join Date: Jul 2009
Location: Westland, Michigan
Posts: 2,863
I am going to have to post some pics when I get some more lights. I have forgone the traditional toggle switch for a cleaner wireless remote switch hidden by the battery box. As far as the wiring goes, i use insulated crush type quick disconnects for all new connections. Unfortunately it is illegal to ride in traffic with the lights on here in Michigan (unless of course they are red or amber and tied in to the running/braking lights).

-Mike
Drive less, ride more...
Join Date: Nov 2005
Location: SW Ga
Posts: 1,114
As noted in my signature (below), I went with the amber color....amber/red do better for improved visibility in low-light conditions, and augment the lights that are already on the bike--but legally.
Be sure to post pix of your results when you're done--creativity is (almost...
) always a beautiful thing.....
---
'05 VN750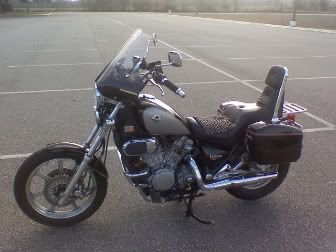 For other bike pix & mods, go to:
http://s1203.photobucket.com/albums/...k/VN750%20pix/