Rectifier/Regulator relocation
---
In my inquiries I've been hearing a lot about how the RR on the VN750 is subject to failure due to its location where there is inadequate airflow. I can appreciate the need for adequate cooling for hot running semiconductor devices (nerdy engineer that I am).

Does anyone have advice regarding suggested mods to relocate this to an area with better airflow? Sounds like it could be a bad deal to have it fail somewhere far from home.... doh!

Thanks for any input,

Scott
Old Truck Junkie
Join Date: Jul 2007
Location: Roby Texas
Posts: 4,133
Check out the vulcan verses. Alot of good info there.
---
02 honda sabre 1100
Drive less, ride more...
Join Date: Nov 2005
Location: SW Ga
Posts: 1,114
Dude, this forum is not a "Library of Congress" on the VN750--but it sure is close!!!...
In addition to the Vulcan Verses, many previous threads have been posted/created concerning this same subject.
Do a search inside the forum, using the forum search function/pulldown menu, and use words like "rectifier" or "rectifier relocation"....you'll be amazed at what you find on this subject.
Most people who relocated the rectifier (myself included) have moved it to just below the left passenger footpeg, with either a bracket from "Bulldog" or elsewhere. The bracket ends up being a supplemental heat sink, in addition to the passing airflow at speed.
Of course, the sooner you do this relocation, the better off your bike's electrical system will be--especially with hot weather just around the corner....
---
'05 VN750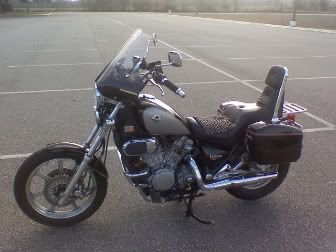 For other bike pix & mods, go to:
http://s1203.photobucket.com/albums/...k/VN750%20pix/
Gentlemen... Thank You.. .and for pointing me the Vulcan verses... lots a excellent info.

One question ... which 'splines' need special attention, the ones exposed when you remove the rear wheel, or somewhere else in the drive train? I always cleanup and re-lube the rear splines on my XJ650 when I remove the rear wheel. Are there any others on a Vulcan that we need to worry about?


BTW... Happy Memorial Day everyone, and a crisp military salute to my fellow vets.


Never mind, I found some info about "spline lubing" .... guess I need to be quiet and poke around this site more. Thanks!
---
Last edited by kontiki; 05-24-2009 at

03:25 PM

. Reason: add tanks
Thanks Fergy, I am printing out your excellent article as we speak! Thank you sir!