Senior Member
Join Date: Apr 2009
Location: Lilburn, Ga
Posts: 174
OK call me stupid - (and i'm old enough to know better)
---
well - The bike we bought the other day only came with one key - soooo I went to have one made
but the regular key-make places like home depot don't have the right blanks -soooooo I went to the Kawasaki shop here in Lilburn to ask about getting a key made there - They indicated that I had to buy a key blank from them and then take it somewhere else (like back to where I had already been) and have them make the key since the Kawi shop doesnt make keys
soooo I bit and bought a skinny little key blank for $12.00
because it appeared that I had to buy it from them in order to get one made - after reading some older posts here today about keys - I called a local locksmith who is about 1 mile from my house - told him I need a duplicate key made for my motorcycle - he asked me to bring in my key monday morning when the store is actually open - and he would make a key for me
The price you ask???? - between $3 and $6 depending on which key it is.
My 2nd stop after having the key made is to take the blank back to Kawi.
The bad part aside from the obvious - is that I am a proponent of supporting local businesses even if something cost
slightly
more because if we don't then we will eventually not have anyone local to do business with - The Kawi shop is about 2 miles from my house in the other direction - which if you own a Kawi cycle - should be a great local resource - apparently this resource comes at a high price here in Lilburn
Senior Member
Join Date: Jul 2008
Location: Prior Lake (MPLS area), MN
Posts: 950
Thats pretty weird, my kawi shop had the blank and made it for me for $12 bucks. Which is alot for a key that isn't special. I mean special in that it doesn't have any electronics or anything in it.
---
Sold 750 (9-09)
Bought '07 900 Classic "LT" (6-09)
Mustand Seat (6-09)
Balanced Carbs (4-09)
Adjusted Mix Screws (4-09)
Drilled Baffles 8 holes (4-09)
R/R Relocated (3-09)
Splines Lubed (3-09)
Metzelers ME880 170/80 in back 100/90 in front (3-09)
Painted flat blak (3-09)
Kuri grips (8-08)
Kuri Longhorn pegs (8-08)
Iridium Plugs (8-08)
Highway bar/ engine guard(FS)
Some saddlebags no idea which ones
Facebook group Vulcan 750 Riders (Invite Only Group)
Facebook ID Eli Gaffke
On His Lady Vulcan
Join Date: Apr 2008
Location: Washington State
Posts: 1,647
We don't call them the
"StealerShips"
for nothing...LOL. Leason learned.
Peace
---
"You came out of your mom looking like SHlT. She thought you were beautiful. Don't know what scared me most, your looks or her judgment."
Pictures of the "Ladies"
Members who have donated towards server costs
Join Date: Dec 2008
Location: Monroe, LA
Posts: 4,715
My local locksmith (who also rides) made keys for my Honda and Kawasaki for around $3. My [I]local[I] Kawasaki dealer is arrogant, thinks I'm made of $$$$ and even more stupid than I actually am. So I order parts from the more reasonable dealer with infinitely better customer service attitude in the next town and enjoy my rides there to pick up the cheaper parts. Wouldn't bother me one bit if the local Kawa dealer folded. You don't thrive in the business world by screwing the customer!
---
I'm keepin' all the left over parts. I'm gonna use 'em to build another bike!
_____________________________________________
"Black Beauty"
1989 VN750 acquired December, 2008, 6,711 miles
Currently 23,298 miles
Old Blue
2001 Honda CMX250 Rebel acquired July, 2008
1987 VN750 project bike, acquired August, 2009, 33,000 miles and balancer sticking out of the case, currently awaiting attention and parts
---
Last edited by flitecontrol; 05-09-2009 at

11:03 AM

.
The Professor
Join Date: Feb 2008
Location: BUFORD, GEORGIA
Posts: 3,147
Ace Hardware has them, I paid $3.00.
---

85 VN700 "Old Yella"
REBUILT ENGINE
CUSTOM PAINT
VANCE & HINES CRUZERS
EAR SHAVED AND RE-JETTED W/K&N'S
DUNLOP ELITE K591 FRONT & REAR
VOLTMETER
SYNTHETIC BRAKE FLUID
SYNTHETIC OIL & GEAR LUBE
PLEXISTAR 2 WINDSHIELD
SPLINES LUBED
ACCT'S GREASED W/TOC SPRINGS
COASTERD
LEATHER SADDLE BAGS
LEATHER TOOL AND ROLL BAG
PICKUP COILS GAPPED AT .018"
NGK CAP, WIRES, IRIDUMS
BARNETT FRICTION PLATES & SPRINGS
CUSTOM GRIPS, MIRRORS, LEVERS
ORIGINAL STATOR & R/R 14.5v
DEKA MF AGM ETX15L
Best Auto/Moto Insurance | Motorcycle Protection Today | FREE Trade-In Quote
Simple Solutions
Join Date: Jun 2008
Location: SEQUIM, WA
Posts: 965
i couldent even get an oring i needed from the steelership .. that'll be 12 bucks and we can have it in 2 weeks... got one at a vw shop for 50cents whoda thunk
---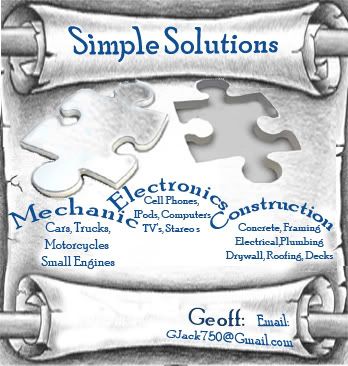 Stator #3
MF AGM
DeGoated
Ears Shaved
R/R relocated
Rebuilt
She's worth her weight in GOLD
If u dont have it already Here is the
Service Manual
How To
Test the Stator