Members who have donated towards server costs
Join Date: Apr 2009
Location: Northern KY
Posts: 85
Connecting ring hookups for battery charger
---
Hey Vulcans, I have a newbie question for the group. I have looked all over the site and the internet and I swear I just can't find a straight forward answer to this, so please forgive me if it's completely obvious to everyone but me.

Okay, so I'm just getting started with my bike and I figure one of the first things I should do is follow the general thought of the board and change that wet battery out to a sealed, MF battery. I'm ordering the Big Crank in a few days and should be good to go there.

That being said, I also thought it would be good to get a charger/tender for the battery so that I can be ready to ride whenever I want without the fear of a dead battery. So I picked up a good-priced one at the Wally World that looks to be just what I need. Has the alligator clips and the ring hookups.

The instructions are pretty specific about connecting the charger to the battery. (Position cords away from moving parts, connect positive clamp from charger to positive post, connect negative clamp to vehicle chasis or engine block, when disconnecting-remove from wall socket and then remove clamp from chasis and then remove clamp from positive post.)

My question is this. What about the ring connectors? It doesn't mention anything in the instructions about how to hook them up so you permanently have it hooked up to the battery and you can just connect the quick-connect to the charger. Do you hook the positive ring up to the positive post and the negative ring to something bolted to the chasis? (much like the alligator clamps)? Or do you hook both rings up to both posts (positive and negative, respectively)?

I'm stumped and would like someone to please explain it to me like I'm a 5 year old. Thanks in advance!
and the Adventure Cycle
Join Date: Jun 2004
Location: Western PA
Posts: 6,138
I have both + and - connected to the battery.
---
AKA: Tim & 'The Adventure Cycle' VROC #24567, NEVROC, SteelCity VROC
"When life throws you curves,
Aim for the apex."


Author Unknown
Simple Solutions
Join Date: Jun 2008
Location: SEQUIM, WA
Posts: 965
i would goto the batt also ... 2 reasons one its easy and 2 if your ground were to ever fail then u still are gonna end up with a full batt....
---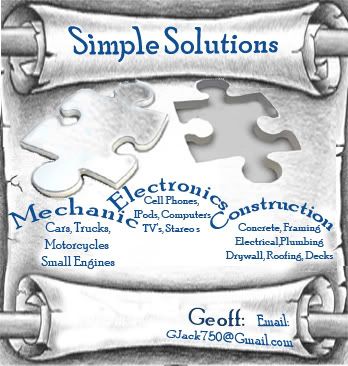 Stator #3
MF AGM
DeGoated
Ears Shaved
R/R relocated
Rebuilt
She's worth her weight in GOLD
If u dont have it already Here is the
Service Manual
How To
Test the Stator
Members who have donated towards server costs
Join Date: Apr 2008
Location: S.E. Michigan
Posts: 2,850
One to positive, one to negative. Always have.
Love My Baby
Join Date: Jun 2008
Location: Hollywood, Florida
Posts: 1,165
I have the battery tender junior and the instructions stated to connect the negative ring to the chassi and I used the same chassi bolt that the battery used for ground. That being said, it makes no difference whatsoever if you use this or the battery terminal itself. Any of the connections could become loose and the battery would fail to charge properly, so make sure they're put on tight and check them twice a year.

It may be easier to use the battery post because the angle of the chassi bolt may make the ring/wire connection bend quite a bit which could cause a problem down the road. Also you don't want to choose a ground connection that has a painted surface as the paint may interfere with its grounding capabilities.

I routed my quick connect wiring safely through to the right side of the seat so that it tucks under the side of the seat when not in use. It's easy to pull it out when you want to connect it to the charger or to a voltmeter to check the battery's charge, and it doesn't stick out or move when riding. Some people keep the quick connect end inside the side cover, but that requires you to unbolt the side cover each time you want to use the quick connect.
---
Rubyrick

MY BABY...
'05 VN750
16,000 miles +
Kawi tank bib
Kawi rear rack
Small windshield
DEKA M/F battery
VN750.com Grill Cover
LED license plate frame
Clear Alternatives LED brake light
Cortech mini tank bag on rear rack
Pirelli MT66 Tires: 110 front / 150 rear
Splines lubed when tires installed at 10,650 miles
Splines lubed again at 14,400 with stubby valve stem install

Place your mouse on the X below and drag to the O

X Even though you can't see Him, GOD is there! O
Members who have donated towards server costs
Join Date: Mar 2006
Location: Kyle, Texas
Posts: 4,054
I've always had mine hooked red to positive terminal on battery, and black to the ground post under the seat on the left frame right there about 5" from the battery. I cleaned the post with a wire brush and dielectric greased it and have never had a problem with it. I haven't used the tender in at least two years but I have used the quick connect to fire up my compressor several times. I bought a pigtail from walmart in the marine area that has a cigar lighter receptical on the other end that I keep in the bag with the compressor. Comes in real handy when you need the compressor, and it keeps you from removing the seat to get to the bat.
---
Fergy
Kyle, TX VN750.com member #707 VROC#19556
2002 VN1500 Classic
Spline Lube Procedure, with photos,
R/R Relocation
and
Coil Mod
Rusty Tank Cleaning!
Electrical Fault Finding Flowchart
SEAFOAM JUNKIE!