Junior Member
Join Date: May 2008
Posts: 8
yellow wire alternator confusion????
---
Hey all first post so bear with me. Me and a buddy of mine both have vulcan 750s mine a 94 his a 90 recently we discovered that he bought the bike with a bad stator so long story short we have pulled the engine went through an all around inspection (which we found other things to replace such as his final drive and drive shaft coupling) and replaced his stator.

We did a great job of labeling every wire, hose, and screw we could get our hands on so we would know where to replace it but unfortunately we slipped with the 3 yellow wires that come out of the alternator case and connect back on to the bike. We know where they connect (ie their female counterparts) we are just not sure about in which yellow wire connects to which female lead. We have an idea furthered by a nice colored wiring diagram that I found on here that it doesn't matter as all of them go back to the voltage r/r.

Is this true or is their a specific set up that we should be aware of?

hope all of that made sense and thanks ahead of time for the help
Old Truck Junkie
Join Date: Jul 2007
Location: Roby Texas
Posts: 4,133
I can't help you with this, but I am sure someone here can.
Welcome to the group.
---
02 honda sabre 1100
Members who have donated towards server costs
Join Date: May 2006
Location: Tampa, Florida
Posts: 1,766
It doesn't matter, each one is it's own phase, just connect one to one, don't worry about position.

Jon
---
93VN750, under re-construction
vn750.com Member # 828

Rick's Stator and R/R
MF AGM Battery
Coastered
Degoated
Shaved & Jetted
Iridium's
MAC Tapered Staggered Pipes
Battery/Temp/Clock Gauge
Stainless Steel Brake Lines
Dunlop D-404's
23,XXX miles and holding pending gasket change (underway!!!)
Members who have donated towards server costs
make sure that all the connections are solid and clean also ,I cut the bullet connectors off and soldered mine,these bikes are very sensitive about bad connections as they lead to all kinds of funky and weird problems,especially frame grounds and battery to frame connections,Denny




---
If you see it on my bike I did it
VROC#30324
92 vn750(sold)
Current ride 05 1500 Classic FI
lovin' the new scoot
Quote:
"When all is said and done,usually more is said than done" UNK
Click on one x and drag to the other to read between them.
Psalm 40:1...
XI waited patiently for the Lord; and he turned unto me, and heard my cry. X
Junior Member
Join Date: May 2008
Posts: 8
Hey I appreciate all you guys help with this. I think that answers my question just fine.

Although his bike has had some problems I have to say tearing this thing apart and learning the inner workings of the bike has been a blast. (I prob feel this way because its not my bike but my buddies, mines runnin great knock on wood!) We're tryin to get this thing put back together by next weekend as we have a couple buddies coming down for a ride, fingers crossed.
Simple Solutions
Join Date: Jun 2008
Location: SEQUIM, WA
Posts: 965
next tear down will take half the time after 3 pulls im down to about 2 hrs and engine is out

those wires just plug in and like stated earlier make sure they are clean and secure
---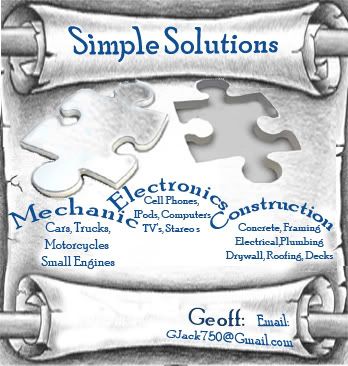 Stator #3
MF AGM
DeGoated
Ears Shaved
R/R relocated
Rebuilt
She's worth her weight in GOLD
If u dont have it already Here is the
Service Manual
How To
Test the Stator