Members who have donated towards server costs
Electrical Gremlin
---
Here's one for the electrical gurus out there: I had my project bike semi-running last week, but there was an issue with the carbs. If I held open the throttle, the bike ran ok; if I didn't, nada because the idle adjust wouldn't screw in far enough to get 'er started. Pulled the carbs, fixed the knob, have the bike back together and am ready to roll. EXCEPT: When I push the starter button, the solenoid clicks and the instrument panel lights (and everything else) go out. Wait a few minutes, turn the key, lights are back on, hit the starter button, click and lights out. I had this happen during my Orleans rebuild and it turned out to be a couple of crossed wires. But nothing seems out of place at this point. Here's what I've done for troubleshooting:
Checked the engine and battery grounds (both ok); replaced the RH controls in case it was a wiring issue in the control unit - same result; checked my fuses -lights out would suggest a blown fuse. Nope - all fuses are good (this was exactly how it happened with O, too); checked the ignition wires- they are visually fine. Unplugged the unit and the white and brown/wh and reinserted, same result. Battery has plenty of voltage, at least for the lights to come on. Can anyone think of anything I overlooked? Again, it was running last week and the only thing I did was to pull the carbs.
UPDATE: I couldn't leave well enough alone, so went back out to fiddle around some more. Got the lights to come back on, but when I pressed the starter button, same ol'. Tried to cinch up the negative battery terminal (imperceptibly) and the lights came back. As they were on, I pushed on the battery some, and the lights flickered. Both terminals were loose- but not visibly so. I thought I'd tightened them both down - or at least checked them - and there was nothing obvious. The next time I tried to start it, all was fine.
Here's a question, though: If there's a loose terminal wire - even slightly loose- what is it about the power flowing through the battery when the starter button is pushed that makes that terminal come disconnected? And can someone tell me which one *should* come off, under those conditions? That is, is it blowing off from the ground side or the power side? And why?
Thanks for any education you can offer!
---
C
---
Last edited by Crobins365; 04-19-2009 at

08:16 PM

. Reason: Found the problem
and the Adventure Cycle
Join Date: Jun 2004
Location: Western PA
Posts: 6,138
Hmm, have you tried just the one battery?

I would think you've not only visually checked the battery connections, but actually removed & thoroughly cleaned them?

What about where the wires themselves are connected to the wire terminals for connecting to the battery??
Might be a bunch of corrosion where they join?
---
AKA: Tim & 'The Adventure Cycle' VROC #24567, NEVROC, SteelCity VROC
"When life throws you curves,
Aim for the apex."


Author Unknown
Old Truck Junkie
Join Date: Jul 2007
Location: Roby Texas
Posts: 4,133
I will try.
When you push the starter button there is a demend for more electicity to turn the starter. The loose connection cannot supply the demand. There is not enough surface to surface connection. Like a small bridge verses a three lane bridge.
---
02 honda sabre 1100
Members who have donated towards server costs
Join Date: Jan 2006
Location: Cheyenne Wyoming
Posts: 508
Excellant analogy--voltage is showing with little current. A demand for higher current and the circuit wont pass it. Another way to look at it is like water lines. A 1/4" line will carry pressure (voltage) but a 1/2" hose will carry both pressure and volume (current.
---
Rckmtn
Dennis Huff
Cheyenne, Wy.
05 VN 750
KURYAKYN grips, helmet locks, and highway pegs
Spitfire windshield
Saddleman saddlebags/sissybar bag
Highwayman gelseat with Protac backrest
self canx turnsignals
Diamondstar headlight modulator
Jardine 2 into 2
MCC turn signal relocator and floorboards
Luggage rack
Extended passenger backrest
KURYAKYN LED voltmeter
Custom tank bra with analog clock
Snider paint protector on tank side
130 DB horns
The Reanimater
Join Date: Apr 2009
Location: A Little Town Along I-5 in Northern California
Posts: 847
The problem lays in the fact that when you apply juice to a loose connection it has to jump a gap(like a spark plug) to make a connection. With out a solid connection to make it flow the least resistance it makes it arc and leaves a burnt spot. A burnt spot makes a poor conductor. So when you move it around it makes a clean spot for it to jump across again.

Sometimes it will weld itself together far awhile and that is why it will work right for a little while until it breaks connection again.
---
JaY
"Veronica"
2002 VN750 Vulcan
Rebuilt Engine
ACCTs lubed w/TOC Springs
Pick-up Coils Gapped at .018"
Splines Lubed
Deka MF AGM EXT15L Battery
NGK Iridium IX Spark Plugs
R/R Relocation Fix
New Rear Rack
Stock Seat Repadded
Ext-BackRest
Simple Solutions
Join Date: Jun 2008
Location: SEQUIM, WA
Posts: 965
sounds like a very similar problem i had in fact it ended up being the connector attached to the frame it was visually ok till i pulled the batterry and wiggled the wire in fact less then a light pull and the connector tore in half (ground wire from batt to frame) just relaying an issue i found it would be a shocker if it ended up being the same... i fought with it for a week and when i tightened the terminal bolt it put just enough tweak in the wire to make a connection again this would last for a day or 2... untill one day i filled up fo gas and it wouldnt start push started rode an intire tank push started again and a half tank later i set up camp and started to diagnose the problem in fact i could jump it from the side cover and the stator would keep it runnin ....

Have u tried jumpin it?
---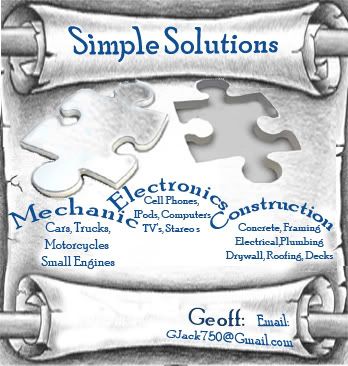 Stator #3
MF AGM
DeGoated
Ears Shaved
R/R relocated
Rebuilt
She's worth her weight in GOLD
If u dont have it already Here is the
Service Manual
How To
Test the Stator
Members who have donated towards server costs
Thanks for the explanations, guys. That helps - especially the part about the electricity trying to jump a gap. It felt like something along those lines was going on, possibly moving the terminal wire (and creating more of a gap); or, as noted above, maybe creating a little burned spot. I'm going to clean the terminal wires again and add a little dielectric grease to the mix. At least at this point, I know where the potential problem lies so I can focus my attention there if it happens again. Hopefully when I put the tank back on tonight, it'll fire right up.

Thanks again! You all are the best!
---
C
Linkmeister Supreme
Join Date: Aug 2008
Location: Lethbridge, Alberta, Canada
Posts: 7,960
Quote:
Hmm, have you tried just the one battery?

I would think you've not only visually checked the battery connections, but actually removed & thoroughly cleaned them?

What about where the wires themselves are connected to the wire terminals for connecting to the battery??
Might be a bunch of corrosion where they join?
I`ve seen many battery cables where there is a bunch of blue/green corrosion on and through the multi strands of copper wire when the insulation is cracked and broken close to the terminal. The best solution is probably to replace it with a new cable, but it can usually be salvaged to serve reliably for some time. Trim back the insulation another inch or so, until you find clean wire.
Brush off any loose corrosion. Untwist the cable end a quarter turn or so to open up and expose the individual wires. Mix up some baking soda solution in a can or cup and immerse the cable end until it stops bubbling. Rinse with clear water and repeat process until all bubbling ceases and cable looks clean. You may speed the process by using a small stiff brush to get between the wires. If it is extremely dirty, you may need to stir up a second, fresh baking soda solution, to be sure you`ve gotten all the corrosion. Dry thouroughly, twist the cable strands tight again, and apply half a dozen coats of
LIQUID ELECTRICAL TAPE
to the exposed wire, overlapping the rubber insulation and the terminal to get a good seal. Be careful not to cover the terminal where it actually contacts and connects to the battery.
The liquid tape is superior to the regular rolls of vinyl/pvc tape in many situations, for the reason that it does not unwind with heat and time.
---
Gordon
1991 VN 750 -"
Cosmic Lady
" or "
Bad Girl
"?
Purchased May 16, 2008
Approx.19,300km (12,000 miles)
H-D windshield
Relocated R/R
MF-AGM battery
Fiamm Freeway Blaster horns
F&S luggage rack and engine guard
Kury Offset Hiway pegs
July 13, 2016, Riding on the DARKSIDE now, Classic Radial 165/80-15
TOP TEN THINGS A NEW RIDER/OWNER SHOULD DO.
Click on link.
https://www.vn750.com/forum/11-vn750-general-discussion/9127-top-ten-items-you-would-suggest-new-owner-do-his-new-ride.html
Members who have donated towards server costs
The terminals are clean as whistles. I think it was just a loose connection. Or maybe two.
---
C
Members who have donated towards server costs
Join Date: Jun 2006
Location: Long Island, NY
Posts: 812
If you check all your connections and can't find the fault then take the battery to a station that can put a meter on it under load. There may be something internally wrong with it. It may be able to deliver enough juice to power the lights but once you hit the starter and need a lot of current the battery may be shorting internally. Not a common problem but it happens. Good luck
---
2003 Wine/Gray VN750 bought in 2005 w/2000 Miles
LED Tail/Brakelight & License Plate Light;Chrome Inspection Sticker Plate ;Battery Charging Quick Plug;Kuryakyn LED Battery Voltmeter;Throttle Rocker Palm Rest;Optronics Driving Lamps;KnifeMaker Floor Boards;Halogen Headlamp Bulb;OEM Engine Guard;Iridium Spark Plugs;OEM Luggage rack;Stebel Air Horn;Handlebar Clock; Handlebar Thermometer; Sealed Battery; Marbled; Leather Grip Covers; Rectangular Mirrors

~VROC~ # 389