Senior Member
Join Date: Jul 2008
Location: Miami, FL
Posts: 409
USB port?
---
Anyone rig up a USB charging port off their bike? I'm thinking it would be nice to have a way to charge up the personal electronics.
If anyone has tips/thoughts/suggestions, I'd love to hear them.
**
In a related note - the Lenmar Power Port battery is pretty great for long trips. It charges off a USB, then functions as an external battery.
http://www.radioshack.com/product/in...ductId=2767656
---
Scheherazade
'86 VN750
MF Battery, Iridium Plugs, RR relocated, Voltmeter, 170/80/15 Kenda Kruz rear tire, DIY Samsonite hard bags, DIY shaved seat with Beaded seat pad ('cause that's how I roll) and the dreaded STATOR CHANGE.

Shining Black Bess '86 VN750, retired for parts after a fried stator and being knocked (kee-runch) in her parking spot.
Simple Solutions
Join Date: Jun 2008
Location: SEQUIM, WA
Posts: 965
take an i pod car charger and wire it up to the batt or headlight bucket (extra power lead in there) havent done it on this pericular application but have wired many cig lighters in other vehicals where are u thinkin u want the power to goto where do u keep your ipod? what about the rear toolbox?close to the batt and theres a hole to run your wores in and u can lock up you electronics...
---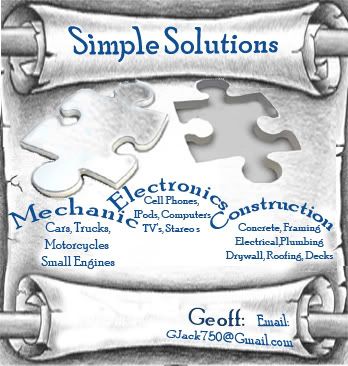 Stator #3
MF AGM
DeGoated
Ears Shaved
R/R relocated
Rebuilt
She's worth her weight in GOLD
If u dont have it already Here is the
Service Manual
How To
Test the Stator
Senior Lurker
Join Date: Nov 2006
Location: Westchester, New York
Posts: 509
Try doing a google search for something like 'motorycle luggage with solar panel'. You'd be amazed by what's out there these days. Nelsonrigg.com has some interesting things like
http://www.nelsonrigg.com/pages/Spor...SLR-10-Big.htm
that you could use for your gadgets.
Love My Baby
Join Date: Jun 2008
Location: Hollywood, Florida
Posts: 1,165
Harbor Freight sells a USB charger port that plugs into a 12 volt cigarette lighter, very cheap. If you've already hooked up a cigarette lighter port to your bike, this can let it charge your iPod or iPhone, too.
---
Rubyrick

MY BABY...
'05 VN750
16,000 miles +
Kawi tank bib
Kawi rear rack
Small windshield
DEKA M/F battery
VN750.com Grill Cover
LED license plate frame
Clear Alternatives LED brake light
Cortech mini tank bag on rear rack
Pirelli MT66 Tires: 110 front / 150 rear
Splines lubed when tires installed at 10,650 miles
Splines lubed again at 14,400 with stubby valve stem install

Place your mouse on the X below and drag to the O

X Even though you can't see Him, GOD is there! O