Greblins Strike Yet Again
---
ok, I know I parked my bike in good running order back in December. I just climbed out of the garage from trying to start the bike. The wierdest thing happened though. I knew the battery was week from lack of riding and my wife didn't start it for me while I have been away. So I put the battery on the charger for a couple of hours while I did other honey dos. I then unhooked the charger and turned the key to on...that is when the gremblins struck. The lights al started blinking...headlight, tail light, turnsignals and dash lights. They are all in time with the turnsignal flasher. I then unplugged the flasher and all lights quit working. and to top it all off... The bike won't even attempt to start...even applying strieght voltage to the starter. Any thoughts?
Simple Solutions
Join Date: Jun 2008
Location: SEQUIM, WA
Posts: 965
... im lost for words can u restart the day and see what happens? so if u conect the negitive terminal of the charger to a ground and the positive to both sides of the cylinoide u get nothing?? not even a turn of the starter? what about the fuse block oare all the connectiors look good (corosion free) the only electrcal gremlin i have had besides the stator is my ground wire from the battery to the frame on the frame side the connector just fell off the frame good luck with this and its the wifes fault for not starting it or if she did start it its her fault for attemting to start it while u were gone...
---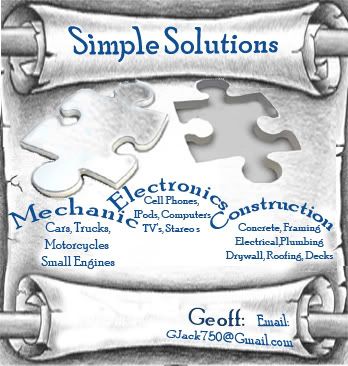 Stator #3
MF AGM
DeGoated
Ears Shaved
R/R relocated
Rebuilt
She's worth her weight in GOLD
If u dont have it already Here is the
Service Manual
How To
Test the Stator
Linkmeister Supreme
Join Date: Aug 2008
Location: Lethbridge, Alberta, Canada
Posts: 7,960
Electrical stuff is not really my forte, slim. My only thought is have you tried jumping it with another battery?
---
Gordon
1991 VN 750 -"
Cosmic Lady
" or "
Bad Girl
"?
Purchased May 16, 2008
Approx.19,300km (12,000 miles)
H-D windshield
Relocated R/R
MF-AGM battery
Fiamm Freeway Blaster horns
F&S luggage rack and engine guard
Kury Offset Hiway pegs
July 13, 2016, Riding on the DARKSIDE now, Classic Radial 165/80-15
TOP TEN THINGS A NEW RIDER/OWNER SHOULD DO.
Click on link.
https://www.vn750.com/forum/11-vn750-general-discussion/9127-top-ten-items-you-would-suggest-new-owner-do-his-new-ride.html
Join Date: Jul 2008
Posts: 707
geeze slim.... your screwed!! hahaha thats crazy..
The headlight should not come on until you after you hit the starter.

Is is possible some small furry creature made a home in your bike somewhere and nibbled on some wiring?

I'd check the ignition switch right after I checked all the wires and fuses.

You may have a poltergiest not a gremlin.............


KM
Well I found the problem...well two problems...first off the wife dropped the bike and turned on the 4 way flashers when picking it back up and didn't know how to turn them off. The headlight was coming on because I have bypassed the RLU...the second problem as Knifemaker suggested was a bad connection inside the ignition switch...I still need a new battery though...I am going to have to wait till next year for that though...
Calif Rider
Join Date: Jan 2006
Location: Petaluma Calif
Posts: 725
Glad that your wife fest up to having dropped the bike. Lucky you easily found what was wrong,shows you how fast a bike can go to HELL in just a few months. Well the next time you come home hope it starts up neice and easily. These bike just do not like to sit and not be ridden. Will be waiting to hear from you when you really and finally come back to the states.
---
2004 25,500 miles
Led tail light enhancement
Homemade floor boards
Headlight modulator
Extra heat sink on R+R
R+R relocation
Homemade driver's backrest
Fused Stator
Mcct conversion-cost 4.50
Ride-on in tires
crash bar with home made hyway pegs
iridium plugs
home made fork wind deflectors
coil pickups adjusted.
Kenda kruz tires 110/90 170/80
My initial thought was that someone messed with it. Sounds like a simple fix in the switch. Good luck.
---
"Show me a man who makes no mistakes, and I'll show you a man who doesn't do things." Theodore Roosevelt."
2007 Victory Kingpin
Current projects - 1986 VN750 & 1988 EL250
well i miss understood my wife...she said she was moving it and it started to fall and she caught the bike, while catching it the 4 way button got depressed.