Member
Join Date: Dec 2013
Location: The Fox Valley Area
Posts: 99
Wisconsin - VN750A20 For sale
---
Well, looks like I'm selling my Vulcan after all.
I'll be doing some spring maintenance (a good bath, new oil, some new air filters) and then I'm putting her on craiglist.
2004 Vulcan, 32XXX on the odometer.
I've replaced the stator with the assistance of a very qualified mechanic and 30 hours of blood and sweat, and it wasn't the cheap replacement stator either! Oh, and I lubed the splines!
Tires are new, 5k on the back tires, less than 2k on the from. Mich commander 2's.
I've also got an extended backrest for it (I never posted pictures for the guy who send it to me, I feel so bad! but here they are haha)
Askin 2600 on craiglist, if you're local in the area hit me up, the price is flexible, as I want it to sell before the end of May.
Reason I'm selling:
I blew out my knee, tore my meniscus. I cannot ride until next summer, I also cannot work a decent job, so I'm SOL. I've got an engagement ring to buy and rent to pay, so you can feel good about spoilin' yourself with a motorcycle.
I don't know how many of ya are around the area, but I thought I'd post it here if only as farewell to her. Not farewell to motorcycles though, I'll definitely be reinvesting some day
Pics! #motorcyclepron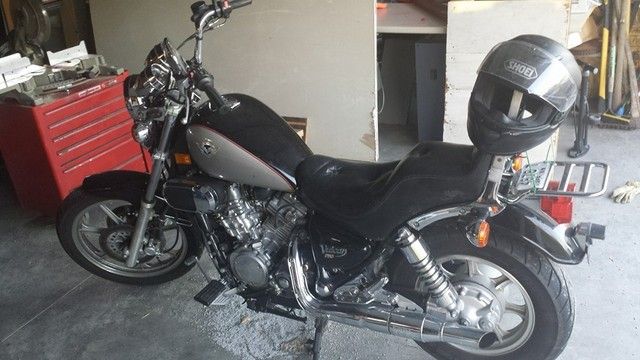 ---
'04 Vulcan 750 27k+
My first ride- June 2013 @ 22k miles
Stator replaced 27k

"It is the mark of an educated mind to be able to entertain a thought without accepting it." - Aristotle.

"I have never let my schooling interfere with my education"- Mark Twain.