Wanting Motor Mount Bushings
---
Hey folks! I'm looking for some motor mount bushings.(92075: DAMPER,ENGINE BRACKET) I don't need a whole set, even 2 would take care of me. I've tried a couple of guys off ebay who claimed to be parting out bikes but either wouldn't sell them (probably not a big enough sale) or asked more than new. Obviously I'm looking for a cheap fix. Can any help? Thanks.
---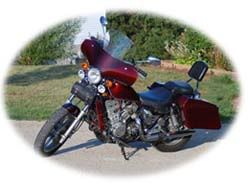 Orig. 8600 Miles 5/12/7 Currently 50,500Miles

Owners Manual
Repair Manual Download
Mosfet RR Test
Goof Proof Stator Test
VoIP Doc's Ear Shave & Re-jet Procedure
Hyperbuzzin's "How To Post Photo's.
Mosfet R&R Headlight Fix.
Remind me. I'll check the garage.
Dave
I have some of the outer rubber/metal washers. Are these what you need?
Or the whole mounting bushings?
PM me your shipping info.
Dave
Stranger Than Fiction
Join Date: Mar 2006
Location: Alabama
Posts: 151
I may have some as well....I'll have to remember to check my shed stash....
---
'92 Vn750
I'll send then to you shortly. you can owe me one.
Dave
I'm dropping them in the mail today.
Dave