Join Date: May 2006
Posts: 14
Need Motor!!!
---
My baby, a 1986, finally went belly up the other day after 35K dependable miles. Part of the main crank busted thru the front of the engine casing.

So...this isn't a case of needing new tensioners, this is really a case of needing another motor.

Anyone have or know of a decent motor I can throw on my bike?
Drive less, ride more...
Join Date: Nov 2005
Location: SW Ga
Posts: 1,114
May I suggest a "parts" bike, instead???....
Find a junker (or a "salvage" bike) that's been wrecked, but the engine is still in respectable shape.
It's a better buy than just a motor, and the spare parts (stator, r/r, etc) will come in handy, later.
Just a thought.....
---
'05 VN750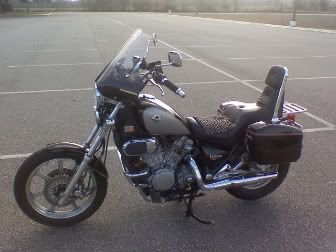 For other bike pix & mods, go to:
http://s1203.photobucket.com/albums/...k/VN750%20pix/
Members who have donated towards server costs
Join Date: Jun 2006
Location: Corpus Christi, Texas
Posts: 1,647
I agree. The cost of a used engine alone is usually $600 plus shipping. The "project" bike can usually be had for about $1k so you have many more spare parts about and can mix and match to cusotmize your ride.
---
Jim W
93 VN 750 "Ursula"
Moved R/R 08Sep06
R/R rewire 17Feb07
New R/R, Installed 14Jun08
New Stator installed 10 Jun08
Maintenance Free Battery 12Jan08
21480 Miles
VROC #8542