Saddle bag hangers
---
I have a set of saddle bag hangers for soft bags, they are chrome, in good condition, probably never used...

These are not the ones that go with the turn signal relocators (hard bags).

I will post up a pic when i get home.


Asking $35 not sure if thats a reasonable price...i know i paid $50 for them a few years ago.
Senior Member
Join Date: Nov 2012
Location: WV
Posts: 6,559
Quote:
Asking $35 not sure if thats a reasonable price
A bit on the high side considering they're on Ebay new, starting at $23. The lowest priced are not on the list right now, but ended last night and are always relisted. I can get a new set shipped for $35 right now and not from overseas.
http://www.ebay.com/sch/Motorcycle-P...pports&_sop=15
Yeah..i figured i was off on the price....i wasnt sure tho..
Heres a pic.. i just pulled this from the net...but they are the same ones..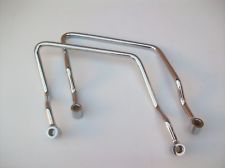 If anyone is in need of them....i will sell them $30 Shipped...
I Also will consider trades....
Otherwise i will keep them....maybe they will work for one of my 454s..
I will check into that..if they work for it i may keep them for the wifes bike.