Bobber Project
---
Bobber project cheap !...this bike, after strippin it, screams fer it !...single wishbone frame and belt drive too....tank and all electrics included.
I'll let the whole shootin match go fer $300 or less (the total of parts on Ebay come to around $500, but I cant do Ebay)....local pickup only.
Linkmeister Supreme
Join Date: Aug 2008
Location: Lethbridge, Alberta, Canada
Posts: 7,960
What is it Wolfie?
Front wheel and forks look like our vn750. Also the rear shocks and sidestand mounting boss, so I guess it to be a Kawi maybe?
But what model? and what displacement?
---
Gordon
1991 VN 750 -"
Cosmic Lady
" or "
Bad Girl
"?
Purchased May 16, 2008
Approx.19,300km (12,000 miles)
H-D windshield
Relocated R/R
MF-AGM battery
Fiamm Freeway Blaster horns
F&S luggage rack and engine guard
Kury Offset Hiway pegs
July 13, 2016, Riding on the DARKSIDE now, Classic Radial 165/80-15
TOP TEN THINGS A NEW RIDER/OWNER SHOULD DO.
Click on link.
https://www.vn750.com/forum/11-vn750-general-discussion/9127-top-ten-items-you-would-suggest-new-owner-do-his-new-ride.html
Its a 454 LTD... he stripped it down to mod his vn700
Im gonna yank the engine (3 bolts), and cut off all the extra tabs fer the junk. The rear axle can come up about 5 ", then ya just extend the same line of the frame down to the swingarm. Instant rigid. Add a sissy/strut setup then to hold the rear fender, and its almost done. Lowering will increase the rake some too.
Besides the frame, engine and drive, its almost the same as ours. Has a 3gal tank with same gas cap and the controls, M/C, and dash are same, except the EN had a mech drive tach. Fork tubes are smaller diameter, but could be a direct swap if you used the whole triple tree...the neck is the same.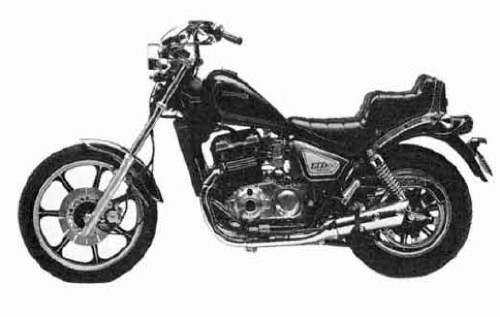 how long are the forks from the center of axle to the top of the triple tree?
Exactly the same length as ours...all dimensions same, besides tube diameter.
And if I had an extra $100-125...Id jump on this....
HTML Code:
http://hudsonvalley.craigslist.org/mcy/3320199950.html
I'd have a full bobber done, and have parts to spare !
---
Last edited by Wolfie; 10-06-2012 at

07:01 PM

.
Bike before stripping Hoss...diggin that bobbed rear fender !!!
here is a cool lookin 454ltd
---
Last edited by slimvulcanrider; 10-14-2012 at

01:51 AM

.