*NVR* Selling the other ride
---
I'm selling my 1978 Honda CX 500, I just don't have the time for all my projects and need room in the garage,
HERE
is my link to the craigs list add.
I am posting it because I know there are a few other members on here with this same little stead. I might be entertained to part it out.
Banned
Join Date: Dec 2010
Location: Upstate New York
Posts: 130
Fun looking bike. More details and better pics please.
Jack of all trades
Join Date: Jul 2009
Location: Westland, Michigan
Posts: 2,863
Yep still restoring mine. Unfortunately no cash to buy yours or I would. Lol unless you do layaway.
Drive less, ride more...
Join Date: Nov 2005
Location: SW Ga
Posts: 1,114
A bike that unique and that age deserves a special "home".
If you have not already done so, you might contact and inform your local/nearest chapter of the
Vintage Japanese Motorcycle Club
about this bike's availability (note they will probably ask you for several pix--so be ready with shots from around the bike). This club is full of people who would love to get their hands on such a bike--whether it needs some restoration work, or not.
http://www.vjmc.org/
Let us know how it goes....
---
'05 VN750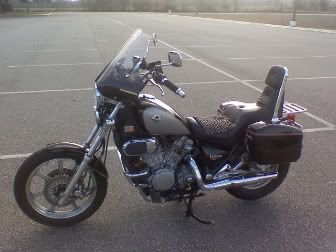 For other bike pix & mods, go to:
http://s1203.photobucket.com/albums/...k/VN750%20pix/
I don't have a lot of information on my bike, I picked it up a couple of years ago on trade for an engine rebuild and swap on a CB750 Cafe Racer. The guy told me it hadn't ran in the two years he owned it... I took it home and rebuilt the carbs, changed the oil, and charged the battery, and the bike sprang to life on the first push of the start button. I rode it around a couple of times, its very responsive with lots of power. The throttle sticks at 3/4 to WOT but if you blip the throttle, it returns back to normal. I am not sure if this is week throttle return springs, sticking throttle tube, or bad throttle cables. the more I messed with it, the better it seamed to get, so I am just thinking lubing the throttle cables might fix it.
The Charging system checks out good, as does the ignition system (both are common problems on the CX500)
the bike is 95% complete, its missing a front fender (I have a fiberglass fender that came on it, but its not oem). I have all the emblems in the tool box. The tank needs some body work, but no rust, just a huge dent by the seat. Now on to the seat.. the seat had a poor job of being recovered.. I think its because the padding was shaved down and the cover wasn't re-stretched over it. I will post more pictures in a few minutes.
OK got the CX500 Pics up... check them out
click the picture to see more
---
Last edited by slimvulcanrider; 04-06-2012 at

01:23 PM

. Reason: Added Link to pictures
got a call to night. A guy is coming to look at it this week end.
Jack of all trades
Join Date: Jul 2009
Location: Westland, Michigan
Posts: 2,863
Good luck hope u get close to what you are looking for.
no im not... but it will be enough to cover the expenses of a new welder and some steel to fix my truck.