Junior Member
Join Date: Oct 2011
Location: NC
Posts: 4
1986 vn750 for sale $1100.00
---
need to sell unfortunately did not see this coming, but lost my job and need to keep a roof over my familys head, bought the bike only 4 months ago and had the battery , wires and plugs changed along with 500 bux in carb work done. she runs well. Has excellent burnt orange paint. wish i could keep her. call anytime 910-612-3873 or email
[email protected]
with vulcan 750 in title. bike is in Concord, NC which is near Charlotte. can email more pics but there is one on my proflie gallery.
Members who have donated towards server costs
Join Date: Jul 2006
Location: Kennett Square, PA
Posts: 3,505
Sorry to hear that you're falling on hard times. Sounds like you put some effort into getting it running well - hopefully someone will buy this from you and help you out (have you also posted on your local Craigslist site?).

Good luck!
---
C
Drive less, ride more...
Join Date: Nov 2005
Location: SW Ga
Posts: 1,114
For an '86, your bike appears to be immaculate....
Nonetheless, more pix from different angles would help sell it. Wash, wax, and then buff the bike b4 you take these pix.
The more descriptive you can be with your bike, the better it will sell. For example, give the age and condition (and brand/model) of the tires (along with pix showing the condition of the treads/sidewalls). If the bike has custom paint, then describe the condition of the paint.
Another excellent way to help sell your bike is to list with it all the nifty features it has that most of the newer cruisers simply don't have...
....:
a centerstand, factory tach, factory fuel gauge, dual front disc brakes, shaft drive, 4-way hazard flashers, self-adjusting valves, self-cancelling turn signals....also mention that it has tubeless tires, too. Be sure to mention in your Craigslist ad that a brand new mid-sized cruiser with all these features is no longer available--at any price.
If your bike's new battery is maintenance-free, be sure to specify that, too. Basically, this cruiser simply requires less maintenance (and is generally easier to live with) than any of its more modern peers.
Good luck......
.....!
---
'05 VN750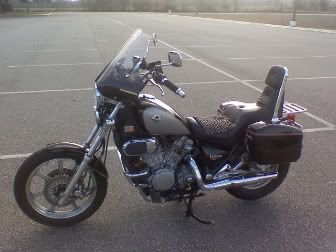 For other bike pix & mods, go to:
http://s1203.photobucket.com/albums/...k/VN750%20pix/