Junior Member
Join Date: Apr 2010
Location: Texarkana, Arkansas
Posts: 7
Looking for a Carburetor 85-05 vn750
---
I'm looking for a carburetor for my 86 Vulcan. Let me know if anyone has one for sale and how much you want for it. Thanks!!!
Members who have donated towards server costs
Join Date: Jul 2006
Location: Kennett Square, PA
Posts: 3,505
Skalding had one - not sure if he still does, but worth sending him a pm.

Is yours completely kaput or does it need cleaning?
---
C
Drive less, ride more...
Join Date: Nov 2005
Location: SW Ga
Posts: 1,114
If no one else makes you a better suggestion, you can click on the following Ebay link, and scroll down the ensuing page....you should see a carb set for sale:
http://motors.shop.ebay.com/i.html?_...c0.m245&_pgn=3
If it should disappear b4 you see this post, you can scroll thru the other VN750 pages that this link will take you to, and you'll probably find yet another carb seller with a good Ebay rating.
Ebay is loaded with spare VN750 parts, in case you haven't already checked it out.
BTW: I have not dealt with the seller referenced above, but he/she seems to have a pretty good rating.
---
'05 VN750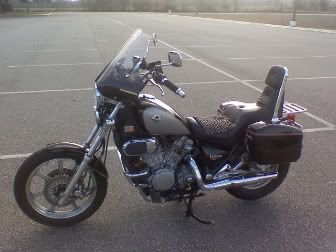 For other bike pix & mods, go to:
http://s1203.photobucket.com/albums/...k/VN750%20pix/
---
Last edited by theauhawk; 05-11-2010 at

09:23 PM

.
I got a whole 86 for sale. $350.00 and its all yours.
Member
Join Date: Apr 2010
Location: Vero Beach, Fl
Posts: 56
Where are you located cisco? I am in Florida. Thanks
---
95' 750vn
10,900 - Bought
Custom Straight Pipes
Jet kit / carbs re-built
Final Drive Serviced
New Plugs
Maintenance Free Battery
VN900 Seat
Turn Signal Relocation
Still have lots of stuff to do, just need the green to proceed! Oh, and momma's approval....
I too also live in Florida. In New port Richie close to tampa but not to close. where do you hale from in florida
Junior Member
Join Date: Jul 2010
Posts: 5
Hi, Have this bike for parts, everything is intact and it has a new Vance & Hines Exhaust, tires are also fairly new as well. I can sell you the carbs, not sure what they are worth. If you would like to make an offer, please do. Thanks.
Ba dum dum, ching...
Join Date: Jun 2008
Location: Central Joisey (you got a problem wit dat?)
Posts: 542
OK, you find the carburetor between the cylinders just under the gas tank.
Glad I could help.
R
---
Yes, it's my mid-life crisis.
Sweet Jane...