Willie & Max Saddle Bags for Sale.
---
Howdo folks. I'm selling my Willie & Max saddle bags.I origionally bought them used. They have been great bags. I opted to go the Hard bag route. They are in very good shape. I made a custom yolk all one piece, double layered & double stiched for strength. It fits great under the seat & is formed to fit around/under the rear turn signals. I've also added led lights to the rear. You can wire them for brake or turn but not both. I used them for added brake light. You'll need to wire to your bike for the recieving end. It's easy. I'll also have the possitive & negative labeled for you. They are zip off type bags. The strap you see I added to keep them close & not flapping in the wind. There are a couple small holes on the back sides from the previous owner. I have patched them and are not a concern/don't leak. The only other thing to mention is there is a small melt mark on the bottom of the right bag. It too does not leak. These bags hold alot of stuff.
The Willie & Max Specs:
I can get the spacific model tonight. I'm posting from work.
Product #: I think these, 58709-20
W & M #:
MSRP: $$$$$
Size: Universal
Dimensions: 16" x 11" x 6.5"
Color: Black
Material: Synthetic Leather
The Yolk/Strap Measures 17" from bag to bag. I forgot to add this origionally.
I'm asking $80 shipped.
Now that I have your attention. I did use supports. Without supports they will hang a litte lower.
Now the pics!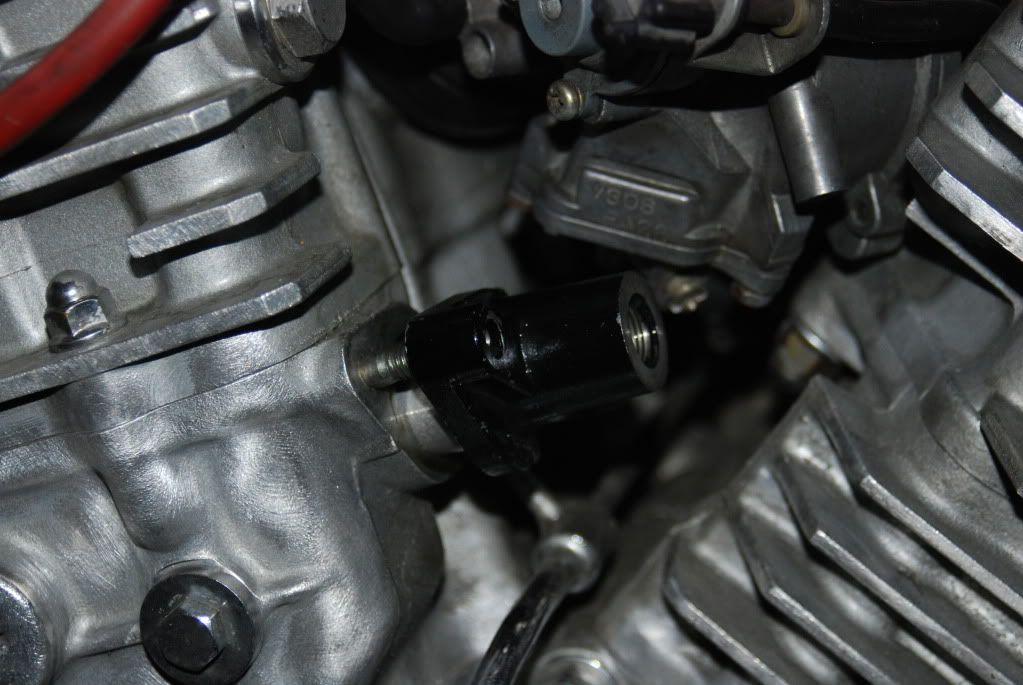 ---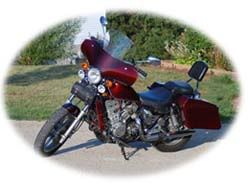 Orig. 8600 Miles 5/12/7 Currently 50,500Miles

Owners Manual
Repair Manual Download
Mosfet RR Test
Goof Proof Stator Test
VoIP Doc's Ear Shave & Re-jet Procedure
Hyperbuzzin's "How To Post Photo's.
Mosfet R&R Headlight Fix.
---
Last edited by kanuck69; 03-06-2010 at

09:14 AM

.
Linkmeister Supreme
Join Date: Aug 2008
Location: Lethbridge, Alberta, Canada
Posts: 7,960
I like the looks of them kanuck, but when I upgrade i think I want hard bags too.

I have question about the logo on your tank. My 750 is a `91 too,with identical paint. But my tank decal is just a decal that reads "Kawasaki". You appear to have a bigger decal with a logo, or even a 3 dimensional ornament, for lack of a better description. Do you know why these differences exist??
---
Gordon
1991 VN 750 -"
Cosmic Lady
" or "
Bad Girl
"?
Purchased May 16, 2008
Approx.19,300km (12,000 miles)
H-D windshield
Relocated R/R
MF-AGM battery
Fiamm Freeway Blaster horns
F&S luggage rack and engine guard
Kury Offset Hiway pegs
July 13, 2016, Riding on the DARKSIDE now, Classic Radial 165/80-15
TOP TEN THINGS A NEW RIDER/OWNER SHOULD DO.
Click on link.
https://www.vn750.com/forum/11-vn750-general-discussion/9127-top-ten-items-you-would-suggest-new-owner-do-his-new-ride.html
Member
Join Date: May 2009
Location: Walkersville MD
Posts: 47
Have you already posted these on ebay?

Do they come with supports?
---
1995 Vulcan 750 26,000 miles
Mustang Seat
Ear shave
Cobra Exhaust
Rejetted carbs
Coastered
Unifilters
Cleaned and Rebuilt carbs from Steve at
www.Carbworx.com
Awesome service.