Member
Join Date: Mar 2009
Location: Spirit Lake, ID.
Posts: 31
Looking for a mustang or similar seat for '99
---
Greetings,
I'm one of the folks who gets pretty uncomfortable after about an hour of riding the stock seat. I'm 6'1" and would like a wider seat for my 200 lb butt.

Let me know what you may have and approximate shipping to 83869
Thanks!
Vintage bike addict
Join Date: Oct 2008
Location: I live in eastern ohio
Posts: 859
check ebay.
---
No one can make you feel inferior without your consent.
Eleanor Roosevelt.
none on ebay... these seats are a rare comodity these days... and the price of them is going up way more than the seat is worth... your best bet is to get your seat recovered, or get a Russel Day-Long, Corbin, Seargent, or have Bill Mayer of Bill Mayer Saddles redo your seat... or one last option... go to
www.jefferyphips.com
and fallow his guide on building a custom seat pan, then send your seat pan in to him to cover.
Redneck on a rice burner
Join Date: Jun 2008
Location: American by birth,Southern by the grace of God ..,.AMEN !
Posts: 179
I found that the Vulcan 900 seat fits & sits great! I can ride for hours on end without my butt going numb.Check ebay that's where I got mine, paid $20 + $25 shipping.Check out my pics.
Drive less, ride more...
Join Date: Nov 2005
Location: SW Ga
Posts: 1,114
I'd be curious to see how the Vulcan 900 seat fits up against the 750's backrest.

Does the 900 seat attach via the same bolt pattern/location in the back, as that on the 750?
---
'05 VN750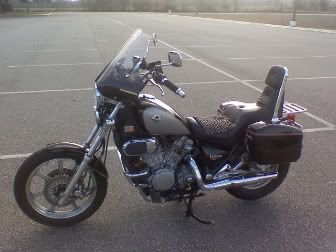 For other bike pix & mods, go to:
http://s1203.photobucket.com/albums/...k/VN750%20pix/
The Professor
Join Date: Feb 2008
Location: BUFORD, GEORGIA
Posts: 3,147
Quote:
I'd be curious to see how the Vulcan 900 seat fits up against the 750's backrest.

Does the 900 seat attach via the same bolt pattern/location in the back, as that on the 750?
You have to remove the backrest so it will fit.
---

85 VN700 "Old Yella"
REBUILT ENGINE
CUSTOM PAINT
VANCE & HINES CRUZERS
EAR SHAVED AND RE-JETTED W/K&N'S
DUNLOP ELITE K591 FRONT & REAR
VOLTMETER
SYNTHETIC BRAKE FLUID
SYNTHETIC OIL & GEAR LUBE
PLEXISTAR 2 WINDSHIELD
SPLINES LUBED
ACCT'S GREASED W/TOC SPRINGS
COASTERD
LEATHER SADDLE BAGS
LEATHER TOOL AND ROLL BAG
PICKUP COILS GAPPED AT .018"
NGK CAP, WIRES, IRIDUMS
BARNETT FRICTION PLATES & SPRINGS
CUSTOM GRIPS, MIRRORS, LEVERS
ORIGINAL STATOR & R/R 14.5v
DEKA MF AGM ETX15L
Best Auto/Moto Insurance | Motorcycle Protection Today | FREE Trade-In Quote
hey I am new to the site. I have had my bike for a year now and love it but would like a better seat. how would this saddleman seat work with the backrest. I would like to get it and replace the backrest with one that has a luggage rack so there is more space. I was wondering how hard this would be and would it actually work? does anyone have pictures or advice. I love that seat but dont want to buy it if its not going to work. Being new to this bike and riding I love reading about what all of you have to say about it. Thanks
Members who have donated towards server costs
Join Date: Dec 2008
Location: Monroe, LA
Posts: 4,706
Welcome to the forum. The Saddleman seat is designed to work with the existing backrest. If you want to get rid of the stock backrest, you'll need to come up with another mounting system. If you get the Saddleman seat and use the stock backrest, you can add a Kawasaki luggage rack that will mount to existing holes in the fender.
---
I'm keepin' all the left over parts. I'm gonna use 'em to build another bike!
_____________________________________________
"Black Beauty"
1989 VN750 acquired December, 2008, 6,711 miles
Currently 23,298 miles
Old Blue
2001 Honda CMX250 Rebel acquired July, 2008
1987 VN750 project bike, acquired August, 2009, 33,000 miles and balancer sticking out of the case, currently awaiting attention and parts
maybe I am missing something, but my seat now just has two bolts in the back of the passengers back rest. and the Saddleman seat has no passenger backrest. so how would it bolt in there? pictures of someone who has done this would be great. and just to make sure flitecontrol that we are on the same page... you are looking at the saddleman seat that slimvulcanrider posted is for sale on e-bay right? thanks again for any help