What is a fair price?
---
And more importantly, what is a good deal?
I'm looking for a second bike. One that is more dependable than mine so I can A) hopefully always have one in service and B) one I can take my girlfriend out on and feel comfortable I'm going to make it home. She's never been riding and being stranded somewhere will probably NOT turn her on to the sport!
I found this one locally and I'm on my way to look at it. Assuming the damage from the fall is minimal (will take pics and post later) what do you think is a good price? Of course I want to get it as cheaply as possible!!
From his ad-
Selling a 1992 Vulcan 750. It looks great, has been down, but very minimal damage. Blue books for 2335, has leather saddlebags and a windshield. Also has a small backfire. 26k miles. Text me at xxx-xxxx. Thanks.
---
Current VN: 03 VN1600A
Past VNs: 92 VN750A, 98 VN1500A
Future VN: 94/97 VN1500A basketcase/bobber
Calif Rider
Join Date: Jan 2006
Location: Petaluma Calif
Posts: 725
Most people here would say that having a second person on these bike most of the time really does not work good. If your girl friend is on the small side, like 5' or so and around 110 to 125, it maybe okay. If not it makes you sit closer to the handle bars and it is quit uncomfortable for you. Short rides not bad but longer, not as good. A bigger bike maybe the way to go. Just a thought, tried it with my wife at 160 and 5'8" and not much room to be comfortable handling the bike.
---
2004 25,500 miles
Led tail light enhancement
Homemade floor boards
Headlight modulator
Extra heat sink on R+R
R+R relocation
Homemade driver's backrest
Fused Stator
Mcct conversion-cost 4.50
Ride-on in tires
crash bar with home made hyway pegs
iridium plugs
home made fork wind deflectors
coil pickups adjusted.
Kenda kruz tires 110/90 170/80
Yeah, I'm looking at some bigger bikes as well. If she was a biker momma I would totally go that way.
But she's 40 and never been on a bike and in her words "scared to death of them". So it's real possible we will go on 2 rides and she'll say "no more" and that will be it.
Not going to have a bunch of money in a bigger bike for that. Well unless I find the deal of the century!
So I'm thinking something I can cross-collatoralize with my other projects- another VN750. Otherwise I'll probably end up selling whatever it is and taking a bath.
Of course plan A would be to get my bike strong enough, but that doesn't seem to be happening. Even when I get it mechanically strong I want to put new tires on and run them in before I put her on. So even if I bolt her up and she's perfect tomorrow we still might be looking at a month before we actually get her on. We're running out of summer!
Anyway, just looked at the bike. Very nice, minimal damage from the laydown and none to the tins believe it or not. Ran strong and has a metallic saphire blue factory paint job that I've honestly never seen before. Very nice.
I offered him $1500 and he asked for $1800 so we did not make the deal.
I also hipped him to this site, so he's probably reading this. Hi Brandon!
Anyway, the parts that are chewed up from the lay down could be taken from my bike and I could have it bone stock showroom perfect in an hour or two. Probably the most expensive item that is chewed is the speedo. But I could put my other one on and probably get something else and cooler for mine. Same w/ the headlight bucket. It's damaged on Brandon's bike, could take it from mine and use that as an excuse to get rid of it on mine and put on something with more character, etc.
---
Current VN: 03 VN1600A
Past VNs: 92 VN750A, 98 VN1500A
Future VN: 94/97 VN1500A basketcase/bobber
We're just talking about riding around town 2 up, not major road trips. She won't even camp. Sunday driving, maybe 20 miles down the road for food and then back at the most. I have a buddy who had a VN750 and now has a VN800 and he does it all the time with his wife. My gf is a little bigger than she is, but I think it would be OK.

We're not talking about putting 1000 miles on going to Sturgis or something. Just tooling around so I can share something I like to do with her.

And like I say, I have the feeling she's good for about 2 rides. But she wants to try and you never know, she might really take to it. In which case I can save up for a 1500! But we'll cross that bridge if and when!
---
Current VN: 03 VN1600A
Past VNs: 92 VN750A, 98 VN1500A
Future VN: 94/97 VN1500A basketcase/bobber
well if u would have picked up that scoot for 18 and she did take to it then u would have 2 months to fix both bikes up and sell them both for more then half of the 1500 ...
---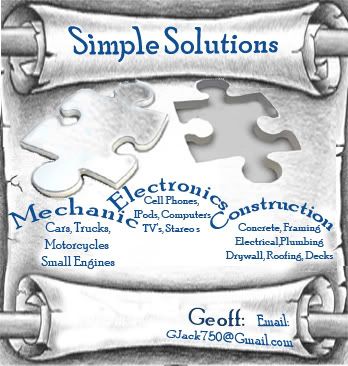 Stator #3
MF AGM
DeGoated
Ears Shaved
R/R relocated
Rebuilt
She's worth her weight in GOLD
If u dont have it already Here is the
Service Manual
How To
Test the Stator
Members who have donated towards server costs
Join Date: Jul 2006
Location: Kennett Square, PA
Posts: 3,505
$1800 really isn't too bad, assuming a) the replacements needed are minimal and b) Brandon (welcome!) lubed the splines. Having a second Vn750 around is really a nice thing - cannibalizing is an option, plus you have a second ride when the first one is down. Also, because you have that back-up, you'll try repairs on your bike that you might be worried about trying otherwise. Call Brandon back if you think he's taken good care of his '92 - or, keep looking!!
---
C
Brandon's only had it for a year and put 2k on it. He's certainly taken great care of it, and the PO(s) before him seemed to have done well also. It's really shiny and great looking. You have to know where the boogers are and like I say, I can swap them out w/ my other pieces in a couple hours, no worries.

A second VN750 really seems like the best bang for the buck in my situation, all things considered. And yes, if the gf does take to it I could sell both and get a bigger bike, but I doubt I will. I like a smaller bike for everyday riding and commuting. Plus I don't want to throw away all the knowledge and experience I've gained working on this bike. Why start over learning a new machine if you don't have to? But I could sell Brandon's anyway!

Going to look at a 750 Virago now. See how that rides as a comparison at least. It's probably not a good fit, but what the hey.

There is also another VN750 on my local CL that I am waiting to hear back on. It only has 5K on the clock!
---
Current VN: 03 VN1600A
Past VNs: 92 VN750A, 98 VN1500A
Future VN: 94/97 VN1500A basketcase/bobber
knowlage is never wasted infact they are unbelievably the same... it takes 3 things to make a motor run fuel compression and spark.... with those basics covered the rest is just cosmetic...
---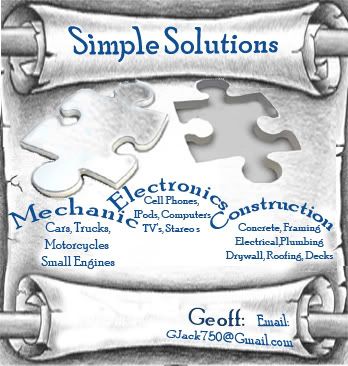 Stator #3
MF AGM
DeGoated
Ears Shaved
R/R relocated
Rebuilt
She's worth her weight in GOLD
If u dont have it already Here is the
Service Manual
How To
Test the Stator
btw why would it take 2 mo to break in the tires .... i usually dont pull in the driveway till they are broken gas milage i have found have been close to the same on the bigger bikes plus they have bigger tanks.... and from what ive seen with motorcycles is once u get your next one the other one sits in the garage till the fore sale sign gets put on her... besides this is all theory based on your wife liking this excursion u are convinced she wont in which case give u 2 bikes one for parts and one for pristine the other gets put back to where u want it keep the one u want and sell the other at a slight profit... and your wife liking it or not will be up to u how u ride how comfortable she and u are find a nice scenic curvy short trek maybe plan a lunch bring her home safe and sound and she'll be hooked... If u take her out on a busy freeway or around alot of other cars, if she or u are uncomfortable she can feel how tence u are then she will prob be scared and not want to hop on again...
last pointer is she hold onto you not the bike that way all the leaning will be lead by you ... I hope you help her find her wild side i think she'll enjoy the freedom of the open road ....
---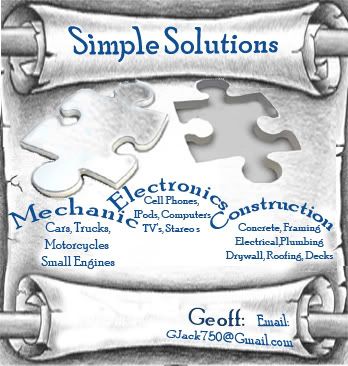 Stator #3
MF AGM
DeGoated
Ears Shaved
R/R relocated
Rebuilt
She's worth her weight in GOLD
If u dont have it already Here is the
Service Manual
How To
Test the Stator