Order VN750.com Grill Here.
---
Greetings All! It was brought to my attention & I should have mentioned this. So I do appolagize. The shipping is being done in stages. they did not all go out on this date. Thank you.
***Grills are shipping Monday! 8/24/9***
Watch for yours in the mail
We do apolagize for the delay but thanks everyone for making this happen.
"In response to great interest and response to the Grill offer, we are able to reduce the price to $35 per grill with shipping included (europe still $20 extra & paypal $2.00 extra). Do not send anything yet, we will soon advise those who committed to purchase when we are ready to collect funds for the project. There is still time to order, orders close on June 30, 2009. Thank you"
As many of you know we have been in the works making a custom grill face for quite some time now. It has been finalized & is ready to offer to our family here. They will cost $35 (
shipped
) we do need to hit 50 for the initial order to get our pricing. If we get more than 50 our cost goes down some. Great!
The diferance will be donated to the site to keep it going for a while.
Paypal now an option!
Simply add $2.00 to your order to cover paypal fees. Totalling at $37.00. Still a great deal.
But remember, No Payments till we hit our 50 mark please.
Europe & Canada Shipping $20.00 extra
The only thing not included is the mounting hardware. We used stainless nuts, bolts & washers from Quality Farm & Fleet (AKA Tractor Supply). The cost was about $6 for all in stainless. Simply take your origional cover off, lay your new cover on face of the old, mark the holes, drill the plastic, put the bolts through from the under side with the lock washer on, lay the washer under the acorn nut & fasten the acorn dow. Done! Put your cover back on the bike & voila!
So, please only sign up if you trully want to buy one of these grills as this thread is a count of the orders. Anyone over seas, we'll have to quote the shipping to you. Once we have a count of atleast 50 All purchasing members can make a money order for the funds and forward that to me. (
Do not send any money till we have a count of 50 please
) I'll then place the order for the grills at the deadline. June 30th. This is not set in stone, but a 2 week window. See it changed
So, who's interested?
Did you Read everythink? No Skimming! lol
---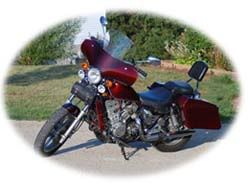 Orig. 8600 Miles 5/12/7 Currently 50,500Miles

Owners Manual
Repair Manual Download
Mosfet RR Test
Goof Proof Stator Test
VoIP Doc's Ear Shave & Re-jet Procedure
Hyperbuzzin's "How To Post Photo's.
Mosfet R&R Headlight Fix.
---
Last edited by kanuck69; 09-11-2009 at

06:29 AM

.
Members who have donated towards server costs
Join Date: Apr 2009
Location: Northern KY
Posts: 85
This newbie will go first. I've seen bits of pieces of conversations about this custom grill and I for one think that it rocks!
Since I'm a such a newb at all this, just a couple of questions. The bike's not in front of me, so I can't go look, but I just have a stock look to the front of the radiator. In the picture, the stock part looks silver (mine's black) and then what I think I'm seeing is a flat custom piece that simply bolts right up to it.
Am I seeing this right? If so, for only 40 bucks, I would love to have one of these babies delivered to my door! Count me in!
---
2004 Kawasaki Vulcan 750 "Serenity"
Changed Oil/Filter and Coolant
Installed Big Crank ETX15L Battery w/charger hookups
Duct-taped retention safety for toolbox door
New OEM clutch lever replaced after first tipover
Plan on: changing brake fluid, coastering, lubing splines, relocating R/R, new saddlebags, highway pegs, windshield.
Scratch that...make that getting her ready for sale. Nope, scratch THAT! I'm keeping her!
Junior Member
Join Date: Jun 2009
Location: Motorcity Assen....(nl)
Posts: 28
Do you ship overseas to the netherlands??????

Harry
Members who have donated towards server costs
Join Date: Jun 2006
Location: Long Island, NY
Posts: 812
Newbie - you are quite right, Kanuck69 has painted his stock plastic grille silver. Looks good but it's not the way it started. All the rest of us have a black one.

Vonx - we have not investigated shipping to Holland but I am sure we could do it. Need to investigate with the Post Office and get details. I will do that in the next few days and get back to you.
---
2003 Wine/Gray VN750 bought in 2005 w/2000 Miles
LED Tail/Brakelight & License Plate Light;Chrome Inspection Sticker Plate ;Battery Charging Quick Plug;Kuryakyn LED Battery Voltmeter;Throttle Rocker Palm Rest;Optronics Driving Lamps;KnifeMaker Floor Boards;Halogen Headlamp Bulb;OEM Engine Guard;Iridium Spark Plugs;OEM Luggage rack;Stebel Air Horn;Handlebar Clock; Handlebar Thermometer; Sealed Battery; Marbled; Leather Grip Covers; Rectangular Mirrors

~VROC~ # 389
Members who have donated towards server costs
Join Date: Dec 2008
Location: Monroe, LA
Posts: 4,699
Sign me up. I'm going out of town the last half of July. If you don't hear from me then, it's not because I'm not interested!
---
I'm keepin' all the left over parts. I'm gonna use 'em to build another bike!
_____________________________________________
"Black Beauty"
1989 VN750 acquired December, 2008, 6,711 miles
Currently 23,298 miles
Old Blue
2001 Honda CMX250 Rebel acquired July, 2008
1987 VN750 project bike, acquired August, 2009, 33,000 miles and balancer sticking out of the case, currently awaiting attention and parts
Senior Member
Join Date: Mar 2009
Location: Frankfort, KY
Posts: 293
the doctor
Join Date: May 2008
Location: Knoxville, TN
Posts: 50
Include me in and let me know when!
---
bringing together
a dead
'86 VN750
"it's alive"
:"krechure"
Senior Member
Join Date: Mar 2006
Posts: 668
Count me IN!!!!!
This thing looks sweeeetttt
---
PEACE!!!
2005 Vulcan 750
Member
Join Date: Apr 2009
Location: Firestone Colorado
Posts: 77
Regading grille
---
You can count me in for one. They look great!
Members who have donated towards server costs
Join Date: Apr 2008
Location: S.E. Michigan
Posts: 2,850
Put me down for one.
(somebody should buy a few because a year from now when they aren't made anymore, some people are going to want some, as well as any new Vulcan owners
)
---
Last edited by 750Doug; 06-19-2009 at

12:21 PM

.