Intelligent Redneck
Join Date: Mar 2009
Location: -WA-
Posts: 270
Cheap VN750 on Skagit, WA Craigslist
---
CWO3 Navy (Retired)
Join Date: Sep 2008
Location: Maryland
Posts: 722
Absolutely! That's how word of mouth works. I wish I lived closer to WA, I'd buy it as a parts bike!
---
The Flag on my bike honors those who serve our Country and those who have served!
On His Lady Vulcan
Join Date: Apr 2008
Location: Washington State
Posts: 1,647
WOW... What a deal. My only issue is how on earth can I get it to my place...146 miles round trip...Damn it!!!
---
"You came out of your mom looking like SHlT. She thought you were beautiful. Don't know what scared me most, your looks or her judgment."
Pictures of the "Ladies"
Intelligent Redneck
Join Date: Mar 2009
Location: -WA-
Posts: 270
That is where having a truck comes in handy...
Members who have donated towards server costs
Join Date: Dec 2008
Location: Monroe, LA
Posts: 4,699
Quote:
WOW... What a deal. My only issue is how on earth can I get it to my place...146 miles round trip...Damn it!!!
Says it runs. Have someone drive you there, hitchhike, bus or whatever and ride it home? Possibly take some new plugs, Sea Foam and other anticipated necessities? $400 is hard to beat!
---
I'm keepin' all the left over parts. I'm gonna use 'em to build another bike!
_____________________________________________
"Black Beauty"
1989 VN750 acquired December, 2008, 6,711 miles
Currently 23,298 miles
Old Blue
2001 Honda CMX250 Rebel acquired July, 2008
1987 VN750 project bike, acquired August, 2009, 33,000 miles and balancer sticking out of the case, currently awaiting attention and parts
Simple Solutions
Join Date: Jun 2008
Location: SEQUIM, WA
Posts: 965
couple dents in the tank missin heat shield..... has hiway pegs and decent looking pods..... im 3/4 tepmted to just drive up there and bring her home but just what i need another project.... for what im putting into mine heres one in the flesh ....
---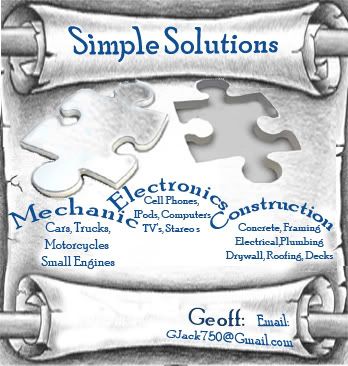 Stator #3
MF AGM
DeGoated
Ears Shaved
R/R relocated
Rebuilt
She's worth her weight in GOLD
If u dont have it already Here is the
Service Manual
How To
Test the Stator
Join Date: Mar 2009
Posts: 44
Its worth picking up. i made 170ml round trip to buy mine. i paid £250 sterling.
bought as non runner but took the gamble. Had it going and been for a run. Now im tweeking and replacing a few parts. Sourcing everything of ebay. Tank needed fillers and paint (Dents), done that with 2pak Black. got a harness, rr, and an ignition switch for 26dollars from Utah, usa. Nice1
I also need the clutch. hopefully £200 should get the bike right. Excluding labour hours of course. Thats were you need the patience
And for that money rekon i got a Kracker