Drive less, ride more...
Join Date: Nov 2005
Location: SW Ga
Posts: 1,114
Beware...
---
if you ride through the state of Georgia, like to/from Daytona for Biketoberfest in October, keep in mind that the state of Georgia has implemented
motorcycle-only checkpoints
:
http://www.americanmotorcyclist.com/...eckpoints.aspx
It would appear, at least to the casual observer, that these checkpoints are a way to spot safety issues with bikes.
However, any way you slice the pie, they are a form of discrimination.
Down in south Ga, I have not seen or been at any of such checkpoints. My guess is that most of them are in the northern half of the state. But I can't vouch for that.
Some suggestions for you, if you find yourself riding thru GA:
1. Have a current, valid driver's license (with a motorcycle endorsement shown on it--duuuhhh), valid, current insurance paperwork (preferrably a copy of the policy "declaration page") showing current proof of coverage (at least general liabilility), and proof of registration and/or a receipt for a current tag purchase. Make sure the info on the insurance paperwork is current and correct. It's probably overkill, but make sure the VIN numbers on your bike's frame match that on the above paperwork (i.e., if your bike is stolen or the paperwork is somehow incorrect with this info, a hwy checkpoint is
NOT
the time to find this out).
2. Make sure your tires are inflated properly, with respectable tread depths remaining.
3. Make sure you are wearing a helmet (they are required by law in GA), and that it is (at least) DOT approved. Make sure the DOT sticker is on inside of the helmet. No "novelty" helmets, please!
4. If you have custom handlebars, make sure they are not too high, per GA legal requirements.
5. Make sure you have a good, working headlight and tail light, and that your turn signals are also working. Check that your bike's tag is easy to see/read from the rear--and that the tag is
current
!!!
6. If you are riding, don't drink. If you are drinking, don't ride.
7. If you are stopped at a checkpoint (or otherwise, for that matter), don't be a smartass. Be polite, instead. If the attending trooper left his/her sense of humor at home, you'll be on your way again that much sooner.
8. I don't know what current GA law is for exhaust pipe limits, with regard to noise levels or other modifications. It's up to you to research this on-line, and have proof substantiating your pipes are street legal (in GA, thank you), if you don't have your bike's factory pipes on the bike, with the original baffles. They may (or may not) be checking for this, too.
9. Avoid flashing red or blue lights or LED kits on your bike (except for the obvious tail lamp modulators). Law enforcement is generally jealous of light shows that somehow duplicate their own.
Until the money for these GA motorcycle-only checkpoints runs out, I hope this info helps others passing through.....
---
'05 VN750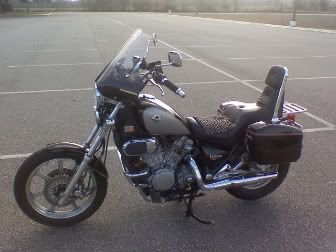 For other bike pix & mods, go to:
http://s1203.photobucket.com/albums/...k/VN750%20pix/
Senior Member
Join Date: Jun 2011
Location: New York
Posts: 120
Unfortunately the money won't run out as long as they are writing a few tickets. The troopers are all on the payroll regardless of this checkpoint existing so if they write any tickets at all the state will see it as a revenue stream. In NY unconstitutional traffic stops are the norm. It's a shame to see the South has gone this way as well. The fed and state gov'ts are bankrupt. The people are nothing but a revenue stream to feed the machine anymore. This will only get worse.
---
No more Vulcan
New ride 2012 Victory hammer 8 ball
Stage 1 with Cobra 2 into 1 exhaust.
Members who have donated towards server costs
Join Date: Aug 2010
Location: Birmingham Alabama
Posts: 107
I know this might seem ridiculous, but living here in Birmingham and traveling a bunch to Atlanta, let me tell you that this is to combat the "gangs" of street "hoods" that have these insane acceptance requirements. They are growing like weeds
If you go through Georgia much you will encounter them. One such "feat" is 30-30
ride for 30 miles, at 130 mph. I've seen them and almost been involved in an accident on three different occasions..
They ride uninsured and many times on stolen rockets.

The truly insane part of this situation is that most times the initiation rituals take place late at night or early in the morning when fewer cars are out but the good Governor wants the voters to see him in action because there have been so many complaints.
So the cops end up hassling the wrong group of riders because nobody will see them at 1:30 at night.
I suggest a sniper on several of the overpasses and once they crosshair them with the radar guns, follow up with a well place Ballistic tip .308
That will most certainly slow them down
Ride Safe and for a LONG time
---
2006 w/ 3124mi.
new to me Aug. 2010
X2-15L Battery
Iridiums
Mustang One Piece Studded
Fluids replaced
H4 Bright White Headlight

ALAS sold to a great guy in Birmingham
Senior Member
Join Date: Jun 2011
Location: New York
Posts: 120
A little perceived safety for you liberty is not a good trade.......ever.
---
No more Vulcan
New ride 2012 Victory hammer 8 ball
Stage 1 with Cobra 2 into 1 exhaust.
Big Dumb Viking
Join Date: Apr 2009
Location: Marietta, GA
Posts: 597
FYI - in the state of Georgia, you are not required to have proof of insurance on you. That law was changed many years ago. You must have valid insurance, but you don't have to have the proof of it on you.
---
.
.
.
-Az
http://www.asbrand.com
1989 Kawasaki Vulcan 750
Upgrades so Far:
Coastered
R/R relocated
Analog Voltmeter
PFIII Windshield
RAM GPS Mount w/Garmin GPS
Cigarette Lighter Power Adapter
Saddlemen's Classic Explorer Seat
Pro-Tac Driver's Backrest
LED Tail Light
LED Rear Turn Signals
Luggage Rack
Storage Trunk
Engine Guard w/Highway Pegs
Radiator Grill Cover
Turn Signal Relocation Bracket
Saddlebags
Floorboards
Headbanger/Popes of Hell
Join Date: Aug 2006
Location: ohio
Posts: 6,644
I've read about this in a few past issues of "Ridin-On Motorcycle Magazine". GA is one of a few states that are getting funds from the Feds to do these "Motorcycle only" check points. luckily for me, Oh., is not one of the few states that is doing it. I believe NY is one of the few that is doing it also.
---
if it goes vroom or boom, I LIKE IT!
Senior Member
Join Date: May 2011
Location: Birmingham, Alabama
Posts: 319
Quote:
if you ride through the state of Georgia,
Thanks for this great post. When I cross the state line to GA I'll remember this. Coolio bro.
---
Dave
----------------
2005 Vulcan 750
Odometer @ October, 2019: 14,200
Purchased May, 2011 @ 2,172
Splines lubed @ 2,962 (were in good shape)
Küryakyn Daily Tour Bag
SS-28 Slipstreamer Smoke
Registered User
Join Date: Aug 2011
Location: GreenwoodFrickinLakeNY
Posts: 10,354
wow...
---
...what a bummer Hawk........
Never been down that way, but was planning on a trip to see my 78 yr old best friend in FLA. Thanks for the heads up. Will rerout thru Miss...

Devil_Hwy...not sure where youre coming from. Is this NYC ?....upstate NY I havent had issues with law at least since 1975....my town cops even let "group" bikers come in not wearing helmets (Greenwood Lake)....guessing youre in the city....the city sucks.
Been from Orange County (OCC guys come thu all the time), to the Adirondacks, to the Finger lakes, no issues, ever. Even had a flat in Lake George, and a trooper gave me a ride to nearest shop and waited for me to get a Whopper at a BK.
Ive never had a problem with troopers or locals since 1975. Are you flashing em all the "bird" ?, lolol.
Ive been riding unregistered and uninsured around my neighborhood for weeks to test things I do to the bike....local cops gimme a thumbs up (one asked me to smoke em), troopers smile, sherriff's dept just waves a bit. If youre having issues, instead of bashing NYSP, look at your riding style. Banshees and hotdogs get attention. Kids do that a lot. I just "putt", but then, Im an old fart.....
I have friends with NYSP BCI...and I know for a fact what youre saying is 100% WRONG.




---
Last edited by Wolfie; 08-13-2011 at

07:55 PM

.