Did you WANT a Vulcan, or end up with a Vulcan?
---
Seems like the majority of owners say they only got it because (given to me, cheap cause it had an issue, etc).

The first one i got (of 6 total now several years later) wasnt my first choice. I felt it looked dated, and even knowing it rode like a dream i had issues overlooking it's 1985 cosmetic design. I bought it anyway from my uncle (his second Vulcan cause he loves how they ride and chose it both times). After accepting its flaws, I've grown to prefer it over anything else for it's outstanding comfort and attitude on the road. Nowadays I won't be without one, though i own other things, as it's my comfort zone where i know its limits and take it to them every chance i get. It doesn't have enough power to get away from me, but plenty to always be in the right mood to boogie. Legendary comfort, and all these years later i do like the way it looks.

What about you? Were you looking for something else when the Vulcan came along?
---
1981 KZ750
1988 Vulcan VN750 (red)
2005 Vulcan VN750 (silver)
(2) 1994 Vulcan VN750 (red)
Engineering solutions for the VN750 Community.
Junior Member
Join Date: Jun 2017
Posts: 27
I was looking for a cheap not running bike to fix for my wife
Found one for cheap.
I got it running 1 hour after standing still for 10 years.
I own a Hond CBR1000F SC24. I also bought it not running.
We got a little bike club cold: "the club from 500" only for members with a bike bought under the 500 euro
I loved the way this VN750 rides and handels on the road.
I was fixing cosmetic and Technical issus on the VN750 and was looking for spare parts. Than i game along another vn750
with a big box of spare parts new and used.
It was running but not charging and optical in bad condition. So i bought this one for my zelf and i'm working on the bike as we speek. Changed Stator - ACCT to MCCT - Earshave - Coasters - new forkseals and oil. Sparkpugs.
Took it appart
Just painted it and put new bearings on the head and linkage.
I need to repaint a couple of parts
but thats ok... I an no painter or mechaninc but a IT Systemmanager
But i think of selling the CBR because i love the VN750
---
Last edited by mvdijck; 08-01-2017 at

05:57 AM

.
Junior Member
Join Date: Jul 2017
Location: Amsterdam, the Netherlands
Posts: 25
mvdijck do you live in the Netherlands by any chance? Just in case (funded) support at some point
Junior Member
Join Date: Jun 2017
Posts: 27
Quote:
mvdijck do you live in the Netherlands by any chance? Just in case (funded) support at some point
yeb! Helmond bij Eindhoven
mine was sitting as a motor,frame, and wheels next to boxes of parts for $300.I figured it was worth three times that in parts alone,and if I could get it running, hell it's worth it.besides,the group of people I'd met because of that damn pile of parts,I consider that bike priceless

Sent from my LGL34C using Tapatalk
---
ONE RATS ASS GIVEN PER POST
Support your local
FREEBIRDS MC
1986/5 Vn700/750 Frankenfook cross eyed bitch "Mellisa Fayhe"
I am a BIKER and i'm proud.
FREEBIRDS MC CENTRAL NY
lowered with progessive 412 10" shocks
rejetted for K/N Pods part#rc 2340
sportster seat
'
I didn't lose my mind.i gave it away
BRING BACK WOLFIE."
Peace and Carrots
"RIP
"And I'm free...as a bird"John Lennon Free as a Bird
"
I only carry when I have my pants on
"Joe Robinson RIP aka Old Dog
Senior Member
Join Date: Aug 2016
Location: Claremont, MN
Posts: 105
For me, the answers lies somewhere in the middle (inexpensive vs what I really wanted). I was looking for a
good
first bike that was inexpensive and that I would not outgrow / bore of. My criteria was a engine 750-900cc, solid reliable power train, had good looks, and was mass produced (abundant affordable used parts). I do an exhaustive amount of research before I buy anything. The VN750 seemed to edge out (in most categories) rival competitors offerings in the $1000 - $1500 market (my budget). When I found my 1993 VN750, after looking the bike over and taking it for a spin I knew my search was over. Picked it up in excellent running and aesthetic condition with 14k for $1000 complete with 7 years worth of service records. Pic is from the day I purchased it (does not show mods)...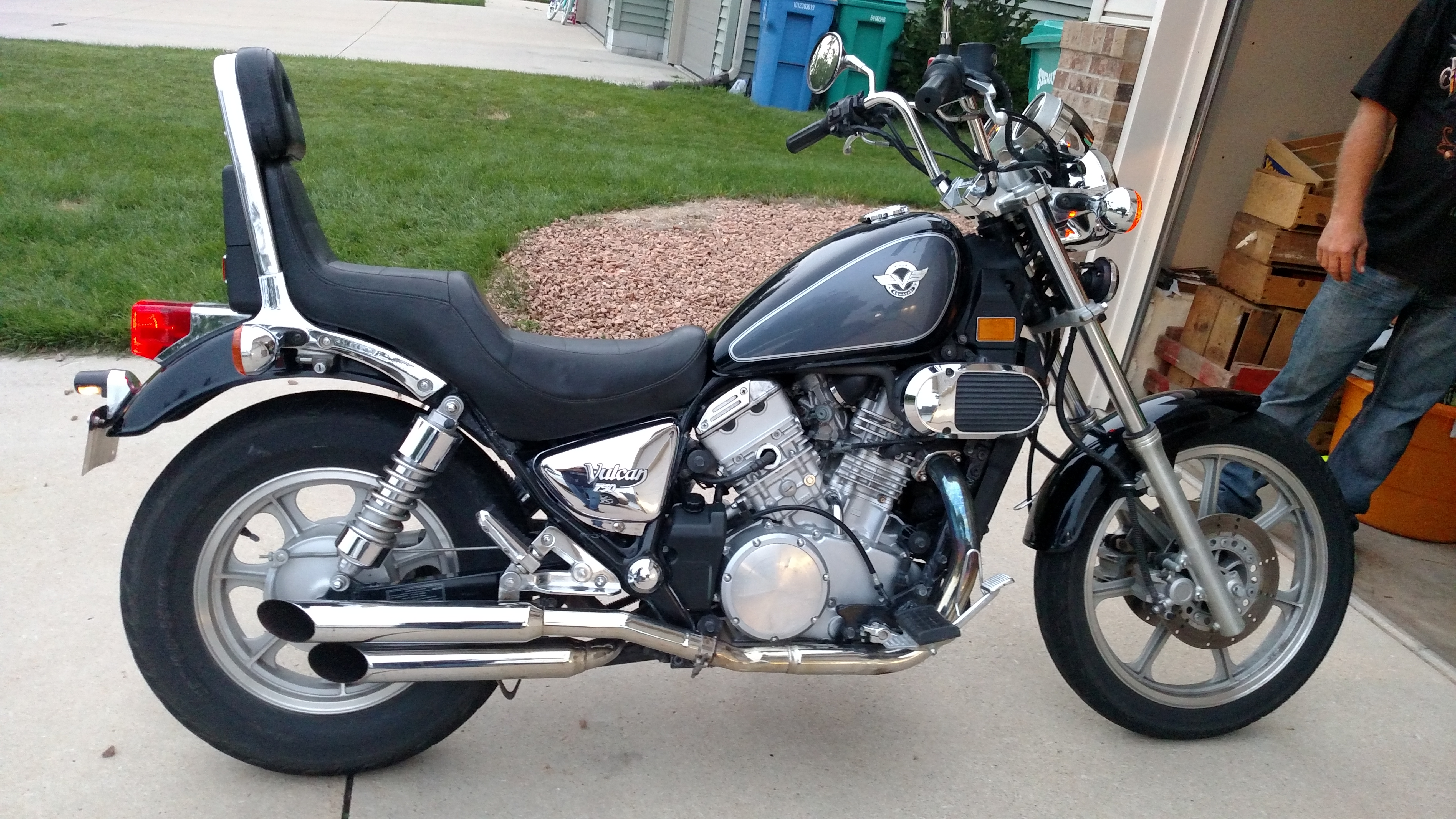 ---
1993 Vulcan 750 "T'Pol"

Cobra Full Exhaust (Single Sided)
M/F AGM Battery
NGK Iridium Plugs
Shinko 777 Tires
Sunpie 7" LED Projector Headlight / KZ750-B 76-79 Bucket & Trim
Full LED Bulb Conversion
Mustang Wide Regal Seat
Aftermarket Grips & Mirror's
Full Chrome Tach / Speedometer
Mobil 1 75-90 Synthetic Gear Oil
Rotella T6 / Bosch 3323 Filter
Well, I guess I'm at the other end. I bought my 2002 Vulcan brand new off the dealers showroom floor. I had already been to a Yamaha dealer and was about 65% sure I was going to get an R-6, but decided to drive 30 miles out to a Kawasaki/Suzuki/Harley dealer just to see what they offered.
Price wasn't a huge factor....I'd likely have gone for anything under 10 grand.
Really saw nothing I cared for. But while I was there I reasoned I should get something that would be comfortable for a passenger, as being recently divorced, I figured I'd be "dating" again.
So the tiny little rear pads on the sports bike suddenly turned me off to them.
I then spied the Vulcan 750 as I was about to leave.
I actually liked the way it looked. Duel disc brakes in front, shaft drive, and a nice rear seat. It had a tach and speedometer (and a fuel gauge) it was the ONLY cruiser style bike they had with both there, everything else had only a speedometer and most were on the gas tank...which I really hated.
The bike was only $6 grand...which as I said wasn't a huge factor, but I wasn't going to complain. (They threw in $200 worth of accessories, so I used that to buy two helmets.)
The only pain was riding the bike the 30 miles home on the highway and being limited to a 55-60 mph break in speed while everyone else on the road was doing 70-80.
I was disappointed that there were so few aftermarket goodies for the bike. (Other than Kawasaki's high priced stuff) So as anyone here might know, I started making my own accessories.
Compared to some bikes, I wouldn't say the bike was really comfortable, but was a lot better after I got rid of the stock seat, added floorboards, and highway pegs for long trips.
Luckily? I sold the bike before anything really went bad on it. The only thing other than the accessories I had to get for it was a new battery.
So, never really considered it a "cheap" bike, thought the styling was great, and contrary to how I usually buy things, I did very little research on the model before buying it.
Enjoyed owning it all the time I had it.
---
Last edited by Knifemaker; 08-01-2017 at

11:39 AM

.
I had a friend who had one back in the 80's and thought it really looked cool. I couldn't afford a bike at that time. That impression always stuck with me of his 750 and when I went to look for bikes I could afford I went straight to that one. Now several 750's later I still am fixing them up.
---
"Show me a man who makes no mistakes, and I'll show you a man who doesn't do things." Theodore Roosevelt."
2007 Victory Kingpin
Current projects - 1986 VN750 & 1988 EL250
Although I had been around bikes since the early 70's, I was totally unfamiliar with the Vulcan, or "cruiser" style motorcycles at all until that day at the dealer.
I did want to add... I still own a Vulcan 750, it's sitting in my garage. It's a half done project. It's going to be something to do after I retire...
Senior Member
Join Date: Nov 2012
Location: WV
Posts: 6,699
I was just looking for a bike, had also been looking at dual-sports. Never paid much attention to the Vulcan in the past, some friends had mentioned the dry spline problem back in the late 80s.

Ran across my 2003 in an ad, contacted the seller one evening, then ended up on two forums researching. Next day I went to see the 750, armed with everything I learned here. I hammered the seller and made a deal.

It didn't run so I couldn't ride it, if I had test rode it, I probably wouldn't have bought it. Just don't remember any other bike being so uncomfortable. Still looking at maybe a 900 or a solo seat if I keep my 750. Not that I don't like it, I do, but the ergonomics kill me.

I shipped my Mustang seat to the Netherlands, that guy didn't like it either.